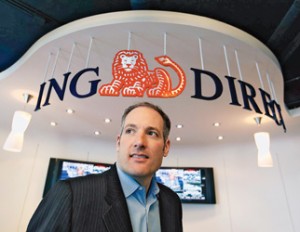 Minutes after the news broke that Scotiabank is buying ING Direct Canada for $3.1 billion, customers of the online bank began to express their dissatisfaction via social media. A number of clients announced their intention to move their money elsewhere on MoneySense's Facebook page. "Yuck!" wrote Toronto's Ryan Rocheleau. "I always prided myself on not doing truck or trade with the Big 5."
Netherlands-based ING Direct shook up the industry when it introduced the first Canadian no-fee high-interest savings account in 1997. The virtual bank later began offering competitive mortgages, but unlike the banks, it posts its real rates online rather than forcing you to haggle at the branch. ING also bested the banks by offering low-fee mutual funds and no-fee chequing accounts that pay interest. In the last 15 years, the virtual bank picked up 1.8 million loyal Canadian customers and prompted the major banks, as well as other players like Ally Bank and CIBC-backed President's Choice Financial, to offer some similar products.
Does the Scotia deal mean ING's days as a market leader are over? Rotman School of Management professor Laurence Booth thinks so. "ING will not stay the same. In two years' time, it will be totally integrated into Scotia." He expects that over time, the new owners will look for efficiencies and eliminate the separate products offered by ING. If the housing market continues to cool, for instance, they'll probably do away with duplicate mortgage products first, says Booth.
Scotiabank, however, promises ING clients the only thing that will fall by the wayside after the deal closes in December is the virtual bank's logo. Anatol von Hahn, Scotia's group head of Canadian banking, says ING's management will stay on the job and make independent decisions about their products and rates long after the ink dries on the deal. "Scotiabank isn't coming in to tell them what rates to pay or not pay," he says.
Rocheleau isn't convinced, but at the moment doesn't know where else to park his money. "When credit unions go national and I can find one with no-fee chequing, I am gone."