Budget decor: Navy-style chairs
Emeco's classic Navy chair was designed to last 150 years and withstand bomb blasts, without sacrificing comfort.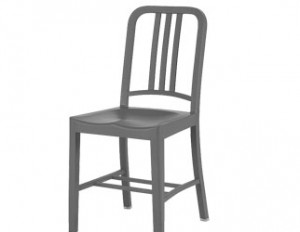 Nothing says durability like an Emeco Navy chair, originally designed for the U.S. Navy during the Second World War to withstand bomb blasts. The famous "77 step" manufacturing process takes two weeks to complete, and renders the lightweight aluminum chair three times stronger than steel. With the chair's guaranteed life expectancy of 150 years, your great-grandchildren will always have a place to sit. But if you think a metal chair makes for an uncomfortable perch, think again. The Navy chair's molded seat and high backrest support your body just where you need it. This thoughtful design and timeless style bring function to the breakfast table and industrial chic to the dining room. Find it at Gabriel Ross in Victoria or Klaus in Toronto at $540.
For the budget-conscious, replicas of the Navy chair abound. You can find aluminum versions for $200 at modern furniture replica stores, but the quality will vary, so it's best to buy in person rather than online. Sloppy welding in replica chairs often causes defects like wobbly legs or unsightly molten scars. Another alternative is Emeco's own Navy replica made of recycled plastic bottles. It may not survive a torpedo assault, but for $260 you get Emeco's quality craftsmanship at about half the cost.