Knock-off: Eames chair
The superb comfort and style of the iconic Eames lounge chair and ottoman costs a bundle. Our knock-off cuts costs by thousands.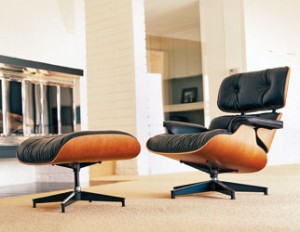 The model 670 Eames lounge chair and ottoman was designed in 1957 when postwar America was obsessed with mass production. The innovative product featured molded plywood (a technology that bends warm, organic wood like plastic), with leather and cushioning as part of its high-end design. Herman Miller continues to manufacture authentic Eames loungers in Grand Rapids, Mich., for $5,500 (available at www.dwr.com). Cheaper reproductions are readily available elsewhere, but many fail to meet the quality standards of the original Eames lounger.
MoneySense's suggested knock-off is the $2,300 Sonoma lounger by Nuevo Living, available at various furniture retailers. As with the Eames, the Sonoma features rubber shock mounts on the headrest, backrest and armrests to allow the chair's sections to move independently, with a characteristic springiness that responds to your weight and shape. It also faithfully reproduces the distinctive look of the Eames: rosewood-like veneer, a five-point star aluminum swivel base to the chair, a four-point star to the ottoman that does not swivel, and no visible bolts. In fact, it's such a good knock-off, Herman Miller is suing Nuevo, and the Sonoma has been discontinued. Get it while you can!—Ronit Novak