Created by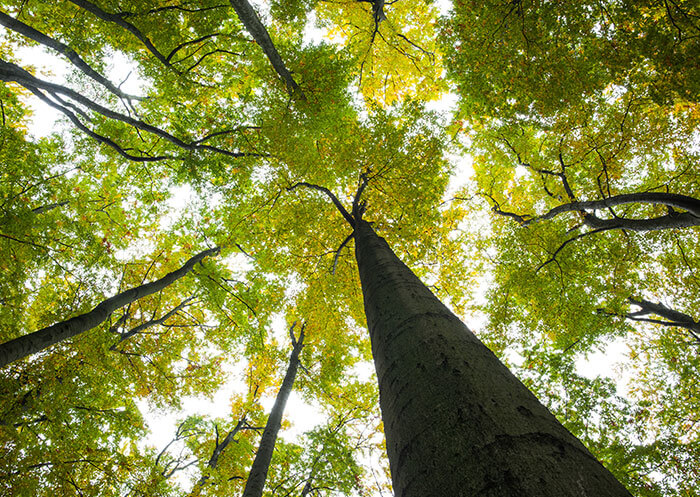 Canada's ETF industry has been growing at a steady clip for a number of years now, but 2017 is turning into its best year yet. According to BlackRock's Follow the Flow data through September, exchange traded funds trading on Canada's stock exchanges have attracted more than $18.7 billion in new money, shattering the previous high water mark for annual inflows of $16.8 billion reached in 2015.
Here are five trends that have helped drive flows into new record territory this year.
1. Core exposures
Core ETFs have long been a major component of the ETF growth story, but recent flows suggest the popularity of these generally low cost funds offering broad-based exposure to specific markets and sectors may be stronger than ever with investors, including institutions who may increasingly be using them as an alternative to more expensive futures contracts. To this point, 48% of total Canadian ETF flows has gone into core funds since the iShares Core series of ETFs were introduced to Canada in March 2014, even though 90% of new funds launched in that same time frame have been ETFs with non-core exposures.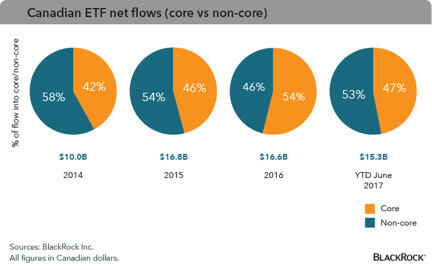 2. International diversification
Canada's stock market has underperformed many of its developed and emerging market counterparts this year after doing just the opposite in 2016. Not surprisingly, international equity has been one of the more popular ETF categories over the first six months as some investors sought potential opportunities in funds like iShares Core MSCI EAFE IMI Index ETF (XEF), which has attracted inflows of more than $450 million this year through September, according to BlackRock's Follow the Flow data. While Canadian stocks could potentially rebound in the weeks ahead, BlackRock Investment Institute currently favours Europe, Japan and emerging markets.
3. Fixed income
Bond ETFs attracted more new money than any other asset class or category of exchange traded fund in Canada so far this year through September. This may be a sign that fixed income investors have grown more comfortable using ETFs to execute their investment views because of the potential benefits they offer, including low cost, more immediate market exposure, greater access to niche markets and potentially enhanced liquidity compared to individual bonds. To this end, iShares Canada has seen the dollar amount of custom creations – a process by which institutional investors convert their individual bond holdings into units of ETFs – double in the past year to over $1 billion through June, according to BlackRock data.
4. ETF options
The trading of ETF options has more than doubled since 2014 based on a daily average volume of contracts so far this year and last. The tremendous growth is being fuelled by increased liquidity across the ETF universe that, in turn, has made ETF options a more viable strategy for both institutional and retail advisors who want exposure to a particular market or sector without owning it directly.
5. "Active" providers
This year has been another busy one for new entrants to Canada's ETF market. There are now 27 providers in the country, up from 18 at the end of 2016 and 12 at the end of 2015. What's perhaps most notable about this steady increase is the number of active managers entering the fray with an ETF strategy alongside their existing mutual fund businesses. For example, Dynamic Funds and  BlackRock Asset Management Canada Limited have joined forces to launch eight new active ETFs this year, including the Dynamic iShares Active Preferred Shares ETF (DXP), which has attracted over $230 million in assets under management through September of this year, according to BlackRock's Follow the Flow data.
Alan Green is a director and head of iShares Capital Markets for BlackRock Canada.
iShares® ETFs are managed by BlackRock Asset Management Canada Limited. Commissions, trailing commissions, management fees and expenses all may be associated with investing in iShares ETFs. Please read the relevant prospectus before investing. The funds are not guaranteed, their values change frequently and past performance may not be repeated. Tax, investment and all other decisions should be made, as appropriate, only with guidance from a qualified professional.
This material is not intended to be relied upon as a forecast, research or investment advice, and is not a recommendation, offer or solicitation to buy or sell any securities or to adopt any investment strategy. The opinions expressed are as of the date indicated and may change as subsequent conditions vary. The information and opinions contained in this post are derived from proprietary and non-proprietary sources deemed by BlackRock to be reliable, are not necessarily all-inclusive and are not guaranteed as to accuracy. As such, no warranty of accuracy or reliability is given and no responsibility arising in any other way for errors and omissions (including responsibility to any person by reason of negligence) is accepted by BlackRock, its officers, employees or agents. This post may contain "forward-looking" information that is not purely historical in nature. Such information may include, among other things, projections and forecasts. There is no guarantee that any forecasts made will come to pass. Reliance upon information in this post is at the sole discretion of the reader.
MSCI® and EAFE® are trademarks of MSCI, Inc. ("MSCI"). XEF is permitted to use the MSCI mark and, as applicable, the EAFE mark pursuant to a license agreement between MSCI and BlackRock Institutional Trust Company, N.A., relating to, among other things, the license granted to BlackRock Institutional Trust Company, N.A. to use the indices. BlackRock Institutional Trust Company, N.A. has sublicensed the use of these trademarks to BlackRock Asset Management Canada Limited. XEF is not sponsored, endorsed, sold or promoted by MSCI and MSCI makes no representation, condition or warranty regarding the advisability of investing in XEF.
© 2017 BlackRock Asset Management Canada Limited. All rights reserved. iSHARES and BLACKROCK are registered trademarks of BlackRock, Inc., or its subsidiaries in the United States and elsewhere. Used with permission. Dynamic Funds is a registered trademark of its owner, used under license and a division of 1832 Asset Management L.P. Used with permission. All other trademarks service marks or registered trademarks are the property of their respective owners. 279517