Feasting on figgy pudding like Mr. Fezziwig is a highlight of the Christmas season. But the miserly Ebenezer Scrooge taught us that you need more than a few shekels to buy the prize-winning turkey for the feast.
To generate an adequate income, many investors turn to dividend stocks. While they may be riskier than bonds, dividends tend to grow over time. Even better, diversified portfolios of high-yield stocks have a history of outperforming the market over the long term in both the U.S. and Canada.
The no-fuss way to invest in dividend stocks is to buy a dividend fund. But looking for a good dividend fund isn't like looking for a gift for that special someone. Problem is, the luxury fund option has a habit of disappointing due to fee-induced performance drag. It's a big reason why frugal investors head to the discount aisle and load up on low-fee index funds and exchange-traded funds (ETFs).
When it comes to Canadian dividend ETFs, I prefer the Vanguard FTSE Canadian High Dividend Yield Index ETF (TSX: VDY). It has a low management expense ratio (MER) of 0.23% and Vanguard has a habit of cutting their fees over time. The fund pays distributions monthly and sports a trailing distribution yield of 3.9%.
This ETF represents a good option for investors who want exposure to Canadian dividend stocks and don't want to spend much time fiddling with their portfolios. (Naturally, it should be part of a more diversified portfolio that includes both bonds and international stocks.)
While Vanguard's offering does a good job of reflecting the Canadian high-yield market, this fund is not without its flaws. At the end of October, the fund held 93 stocks but 65% of its portfolio was invested in the 10 largest. In other words, it is fairly concentrated.
Like many index funds, the ETF's holdings are weighted by market capitalization. (Market capitalization is a measure of size. It is equal to the number of shares a company has multipled by its share price.) As a result, the fund owns more of the largest stocks and less of the smaller ones.
From an industry point of view, about 64% of the fund's assets at the end of October were in financials, 15% were in oil and gas stocks, and 6% in telecoms. The six big banks collectively made up 48% of the portfolio with Royal Bank (TSX: RY) and TD Bank (TSX: TD) together accounting for 26% of it. While the heavy emphasis on financials is hard to avoid for Canadian dividend investors, it is important to buy more than just the big banks.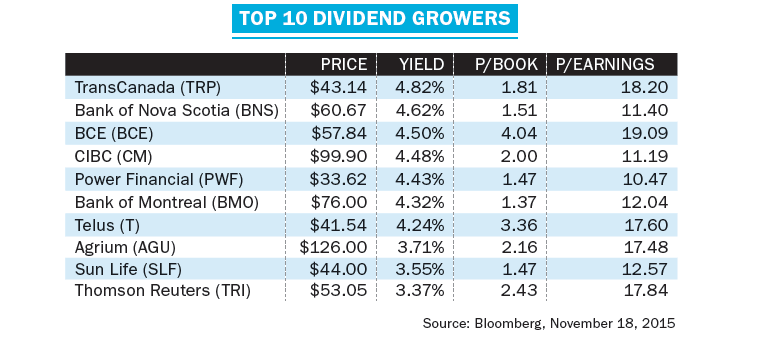 If you don't mind building your own portfolio, you can improve it by buying equal amounts of each stock and then opting for a smart, and somewhat relaxed, approach to rebalancing. Take the Vanguard fund's portfolio as an example. One might buy similar dollar amounts of each of the 93 stocks (or perhaps a smaller number like the top 10 or 20) with a view to sitting on them.
Dividends can then be used to top up smaller holdings as prices move around over the years. Similarly, withdrawals and contributions to the portfolio can be used to slowly rebalance it. The effort won't result in a precisely equally-weighted portfolio, but it should be close enough for most investors to obtain a modest performance boost over the long term.
Those with smaller portfolios can begin with a small collection of dividend payers and then slowly add stocks over the course of many years. To help, I've provided a starter list of 10 Dividend Growers in the accompanying table.
The Dividend Growers currently have an average yield of 4.2%. They are all large profitable dividend payers, which have grown their dividends in recent times and trade for less than 20 times earnings. I limited the list to three banks, two telecom firms and two insurance companies in an effort to boost its diversification by industry.
If you want more dividend stock ideas, check out my MoneySense blog. It regularly tracks the major high-yielding dividend payers. With a bit of luck, the income provided by good dividend stocks will help investors feast with family and friends for many years to come.