If you're looking for a card that delivers top rewards without an annual fee, look no further. In exchange for slightly lower earn rates, these no-annual-fee cards still get you perks on what you spend. So whether it's cash back that you want, no foreign transaction fees or generous travel points, these no fee credit cards offer gold-plated options.
The best no fee credit cards in Canada 2020
---
Best card for cash back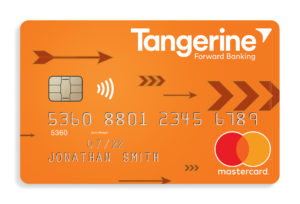 With its competitive cash back and flexible spending categories, the Tangerine Money-Back Mastercard serves up a sweet deal. Cardholders automatically get 2% back on purchases in two spending categories, with a third category made available when they set up an automatic rewards deposit into a Tangerine Saving Account, which also doesn't have any fees. All other spending earns 0.5%.
This means 2% cash back is available on purchases in up to three of the following categories: groceries, restaurants, gas, drug stores, recurring bill payments, entertainment, public transit and parking, furniture, home improvement, or hotel and motel stays.
And while this card offers only minimal perks like purchase assurance and extended warranty, it does allow you unlimited cash back, unlike many other cards that cap your rebates. Finally, for new customers applying before January 31, 2020, Tangerine is offering a welcome bonus of 4% in up to three categories for a full three months.
If you meet the $60,000 annual income requirement you'll automatically be considered for the Tangerine World Mastercard, which comes with additional perks such as mobile device and rental car insurance.
Welcome offer: Get 4% cash back on up to 3 categories for the first 3 months (offer valid for cardholders who are approved by January 31, 2020)
Earn rate: 2% cash back in up to 3 spending categories of your choice from 10 different options; and 0.5% on all other purchases; Cash back can be applied monthly, either to your credit card balance or deposited into your savings account
Income requirement: $12,000
Additional benefits: Purchase protection and extended warranties
Click here for more details about the Tangerine Money-Back Card*
---
Best no fee credit card for travel points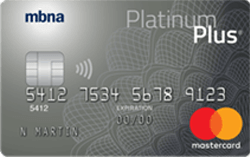 This card allows account holders to collect MBNA Points, redeemable for a variety of rewards including travel, cash back, hotels and merchandise. Trip-happy cardholders will enjoy the ability to redeem 100 Points for $1 worth of travel—an impressive redemption rate of 1% that will help you get to your dream vacation faster. If you choose to redeem your Points for cash back, the rate is 200 Points per $1. For groceries, gas and restaurant purchases, the rate is 2 Points per $1 on your initial $5,000 in purchases, and everything else comes in at 1 Point per $1. And—great news for those saving against a large travel purchase—the Points never expire as long as your account with MBNA is open.
Additionally, this card offers seven types of insurance, including unexpected return home, rental car collision, and accidental death and dismemberment, balance protection and extended warranty. While you'd likely need additional travel emergency insurance to fill in the gaps, this card gets you started—a rarity on a no fee card.
Welcome offer: New applicants can earn up to 10,000 bonus Points and 4 Points per dollar spent on gas, groceries and restaurants for the first 90 days
Earn rate: Earn 2 Points for every dollar spent on eligible gas, groceries and restaurants ($5,000 max annual spend per category) and 1 Point per dollar on everything else.
Additional benefits: Unexpected return home coverage; rental collision and accidental death and dismemberment insurance; balance protection and extended warranty
Click here for more details about the MBNA Rewards Plus Mastercard*
---
Best earn rate on foreign purchases
Rogers World Elite Mastercard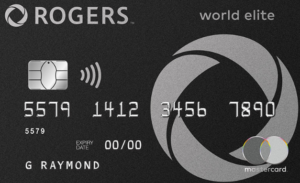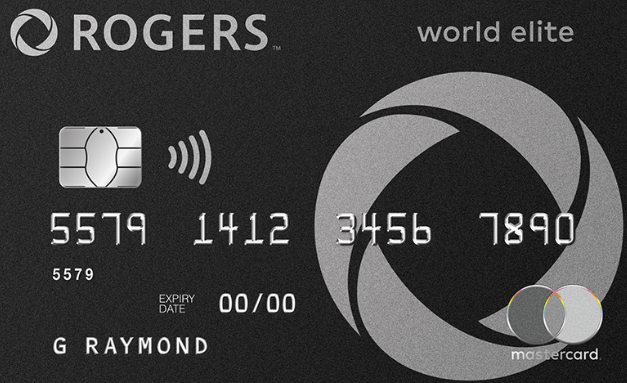 With its regular 1.75% cash back, 2% back on Rogers products and no annual fee, this card should make most Canadian card users sit up and take notice—but for travellers and online shoppers, it's a bona fide cause for celebration. That's because purchases in a foreign currency earn a whopping 4% cash back, which covers the foreign transaction fee credit cards typically charge—between 2.5% and 3%—with a bit extra on top. Cash rewards can then be redeemed towards any eligible purchases made on your card, for the ultimate in flexibility. Cross-border shoppers, regular travellers and those who buy online will be very interested in the Rogers World Elite Mastercard.
There is one drawback, which is that applicants must show an annual income of $80,000; that's going to exclude many Canadians. For those who can meet this requirement, though, it's a great option.
Welcome offer: Get $25 in cash back rewards when you make your first card purchase within 3 months of receiving your card
Earn rate: Get 4% cash back on purchases in a foreign currency, 2% on Rogers products and services charged to your card and 1.75% on all other purchases
Income requirement: $80,000
Additional benefits: Travel insurance including emergency air-transportation or evacuation; additional hotel and meal expenses (up to $200 a day for a maximum of 10 days) if incurred after the planned return to Canada; emergency dental care; and more
---
Best card for no foreign transaction fees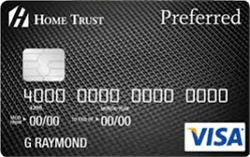 There's more than one way to improve cross-currency shopping, and ditching the foreign exchange fees altogether is a popular—but rare—option. The no fee HomeTrust Preferred Visa is one of the few cards available to Canadians that have no foreign transaction fees, and along with a respectable 1% cash back on all purchases without limit, it's a card worth considering. Like many no fee cards, the HomeTrust Preferred doesn't offer much in the way of insurance beyond purchase security, but it does provide one big bonus perk: membership in Roadside Assistance, which includes up to four service calls annually across North America. Also, when you use this card to pay for an automobile rental, collision and loss coverage are included. The HomeTrust Preferred Visa has a very accessible minimum annual income requirement of $15,000.
Earn rate: 1% cash back on purchases
Income requirement:

$15,000

Additional benefits: No foreign transaction fees on purchases in other currencies; Roadside Assistance gives cardholders up to 4 annual service calls across North America; rental car loss and collision coverage is included
Click here for more details about the Home Trust Preferred Visa.*
---
Best no fee card for low interest and balance transfers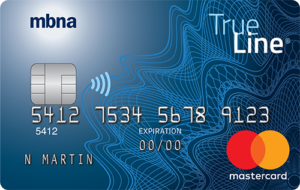 If you're carrying a balance, you'll want to get that debt onto a lower-interest card as quickly as possible—but the rate is only part of the equation. When card holders need to move money between cards, three numbers come into play: the regular interest rate; the balance transfer rate; and the balance transfer fee. Ideally, all three numbers are as low as possible. With a regular interest rate of 12.99%, a promotional balance transfer rate of 0% for 12 months, and a balance flat transfer fee of 3%, the MBNA True Line comes out on top. Add the fact that this card commands no annual fee, and this is a powerful card for someone trying to pay off their debt.
Balance transfer offer: The promotional 0% interest rate for 12 months and regular rate of 12.99% will keep your interest charges in check
Regular APR: 12.99%
Additional benefits: Add up to 9 authorized users without an additional fee
NOTE: APR and balance transfer offer are different for residents of Quebec.
Click here for more details about the True Line Mastercard*
---
Best no fee student card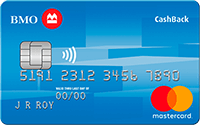 Canadian students have their own needs, including a way to cover the financial burden of tuition and school expenses, the need to establish a healthy credit history and an unending quest for cash on hand. With no annual fee, a welcome bonus of 5% cash back for three months (up to $100) and a low $15,000 annual income requirement, the BMO CashBack card is designed with students in mind.
The 5% cash back welcome offer is top-notch (and applicants who plan ahead might do well by timing their first three months with the beginning of a semester—those books add up!), but 1% back on everything else is nothing to sneeze at. As a student card, there's no specific income requirements and you can get approved even if you've never had a credit card before. It also comes with standard insurance coverage like extended warranty and purchase protection. Overall, this is an attractive entry-level card.
Welcome offer: New members get 5% cash back for the first 3 months, up to $100
Earn rate: 1% cash back on eligible purchases
Additional benefits: Members receive 25% off at National and Alamo car rentals
Click here for more details about the BMO CashBack Mastercard*
---
Best no fee flat-rate cash back card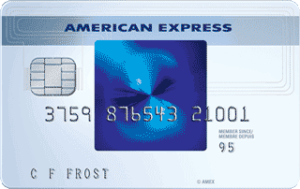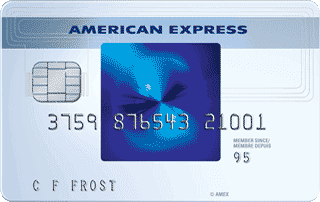 These days, many cash back cards offer attractive welcome bonuses, but once the promotion is over, the core card fails to impress. Not so with the SimplyCash Card from American Express. This card gives new users 2.5% back for a full three months (up to $150 in rebates), and afterwards reverts to a regular rate of 1.25%. While some cards complicate things by breaking down their rewards into spend categories, the SimplyCash lets you earn equally across categories—and, there is no limit to the cash you can earn back at the regular rate. Earn more by referring a friend—you can receive $100 in thanks each time, up to 15 friends.
The SimplyCash American Express includes shopping and travel protections, including $100,000 in travel accident protection, buyer's assurance and purchase protection. And cardholders are automatically enrolled in American Express Invites, giving them access to premium entertainment options.
Welcome offer: Get a welcome bonus of 2.5% cash back in the first 3 months, up to $150
Earn rate: Get 1.25% cash back on all purchases regardless of purchase category (after the welcome bonus ends). Plus, no limit on the amount of cash back you can earn; Get $100 cash back for each approved referral up to a maximum annual referral bonus of $1,500
Additional benefits: Includes access to select Toronto venues, including Roy Thomson Hall and Budweiser Stage. Plus, get Front Of The Line access to pre-sale tickets for the most in-demand concerts, theatre productions, restaurants and more; add up to 9 additional cards for free
Click here for more details about the SimplyCash Card from American Express*

---
Best retail or store card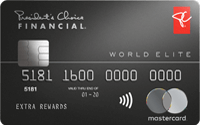 For those who shop regularly at Loblaws banner stores and Shoppers Drug Mart (or Pharmaprix in Quebec), the PC World Elite Mastercard offers a great way to take advantage of one of the most popular and useful loyalty programs in the country: PC Optimum. Here's how it works: When you use your PC World Elite Mastercard, you earn a minimum of 10 Points per dollar spent, with multipliers for purchases at Shoppers (45 Points per dollar), and Esso, PC Travel or any Loblaws-owned stores like No-Frills, Fortinos or Real Canadian Superstore (30 Points per dollar). Points are redeemed anywhere PC products are sold, in 10,000-Point increments, which works out to $10. PC Optimum is a valuable, easy-to-use program—and the PC World Elite can help you make the most of it.
Earn rate:

45 Points per dollar at Shoppers Drug Mart; 30 Points per dollar at Esso, PC Travel or any Loblaws-owned stores; 10 Points per dollar everywhere else

Income requirement: $80,000 personal or household income of $150,000
Additional benefits: Travel emergency medical insurance; car rental loss or collision coverage; concierge services
Click here for more details about the PC Financial World Elite Mastercard*

---
Advantages of a no fee credit card
The main advantage of a no fee credit card is exactly what the name suggests: There's no fee. This means that unless you're carrying outstanding debt, using the card costs you nothing. The appeal of a free card is obvious, but there are some things to consider, not the least of which is that no fee credit cards typically offer far fewer benefits and perks than cards that carry an annual fee. More on that below, but first let's look at some of the top reasons why a no fee option might be best for you:
You're a student or just starting out
Everyone needs to establish credit. Starting out with a no fee card lets you build up credit and understand your spending habits before you consider moving on to a card with an annual fee.
You're a light credit user
Cards that carry a fee often have other valuable benefits or rewards—perks that offset the upfront cost with enough use. If you don't foresee yourself spending enough to make back the cost of the annual fee, a no fee card may be the better choice.
You already have a fee card
There are lots of reasons to carry a second no fee card as a back-up. You could use an American Express with a fee as your main card, but what about places that don't accept Amex? Or maybe you carry a rewards card with a fee and chose a cash back no fee card. It's not a bad (or costly) idea to have a no fee card in your wallet.
No fee cards come with fewer frills
One major drawback to no fee cards is that, with few exceptions, they lack the perks and benefits—particularly insurance—that's offered by many cards with an annual fee. Typically, no fee cards do include very basic protections such as zero liability, purchase protection and extended warranty, but you'll likely miss out on travel medical emergency insurance and rental car collision coverage and on perks such as airport lounge access. Ultimately, you'll have to weigh these benefits against the fees and decide whether a no fee card works best for you.

---
Canada's best no fee credit cards — rewards overview
| Card | Net reward (excluding 1st year sign-up bonus) |
| --- | --- |
| Tangerine Money-Back Card | $286 |
| MBNA Rewards Platinum Plus | $348 |
| Rogers World Elite Mastercard | $420 |
| Home Trust Preferred | $240 |
| BMO CashBack Mastercard | $240 |
| SimplyCash | $300 |
| PC Financial World Elite | $427 |
---
More about credit cards
---
Our methodology
For the best cash back credit cards 2020 ranking, MoneySense tapped into Ratehub.ca's‡ credit card tool and calculated the numbers for both fee and no fee cash back rewards cards based on $2,000 in monthly spending. We used the following scenario: $500 on groceries, $200 on gas, $200 on restaurants, $125 on bill payments, $175 on travel, $225 on entertainment, $75 on pharmacy purchases and $500 on everything else.
The end game was a magic number—that is, the annual net reward in dollar terms to identify the top cash back cards for each type of spender. Our methodology also took into consideration other factors, including limited-time accelerated earn rates, the range of spending bonus categories, annual fee waivers, purchase protections and travel insurance perks.
‡MoneySense.ca and Ratehub.ca are both owned by parent company Ratehub Inc. We may be partnered with some financial institutions, but this does not influence the "Canada's Best Credit Card" rankings. You can read more about this in our Editorial Code of Conduct.