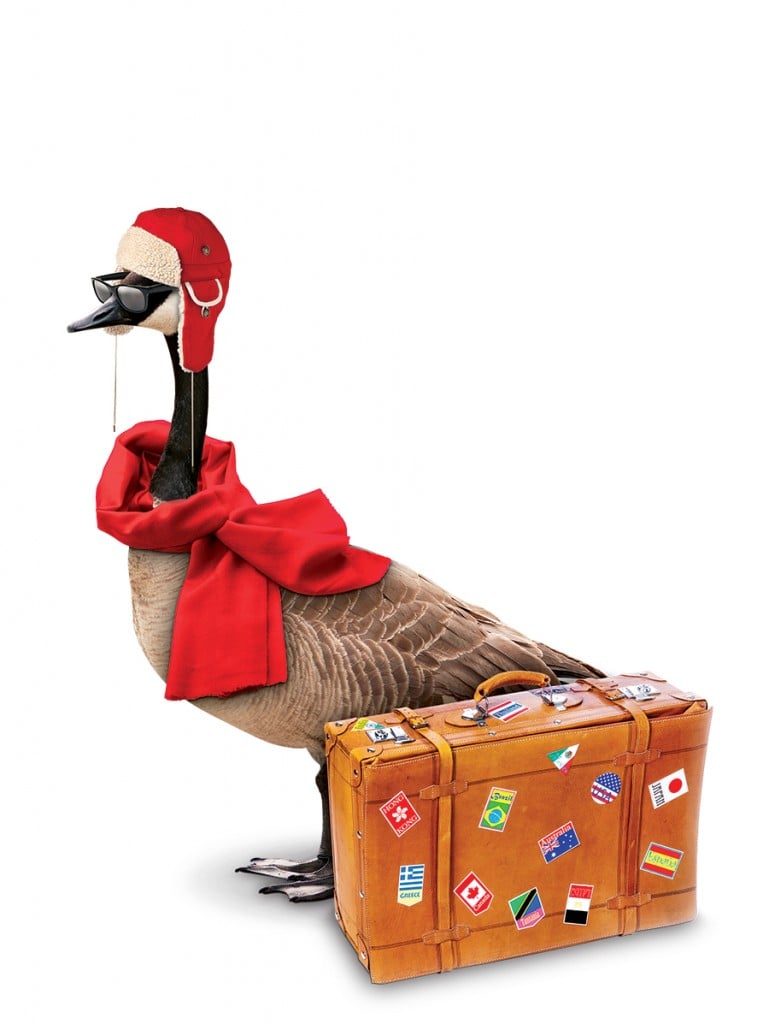 If you think spending a few months in the sun every year is a great idea, but only for millionaires, it's time to reconsider. We'd like to let you in on a little secret. More than a million Canadians aged 55 and up have learned the ins and outs of leading a snowbird lifestyle—and many of them don't have big budgets. As you've probably heard, snowbird is a term used to describe a Canadian who regularly spends time in warm-weather spots in U.S. Sunbelt states like Florida, Arizona, Texas and California, as well as Mexico, for up to six months every year. Some drive down in campers or RVs while others rent condos or houses in different areas of the Sunbelt every year. Some even buy a home outright and return year after year.
That's exactly what Rick Thorpe and his wife Yasmin of Penticton, B.C., do. Come mid-October, when the weather starts to get colder and rainier, they enthusiastically pack their bags and fly south to Green Valley, Ariz., just as they've been doing for the past four years. The small town of 30,000 people is a 20-minute drive from Tucson and serves as a winter home to the couple and 300 other Canadian snowbirds. "My grandson always asks why we go down south for the winter," says Rick, 67. "He says he likes the snow. I tell him I really liked snow too when I was 10 years old. But I'm not 10 any more and I think sunshine is much, much nicer."
Before buying their Green Valley home, the Thorpes spent a few winters renting properties in Palm Springs and different areas of Arizona. Then, in 2009, they fell in love with a spacious home in Green Valley and bought it for US$268,000 cash. With a paid-off Penticton home, along with Rick's CPP and modest defined-benefit pension, the couple looked at their annual budget and decided living the snowbird lifestyle for five months of every year was doable if they planned and budgeted carefully. "Our 'house in the sun' as I like to call it, reminds us of our home in Penticton," says Rick of the couple's 1,826-sq-ft, two-bedroom Green Valley home. "In fact, the view from my back windows in both homes is similar, except that with the mountains outside my Arizona window, there's an incredible big blue sky to go along with it every single day. You can't beat it."
How do they do it? Among other things, Rick and Yasmin are organized. Over the years, Rick has become somewhat of an expert on many of the issues Canadian snowbirds face—preparing annual budgets, watching the value of the loonie carefully to see if this year they'll have a favourable exchange rate and making sure they have enough travel medical insurance to make their trips carefree.
If you're wondering whether the snowbird lifestyle is right for you, read on. We ran the numbers and discovered a snowbird lifestyle can be had on just about any budget—from a super affordable $4,400 for three months in Mexico all the way up to $21,000 or more for a three-month stay in an upscale community in a U.S. southern state. See "How much extra will you need to live the snowbird lifestyle?"
In all cases, you need to understand some important details, including the financial, health and tax consequences, customs, insurance and estate planning. "Every person's situation is different and regulations and laws can change at any time," says tax expert and author Evelyn Jacks. "You need to educate yourself and watch out for the tax traps. If you stay well informed, you'll make the right choices."
Do your homework. Before you begin your annual trek south, find out everything you can about making your stay carefree. It can start with a simple trip to your local library or bookstore to find books on the topic. A good one to start with is The Canadian Snowbird in America, by Terry Ritchie and Brian Wruk. You should also check out the Canadian Snowbird Association website at www.snowbirds.org. The association has over 70,000 members nationwide and for a yearly membership rate of $25, you can have access to all their timely information on everything from exchange rates to bringing pets across the border.
Popular Sunbelt locales with Canadians include Yuma and Tucson, Ariz.; Naples and Venice, Fla.; Palm Springs and La Quinta, Calif.; Galveston and Corpus Christi, Tex.; as well as San Miguel de Allende and San Carlos, Mexico. "Start looking in your 50s," says Beverly Wood, 58, who with her husband Chris has spent the last two winters in San Miguel de Allende. "If not now, when? Looking is fun. You get to know a place differently when you're planning to maybe live there."