Most attendees of the Toronto International Film Festival are all about the films. The debuts, the directors, the artistic integrity and the features that pushed the envelope (and potentially for the envelope).
But let's admit it, there's also a great big swath of people that are in it for the celebrity sightings. A glimpse of the who's who of film royalty — a moment snatched with stars that walk  the streets of Toronto trailing a crew of cameras and fans.
To get an inside peak into the life of a celebrity during TIFF 2015, we got to a behind-the-scenes look into the gift bags they'll receive and the hotel rooms they'll occupy—and, we have to admit, it's a little enticing.
This year Bask-it-Style is offering TIFF celebrities an entire assortment of goodies, from: Doi Chaang Coffee (accurately described as Beyond Fair Trade Organic Coffee), to a wonderful story about redemption from author Colin Campbell (found in his book, Free Days with George), to stunning 100% Canadian-made fine jewelry from Studio1098—the bag's got it all (read our complete breakdown of the goodies, here). But our visiting Hollywood royalty can't enjoy even a sip of Canada's first pale ale (Old Tomorrow CPA) without first checking into their luxury accommodation. To help you spot the A-lister here's a breakdown of seven of the best hotels Toronto has to offer.
---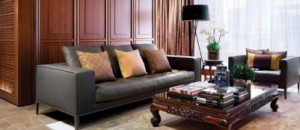 1) Shangri-La: We first started this tour in one of the private estates above the 66-storey Shangri-La Hotel (located at 180 Adelaide St.). While one of the newer luxury hotels on the scene, rooms at this hotel boast silk-clad walls, floor-to-ceiling marble bathrooms, automated showers, and absolutely stunning views from atop glass balconies. While the suite we visited is not officially for rent you could purchase the two-bedroom, 2 bathroom, 2,000-square foot suite for just over $3.9-million. Nightly rates for rooms at the hotel start at $400 and go up, up, up.
---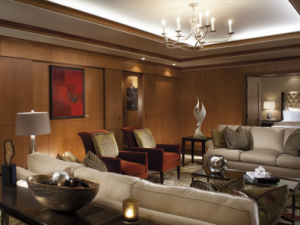 2) Ritz Carlton. Just on the border of the financial district, the Ritz Carlton is known for it's 23,000-square-foot Urban Sanctuary and Spa. But you may not know that the property is mixed use, meaning there's a mix between strictly hotel rooms and owner-occupied condos. The largest private condo was last sold for a cool $11-million, but today's celebs can relax in this five-star hotel's one-bedroom suite (featuring floor to ceiling windows and heated marble bathroom floors) for just $1,500 per night.
---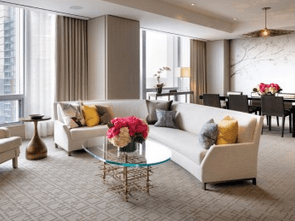 3) Four Seasons. The iconic Yorkville hotel was revamped and relaunched in October 2012 to include a 30,000-square-foot spa. Now the hotel offers an almost labrynth-like two-level lobby—great for stars who want to duck the paparazzi. The cheapest rooms during TIFF are the Superior rooms, that go for $875 per night, but it's the $4,825 per night Cumberland Suite that will attract the biggest and brightest Hollywood stars. The two-bedroom suite is complete with full granite bathrooms (although there's a guest bathroom, so nobody has to nose around in your toiletries), along with an open concept living/dining room area that easily seats six.
---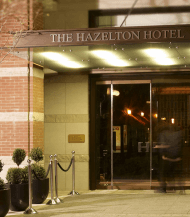 4) Hazelton Hotel. Not interested in the Four Seasons, but want to stay in Yorkville? Consider a hotel whose master Chef experience include Mark McEwan. With only 62 rooms, this luxury stay is a lot more petite than its competitors but the Bellair Suite more than makes up for that. Located on the fourth floor this $3,500/night room provides 1,860-square-feet to relax in, including an 80-square foot dressing room (made of zebrawood and offering floor to ceiling mirrors).
---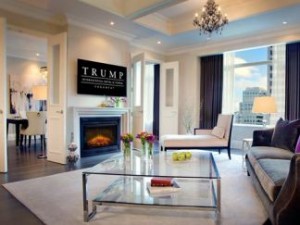 5) Trump Toronto. The new anchor for Bay and Adelaide is the Trump Hotel. With its safe white, black and champaigne colour palette, along with bedside controls for curtains and Nespresso machines. Rooms start at $650 per night and work up to $10,000 per night for a two-bedroom, 2,228-square-foot suite with city view.
---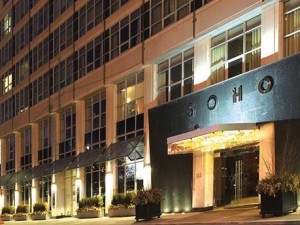 6) Soho Metropolitan. Think more than one star wants to bunk down in a boutique luxury hotel? Then you'll want to camp out at the Soho Metropolitan. The hotel's tri-level penthouse suite is 4,000-square-feet of opulence with floor-to-ceiling windows, two bedrooms, five washrooms, a private library, two spacious living rooms and a large rooftop terrace that overlooks our wonderful city. But don't expect to get a glimpse, as the suite comes armed with an in-suite security system as well as remote-controlled lighting and motorized drapes.
---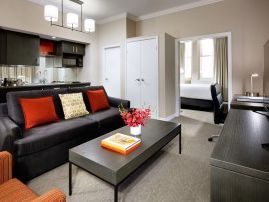 7) One King West. Want old-world sophistication with modern-day luxury? This is what One King West claims to offer. Built around the former headquarters of Toronto Dominion Bank this hotel also offers mixed use—with condo-owners and hotel patrons mingling in the lobby and at the bar. You can choose between Historic (more stately) or Tower (more modern) suites that start at $350 per night and go up.
---
Want to know the value of a TIFF gift bag? Find out what's in the bag, and what it costs, here.
Read more from Romana King at Home Owner on Facebook »