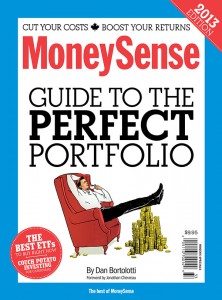 I'm pleased to announce that the 2013 edition of The MoneySense Guide to the Perfect Portfolio is now on sale. The book is available wherever you would buy MoneySense magazine, including newsstands at Chapters, Shoppers Drug Mart, Walmart and Loblaws. You can also order it online at the Rogers Publishing e-Store. The book retails for just $9.95, or about the cost of a single ETF trade at your discount brokerage. We're hard at work on e-book versions for Kindle, Kobo and Apple devices and I'll let readers know as soon as these are available.
This is the third edition of my guide for do-it-yourself index investors, which was first published in 2011. Most of the content is the same—the fundamentals of smart investing don't change—but this edition has been thoroughly updated. The most significant change is the final chapter, which now includes a version of the ETF All-Stars article I wrote for the February/March issue of MoneySense. (The full article is available in PDF format from the Rogers Publishing e-Store for $2.99.) This includes a list of 21 ETFs that can form the building blocks of virtually any Couch Potato portfolio.
Because some excellent new ETFs were launched in 2013, I made a change to the Global Couch Potato model portfolio. Rather than using the iShares MSCI World (XWD) for both US and international equities, the book now recommends the iShares S&P 500 (XUS) and the iShares MSCI EAFE IMI (XEF), both of which were launched in April.
According to Murphy's Law, Vanguard went on to launch several other new funds in August, just days after the book went to press. When I make the next update to my model portfolios (likely in the new year) I will probably include a couple of these ETFs: the Vanguard U.S. Total Market (VUN) will surely replace the S&P 500 for US equities.
This gives me another excuse to remind readers why it's important not to dwell on product choices when putting together an investment plan. I've already heard from someone who bought the book and had a litany of questions about the ETFs in the model portfolios. After we exchanged a couple of e-mails he admitted he hadn't actually read the book: he'd just flipped to the end to learn which funds to use. Bad idea: putting products before process is a guaranteed recipe for failure as an investor. Besides, buying the book and not reading it hurts my feelings.
To celebrate the launch of the new edition, I'll send a free copy to five readers who enter the random draw below.