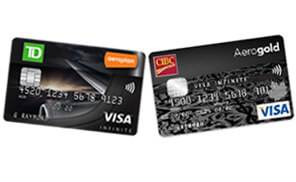 Ever wonder how it feels to be traded like an NHL player? Thousands of Canadians will soon find out thanks to a deal struck between CIBC and TD. Under a recently finalized agreement, about half of CIBC's Aerogold credit card holders will be transferred into one of TD's new Aeroplan credit cards. Current CIBC Aerogold cardholders who have other business with the bank—say through a personal savings account—will stay CIBC red while the rest will be sporting TD green.
For affected CIBC Aerogold cardholders the only thing that will really change is the look of the card: The fees are identical and points on the TD cards and CIBC cards tied to the Aeroplan program are awarded and redeemed exactly the same way. This assumes, of course, Aerogold customers are transferred into TD's Aeroplan Visa Infinite card. That's important, since TD has rolled two additional Aeroplan cards that aren't nearly as generous. A cheaper $89 version called TD Aeroplan Visa Infinite Platinum will save you $31 on the annual fee but will result in a drop of almost $90 worth of points a year for someone putting $1,000 a month on their card. TD also offers a more expensive version, TD Aeroplan Visa Infinite Privilege, but that one only pays off if you're piling on more than $66,000 a year onto your card.
CIBC Aerogold cardholders should be wary of retooled Aventura
CIBC is also upping the competition in the travel card space by retooling its Aventura credit card program. But think twice about switching over if you're a CIBC Aerogold cardholder who isn't being involuntarily switched over to TD. While CIBC's Aventura and Aerogold cards rack up points at a similar clip, the Aventura points simply aren't worth as much.
Moreover, the way Aventura points are redeemed also lacks the transparency of the Aeroplan program when it comes to explaining how many points you actually need for a given flight. Steve Tyers, who works on card product management at CIBC, says this is partially due to promotions that allow cardholders to book flights for a reduced number of points on some of the most popular routes. He adds that with Aventura cards you can use your points to get a flight on any seat on any airline, with no blackout periods plus you can use your points to cover your taxes and fees. Aventura cards also beef up purchase security and travel medical insurance.
As part of CIBC's move to retool and promote its Aventura card, the bank is dropping its MasterCard option for these cards.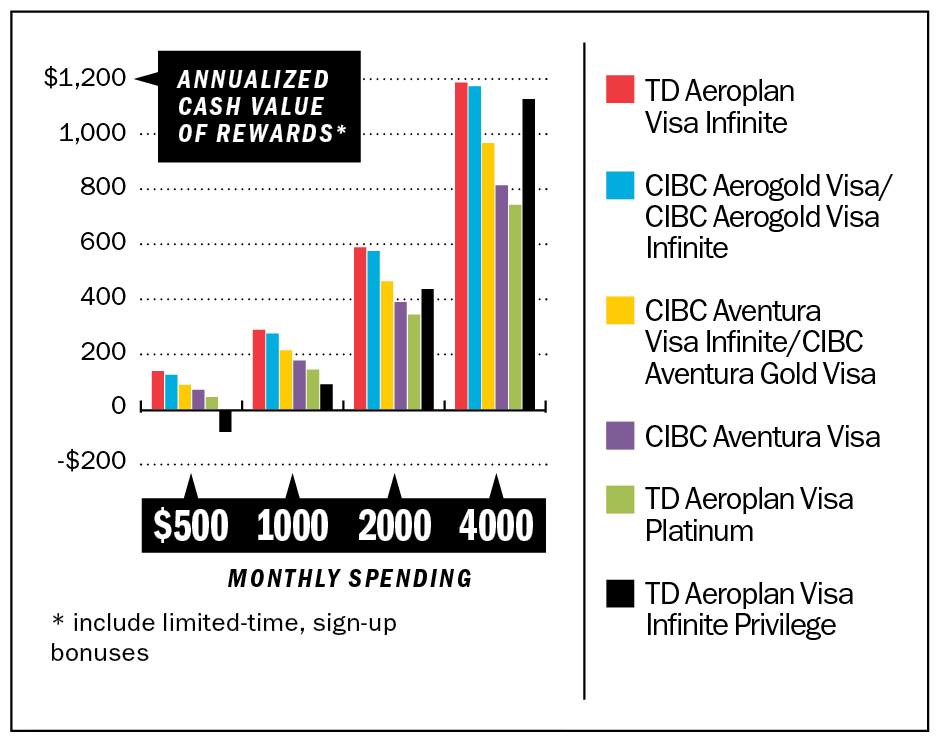 TD Aeroplan a better value for new cardholders
If you're in the market for a new travel card, now's the time to sign up. With CIBC and TD fighting for your business, new cardholders are the ones who come out ahead. The competition is fierce, with both issuers waiving the first year fees on select Aeroplan and Aventura cards, and super-sizing sign-up bonuses to entice you to enroll.
TD's Aeroplan cards—specifically the Infinite and Privilege versions of the card—are offering a free two-for-one round-trip flight (on top of their standing sign-up bonuses of 15,000 and 25,000 points, respectively), although it's only good for a short-haul route or enough to get you from Toronto to Ottawa and back. CIBC's Aventura cards are responding by offering with an additional 5,000 bonus points on top of their regular 15,000-point sign-up offer. If you do the math the Aventura bonus works out to the equivalent of a flight of $315, before tax.
But act quickly—both these promotions are around only for a limited time. If you're down to a choice between a travel card from TD or CIBC,  the TD Aeroplan Visa Infinite Card is the way to go. The TD bonus is a short-haul flight instead of points that you can spend anywhere but the offer is a little bit richer, but only until May 9 when flight promotion expires.
Bear in mind too that all credit-card companies are trying to win your business right now. The ads are everywhere and they're offering some pretty attractive sign-up bonuses, especially in the travel space. Many card companies are offering enough points for a free flight.
The overall best travel card in Canada, according to MoneySense's annual credit card ranking, is the WestJet RBC World Elite MasterCard.