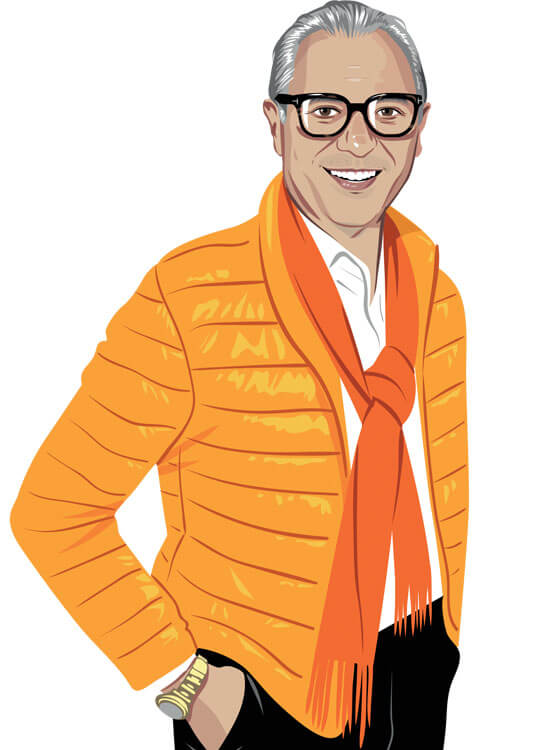 My first paycheque was a tip I received delivering groceries when I was 11 years old. I immediately bought a Coffee Crisp bar with it. Nowadays, I love to indulge in a great wine and I enjoy collecting it, too. I get great pleasure out of opening up a really beautiful vintage like a 1982 Château Margaux and a 1982 Haut-Brion, for instance. I like to wait for a special occasion.
It's not a priority for me to have, say, a Porsche or a Ferrari, though. For the most part, cars are like refrigerators for me—practical. But I did love my very first one. My brother and I saved up our money and we bought a Karmann Ghia for $700 back in 1969. It had no heat, but man, that was really something having our own car. Believe it or not, it was orange.
My wife Kim [that's Kim Newport-Mimran, the Pink Tartan designer] and I have no similarities when it comes to money. She'll spend it. I'm way more careful and thoughtful about where money is coming from and how it's earned.
People in fashion spend tens of thousands of dollars over their lifetimes on clothes and shoes only to see them fall out of fashion tomorrow and lose all their value. Having a fashion addiction can be very costly if you're buying a designer. Sometimes you can't get your money out of it. I know some people who actually would spend their entire paycheque on fashion every single week and then, at the end of 30 years, they don't really have very much to show for all that investment, other than looking good.
The best financial advice I can give anyone is to buy whatever real estate you are renting. You should enter the market, even if it means extending yourself a little. Start small if you have to. Linger on the sidelines too long and inflation will kill you, especially in heated markets like Vancouver and Toronto. Your home is probably the single biggest investment you'll make. Stretch a bit to afford it and it usually works in your favour, especially since you can sell a house that's your home, tax-free.
My best investment, however, has been my businesses. Selling them at the right time has also worked well for me over the years. Some of my worst investments were in the tech stock run-up in 2000. The most difficult thing any investor has to learn is knowing when to chuck a loser. Are you just about to turn the corner? Or are you going to just keep throwing good money after bad? Failure is hard to work through but it's important to be a realist and know when it's time to get off that train.
Dragons' Den airs on CBC Wednesdays at 8:00 p.m.
As told to Briony Smith