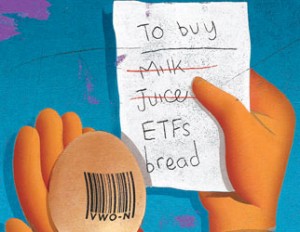 Exchange-traded funds have been a huge boon for Canadian index investors. They generally have much lower management fees than index mutual funds, and they offer far more variety. But they have always had an Achilles heel: because you buy and sell ETFs on a stock exchange, you pay trading commissions (usually $10 or more) that can quickly wipe out their advantages. Until now, that is. In September, Scotia iTrade became the first Canadian online brokerage to offer a menu of ETFs that investors can buy and sell for free.
Not all ETFs qualify for the zero-commission deal. Most of the 46 funds on the list are from Claymore Investments, although a few iShares and Horizons products are also included. Any investor will be able to build a well-diversified portfolio of Canadian and international equities, bonds, real estate and commodities from this list.
The announcement could also prompt other discount brokerages to follow suit. Qtrade Investor looks to be the first to compete: "We expect to have an offer that meets or beats the Scotia offer," says vice president Joel Bernard.