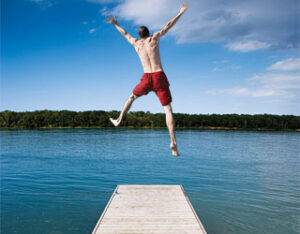 Prices for lakefront cottages and chalets in key Canadian vacation hotspots rivaled the housing prices of some of the finer neighbourhoods in Toronto, Calgary, Vancouver and Montreal over the last decade. Thankfully, prices in cottage country started to soften about 24 months ago, making it easier to own a piece of paradise.
Still, the thought of paying between $250,000 and $1 million for a waterfront vacation property leaves some Canadians cold.
That's when fractional ownership seems to make sense. Known as "cottage-lite," fractionals started to appear in the early 1990s at American ski resorts. It was an ownership option for people who wanted vacation properties but didn't want the expense or hassle of owning real property.
Much like deeded timeshares—where you pay to use a property for a certain number of weeks each year—a fractional ownership allows you to own part of the property with exclusive rights of usage for a certain number of weeks. The benefit is you don't have to add a second set of expenses that comes with owning a property, such as property taxes, maintenance fees and utility costs, among others.
"I don't have to worry about shoveling the walk or maintaining the dock," explains Don Cruikshank, a Thornill, Ont., semi-retired engineer who paid $71,000 for a fractional in Ontario's Muskoka region. "Every year we simply drive up and find the place in good condition and ready to enjoy."
Cruikshank bought his Muskoka fractional—which includes the use of a three-bedroom cottage on a 43-acre complex, with over 4,000 feet of shoreline, for five rotating weeks each year—in 2007. As part of his ownership, his family has access to tennis and basketball courts, canoes, paddle-boats and trails. Every year he pays approximately $2,500, which pays for a property manager, insurance, property tax, utilities, repairs and cleaning. Then, each year in June, the co-owners choose their weeks for the upcoming year. "Even though we haven't always had first picks, we've always got the weeks we wanted," says Cruikshank.
A similar property in the area would've cost Cruikshank at least $500,000, not including annual costs. "I bought worry free cottage living," he says.
There are some drawbacks, however. Financing fractionals can be difficult, as most banks won't approve a mortgage for this type of vacation home purchase. Also you can't customize the interior design, and the resale is significantly less than with cottage properties—and some properties depreciate in value. For instance, the luxury complex of Parkside Resort and Spa in Victoria, B.C.—named the best new resort hotel in the province by the Urban Development Institute in 2010—initially offered investors fractionals of condo units from $115,000 to $121,000. Less than a year later, the complex was in receivership with more than $61 million in unsold inventory.
Still, some fractionals do seem to retain their value. For example, in the seven years Cruikshank has owned his fractional it's appreciated between $4,000 and $9,000.  To ensure you buy a property that, at the very least, retains its value, examine the property as you would a condo. "We aren't governed by the Condo Act, but we do follow the principles of that Act," says Cruikshank. Fractionals that hold a reserve fund and that undertake special assessments at regular intervals (to determine the need for major upkeep) are usually better maintained and, as a result, keep their value. Also, look for fractionals in areas that are really well trafficked—ski resorts, lakefront properties and other vacation hotspots. This demand keeps the value up. According to research firm Ragatz Associates, there were more than 250 fractional developments in North America in 2006 and these properties can now be found throughout the world.