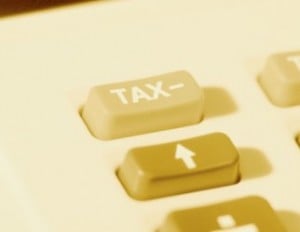 The Couch Potato strategy calls for a significant allocation to US and international stocks. When you live in a country with a small, poorly diversified stock market, global diversification is extremely important. But it does carry a price in the form of foreign withholding taxes.
Almost all countries levy a tax on dividends paid to foreign investors: usually 15%. (Foreign withholding taxes do not apply to capital gains.) With broad-based US index funds now yielding about 2%, the withholding tax amounts to an additional cost of 30 basis points. And these days some international equity funds are yielding close to 4%, which would be reduced by 60 basis points. As you can see, the impact of withholding taxes can be far greater than that of management fees, which get a lot more attention.
To learn how much tax is withheld by your fund, click the "Distributions" tab on its web page and look under the heading "Foreign Tax Paid." Here's what the table looks like for the iShares MSCI EAFE (XIN). Notice the amount of tax paid ($0.07689 per share) is approximately 15% of the foreign income received ($0.48562):

Investors and advisors are often unaware of how foreign withholding taxes affect returns, and the reason is simple: they're damned complicated. The amount of tax you pay varies with the type of account (taxable, RRSP, TFSA) and the structure of the fund.