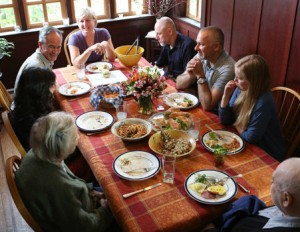 Baby boomers dreaming of retirement may want to tune into CBC television Thursday night at 9 p.m. ET to watch a documentary titled The Boomer Revolution. And since everyone these days has a smartphone at the ready even while watching TV, (the ubiquitous "second screen") some may also wish to log in to a concurrent live chat I'll be conducting about the show from 8:30 p.m. to 10 p.m. ET. Two other experts will be on hand to do the same in earlier and later time slots, depending on the part of the country you live in. Details here.
Time, money & health
Based on my advance viewing, the topic of boomers' finances and propensity to work past the traditional retirement age is a big focus. As one expert on the show puts it, the "big three" variables are time, money and health. Depending on their physical and financial health, many baby boomers are going to have decades of leisure in their golden years: as a group, they can expect to live longer than any previous generation. But there's little point in having time and money if they don't have the health to enjoy it and, if the people shown in the documentary are at all representative, the boomers intend to do everything they can to prolong their vitality well into old age.
Reinvention 65
The boomers have distorted every market they've ever touched as they progressed from college to the job market, then housing and soon retirement. So it stands to reason they're going to revolutionize what it means to get old. The first wave of boomers have already reached the traditional retirement age of 65 and subsequent waves will continue to hit that milestone over the next two decades.
However, many don't plan to "retire" at all in the classic sense, whether or not they've saved the multi-millions some financial planners think may be necessary to quit the full-time workforce.
All this is consistent with the theme of this blog on financial independence, and the distinction I make in my current book between retirement and financial independence. I argue that the media's relentless focus on early retirement should really be recast as the quest for "early financial independence." Financial independence—or what I call Findependence—can and should occur years or decades before retirement, if you define retirement as doing nothing but playing golf, watching daytime TV and reading.
Findependence is security in turbulent times
In today's always changing economic and financial circumstances, it's wise to establish Findependence as early as possible, since lifetime employment is becoming increasingly rare. There's a big difference psychologically between perceiving that you have to work to pay the bills, versus choosing to work because you value creativity, structure and the social interaction of the workplace.
Many of the boomers shown in the documentary are the get-up-and-go types who are starting their own entrepreneurial businesses at an age when their parents were collecting gold watches and living off generous defined-benefit pension plans.
Boomers may launch new careers or businesses after 65, or at least work part-time to stay engaged and make their nest eggs last longer. But, as with their own parents who have aged or left the stage, there will come a time when work truly will be in the boomers' collective past. As one line in the documentary puts it, some first-wave boomers may soon be "too old to work, too young to die." ( A variant on Jethro Tull's Too Old To Rock and Roll, Too Young to Die.)
Retirement communes?
Even so, they are unlikely to embrace traditional old-folks homes or long-term care facilities. Here too, they'll do it their way. The show contains some interesting footage showing how boomer lifestyles may recapitulate the spirit of the 1960s. Instead of psychedelic VW vans, there may be expensive recreational vehicles crisscrossing North America. Instead of hippie communes, groups of a dozen or so aging boomers—perhaps lifelong friends rather than strangers—may start sharing properties and resources, or join retirement homes that cater exclusively to this demographic.
The documentary makes it clear that North American boomers constitute an enormous market: some 85 million strong, they account for  two-thirds of all consumer spending. Marketers seem to be realizing this and targeting this segment if only, as bank robber Willie Sutton famously put it, because "that's where the money is."
A who's who of boomerdom
The Boomer Revolution is almost a who's who of North American boomerdom: watch for interviews with Canadian demographer David Foot and supermodel Dayle Haddon, American gerontologist Ken Dychtwald and Encore.org founder Marc Freedman, Zoomer Media's Susan Eng and many more.
Please join the live chat here. Note that by watching, you'll have a chance to win copies of my book, Findependence Day.