All that interest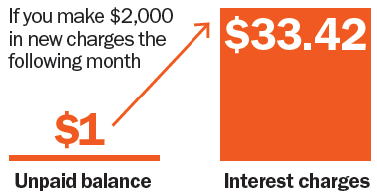 Forget to pay $1 on your bill last month? Don't be surprised when you get dinged with a massive interest charge on your next statement. Why? The unpaid balance negates your interest-free grace period (typically 21-days) meaning you're paying interest on every purchase as soon as you tap your card at the register.
Supplemental fees can add up
Getting a supplemental card will earn you faster rewards but be sure to watch the fees for those extra cards as they vary significantly. For instance, if you get an extra Scotia Momentum Visa or Scotiabank Gold American Express card, they both drop out of the top five. And it swings both ways. if you add three extra cards to The NEW SimplyCash Card from American Express it jumps from No. 4 to No. 2 when you charge $2,000 a month.