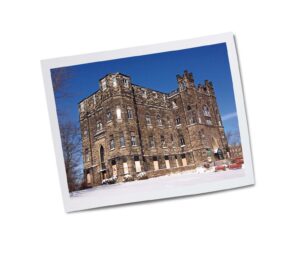 Is there anything more mystifying than the cost of real estate across our great nation? Take Castle Manor (pictured here), a sprawling 19,000-sq-ft stronghold situated in Moncton, N.B. Recently listed at $699,000, this historic property's sale has sparked national interest. Sure, the aging fortress may require some upgrades but as its agent boasts: "Amazing potential!" MoneySense scoured the rest of the country to see what other kinds of unique real estate deals potential homebuyers could purchase with a $700,000 budget.
VANCOUVER
$638,000
A shack: This "AS IS" property features boarded windows and"no access to house." Some TLC needed.
TORONTO
$625,000
A vacant lot: Described as a "unique opportunity to build a new semi." Sorry, architect not included with price.
QUEBEC
$670,000
Sheep Island: Located on the St. Lawrence River about 60 km from Montreal. Never worry about noisy neighbours.
Sources: MLS.ca, privateislandsonline.com