Catching up with Uncle Sam
Canadians' net worth is catching up to the Americans.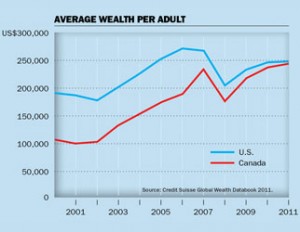 Canada has long lived in the shadow of the U.S. Our living standards were lower, our inferiority complex was higher, and we suffered from perpetual brain-drain as our most ambitious citizens sought out opportunities south of the border.
Now the tables are turning. The U.S. economy is weakening, the greenback is falling and the data shows that the mean net worth for Canadian adults—$245,455—is just one whisker away from the $248,395 figure for Americans.