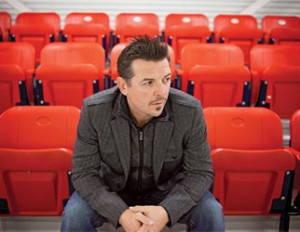 When you're playing road hockey and it's –50°C outside, you're not dreaming of making millions. You're in a pretend Stanley Cup final, or a pretend Olympic gold-medal game. The dream was to get to the NHL. It wasn't about money.
One thing I did learn from growing up in a farming community in Manitoba was that you worked hard for your money, and I brought that work ethic to the game of hockey. I read somewhere that if you want to reach the expert level at something you need to put in 10,000 hours of practice. Between the ages of six and 16, I put in those 10,000 hours, and in the end that's what paid off for me.
I signed my first big contract with the Calgary Flames in 1995, and for the next four seasons I was making well over $2 million a year. Money and fame allowed me to do whatever I wanted, and that's exactly what I did for a period in my life.
In 1998–99, I was one of the top scorers in the NHL, so I knew I would be able to get a big contract when I became a free agent at the end of that season. I signed a four-year deal with the New York Rangers for $28 million. From the outside, it may have seemed like I was on top of the world, but I was on the cusp of my life going downhill, and the huge contract only fuelled the downfall. In New York I was living this new life, where every time I went out there was a red carpet with a chain in front of it. It was just so different from Calgary, which is a prairie city full of hard-working prairie people. New York was fast-moving, high energy. That's not what I was used to. That's not what I grew up with.
I spent about $50 million over the course of my hockey career. It's actually pretty easy to spend $50 million—it really is. You get divorced twice, and split it in half each time. You give the government half in taxes. You have three or four houses, seven or eight vehicles. You have huge problems with alcohol, drugs and gambling. It's not that hard really. I had great people advising me about money, but when you're not willing to take their advice, that's what happens. It wasn't all gone when my career ended in 2003, but most of it was.
There are a lot of people who are damaged and broken in this world, and obviously I was one of those people. But eventually I realized what was truly important. At 41 years old I was badly out of shape, but I spent nine months training for the opportunity to go to the Flames' training camp in 2009. I didn't end up making the team, but I came close, and I left the game the way I wanted to leave it. Then I went on a very successful book tour and created a highly lucrative business doing motivational speaking. The message is pretty simple. It's about reinvention. It's about hard work, being willing to take personal risks, and about believing in yourself.
I've always believed in myself—I wouldn't have been able to play a thousand games in the NHL if I didn't believe in myself. But the world is so messed up and so broken, and there are so many people who are jealous and who try to knock you down. Especially when you tell the world you have been a victim—man, that's when they really come out of the woodwork. If you reveal that you're a victim, abusers think they can take advantage. But I'm a survivor now, and you can't take advantage anymore. There are not many people who have come back from the adversity that I have faced, and that's something that I'm really proud of.
My family is very tight-knit—we've gone through a lot, and we're still together. My wife, Jenn, is from Saskatchewan, and we have the same values, the same morals, the same respect and love of people. She's the most kind and selfless person I've ever met in my life, and together we run our company. In addition to the speaking, we also do fantasy camps and a hockey school. I'm there eight hours a day, on the ice the whole time. And we've got the Theo Fleury Society for Abused Men, which is just getting off the ground.
I'm in a much better place now than when I was making $8 million a year—I'm in a better place than 90% of the people who walk the earth. I'm not broken anymore, I'm fixed. And now I'm trying to fix other people. That's what the message is all about.
Making and losing $50 million was a tough way to learn, but I realize now that money doesn't make the man: it's what you do with your success. If you don't teach other people how to be successful, then you're a waste of skin. If you don't pass on what you've learned, what you know, and inspire others to become better people, then for me, success means nothing.