Income investors love dividend stocks and for good reason. But dividend stocks aren't immune from downturns and conservative retirees should think twice before spending all of their dividend income.
Problem is, some companies reduce–or even eliminate–their dividends during hard times, which can be problematic for investors who rely on them. In addition, there have been long periods in the past when inflation cut the purchasing power of dividends.
You can examine past dividend downturns in the accompanying graph. It shows periods when the S&P 500's dividend fell from its prior peak in inflation-adjusted terms.
For instance, the real (or inflation-adjusted) dividend paid by the S&P 500 fell after the 2008 crash to about 75% of its prior peak. Investors who had been spending all their dividend income before the downturn would have had tighten their belts–or sell a few shares–to get by for a few years.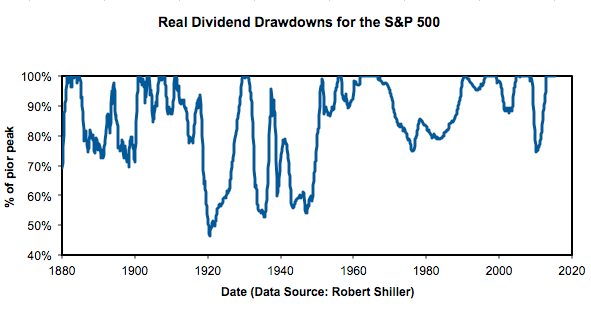 Dividend investors suffered from a much longer down period during the 1970s and 1980s. The S&P 500's real dividend peaked in 1966, slipped to about 75% of its former high, and didn't fully recover until 1990. Those living on their dividends in 1966 would have had to cut back for the next quarter of a century.
In addition, there were some giant downturns in the more distant past when real dividends fell below 60% of their former highs.
As a result, retirees who want to live on their dividends, without selling any shares, would be wise to avoid depending on all of their dividend income. For instance, they might live on 75% of their peak dividend income instead.