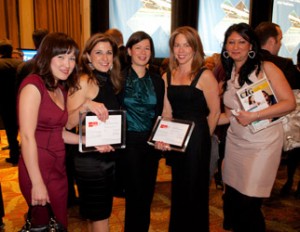 While perhaps not as noticeable as the proverbial skunk at the party, BlackRock Canada's iShares ETF family were a curious aspect of the Morningstar Canadian Investment Awards, held Wednesday night at the Fairmont Royal York Hotel in Toronto.
For the most part, the CIA are a tribute to actively managed mutual funds, although there were also awards for hedge funds, pooled funds and yes, even passively managed low-cost exchange-traded funds. You can read the full list of winners here.
It's worth noting that Trimark co-founder Arthur Labatt won the Career Achievement Award, a sentimental favorite almost on a par with last year's winner, Jim Hunter.  Labatt was graceful in his short acceptance speech. You can find a video interview with the philanthropist conducted by Investment Executive's Jade Hemeon here.
The event's MC, broadcaster Peter Mansbridge, once again entertained with a few self-deprecating anecdotes involving people apparently unaware of his day job at the CBC. He also noted the frequent trips to the podium taken by head of iShares Canada Mary Anne Wiley, attired in a glamorous silver outfit.
Since it acquired Claymore, iShares is by far the country's biggest ETF provider and scooped the handful of awards allocated to the sector, which of course is gradually starting to infringe on the assets of the still-much-larger mutual fund industry.
iShares won the Best ETF initiative, plus the Morningstar ETF Provider of the Year,  Best Equity ETF with its iShares S&P/TSX Capped Composite Index ETF, and Best Fixed-Income ETF with its iShares DEX Universe Bond Index ETF. In the last category, there were only two ETFs under consideration, both from iShares.
The Best Discount Brokerage was Qtrade Investor, beating out runnerups Scotia iTrade, Credential Direct and BMO InvestorLine. (I was one of the judges, hence my attendance at the event.)
Other major winners: Fidelity Investments Canada for Advisors' Choice Investment Fund Company of the Year and Brandes Investment Partners for the IFIC Investor Education Award.
Domestic equity fund manager of the year was GCIC Ltd.'s Oscar Belaiche and foreign equity fund manager of the year was Mawer's David Ragan.