For most of her adult life Phoebe Pike has always fantasized about having a big career and a carefree retirement—but never in her wildest dreams did she expect to find herself living in Calgary, earning a six-figure income, and regretting every single minute of it.

It was only 14 years ago that the former stay-at-home mom's dead-end marriage finally imploded, leaving her with four children to care for and little means. Phoebe, 39 at the time and still living in her native Fredericton, quickly found administrative work with a local mining group and then set her sights on obtaining a bigger job within the company. "I went back to school part-time and completed my degree in computer technology in 2003, followed by a masters in organizational management," says Phoebe, now 53. "I had spent 18 years in an unhappy marriage with a manic-depressive husband. I was ready to do something new with my life." (We've changed some people's names to protect their privacy.)
Her big break came last year when her long-time employer offered her a key role in the company's training department in Calgary. "The job was a huge career opportunity for me and my salary more than doubled to $157,000 annually," says Phoebe. "It almost sounded too good to be true." Now, she thinks it was.
After living in the Stampede City for 18 months, Phoebe finds herself stretched so thin financially that she's actually losing sleep. "I'm up until 2 a.m. most nights worrying. I'm having anxiety attacks." Moving from Fredericton, where the cost of living is cheap, to Calgary, where wages are higher but so are living expenses, has been jarring. Prior to her promotion, Phoebe's salary had been $67,000 annually. "I lived comfortably in my $95,000 Fredericton condo, supported my four kids through their post-secondary studies and still had enough left over to go to Florida once a year," she says. "Expenses were minimal."
Phoebe's biggest worry today is her ballooning debt, which now stands at $521,000. Of that, $43,000 consists of car and student loans, and $18,000 comes from credit card and line of credit borrowing—most of which took place when she was moving to Calgary. Family obligations contributed too, Phoebe says. "I charged tickets for the whole family so we could all attend my son Jay's wedding in Mexico this February."
Without question, though, her biggest source of debt stress is the $387,663 mortgage remaining on the $450,000 four-bedroom townhouse she bought in Calgary last year. "I wanted a nice house for the times my kids come to visit," says Phoebe. "Plus, everyone was talking about how real estate prices in Calgary were going up, up, up. So when my employer offered me an interest-free loan to buy a home, I bought quickly." Now, though, she's worried that dropping oil prices could destabilize the real estate market. "For the first time, I took in a tenant last month and they're paying $800 a month to live in the basement," says Phoebe. "That helps."
The $73,648 outstanding mortgage on her Fredericton condo is yet another source of debt, but thankfully rental payments cover that expense, she says.
That Phoebe should find herself dealing with such large sums of money today is quite remarkable. The daughter of a hairdresser and a department store merchandising manager, she says conditions growing up were very humble. In fact, "conversations about money were taboo in our family. I've never been able to talk to them about money."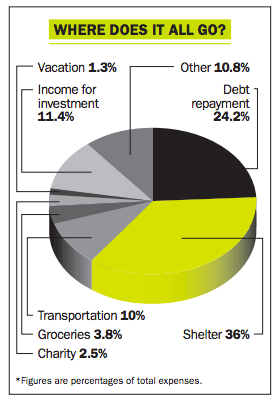 It wasn't long after graduating from high school in 1982 that Phoebe found herself married and pregnant—even though nothing ever felt quite right about the union. "My husband, Robert, was persistent but we had little in common," she admits. Together, they bought a beef farm where they lived for two years before the responsibility of running it while raising a family overwhelmed them. "We moved around a lot after that before Robert got a full-time job at a local furniture store. He was earning about $32,000 annually when we divorced in 2000 and we had accumulated almost no assets."
Today Phoebe feels she has the opposite problem: too many assets. One scenario she's considering is simply selling the Calgary townhouse she's barely owned for a year—a move she believes would allow her to break even, get the huge mortgage off her back and pay off her other debts quicker. "That's starting to look very appealing," she says. She'd then rent a condo in Calgary for $1,700 a month (or $20,400 a year), which would save her about $10,000 a year in house-related expenses. Or, she could sell her townhouse and buy a small two-bedroom condo outright for $300,000, using the money left over from the sale to lessen her other financial obligations. But Phoebe isn't sure which idea is better.
Right now, she's paying $4,300 a month towards her non-mortgage debt and hopes to have more than half of that $61,000 eliminated a year from now. That would leave her with just two remaining loans: the car loan that she pays $5,628 annually on as well as the remaining $7,536 on her consolidated student loan—both of which she's on track to pay off by mid-2017.
Phoebe also worries her retirement savings have taken a back seat. At age 53, she's managed to save up $116,000 in RRSPs (thanks in part to her company's matching plan), plus $1,753 in a TFSA and $3,000 in a savings account. She's also enrolled in her company's defined benefit pension plan. Her latest pension statement from her employer estimates that she'll receive about $41,000 gross a year—including company pension, CPP and OAS—starting at age 65, as long as she stays with her current employer until then. She figures she's on track to have more than $250,000 in RRSPs and TFSAs as well when she retires. "I'm not sure that will be enough to live a comfortable, stress-free life well into my 90s, and that bothers me because I've worked so hard over the years," says Phoebe.
Going forward, she has three main goals: to pay down her debt, start a rainy day fund with three months' living expenses, and look forward to the day she can stop working. "All I want is to make the best choices now so I can semi-retire at 62, teach part-time at the university level and then take my pension at 65." When that time comes, she plans to return to her home province of New Brunswick. "All I know is that I have no desire to retire in Calgary. The ocean and the East Coast are where my heart is," says Phoebe. She'd also like to spend more time with her adult kids and close friends, and just enjoy the simple pleasures of reading, gardening and daily walks.
"I'm looking forward to relaxing. But right now, there's a lot to do, and that time seems so very far away. I don't want to have to worry about money in the future. I had enough of that during my rocky marriage."
WHAT THE EXPERTS SAY
Phoebe Pike took charge of her finances after her divorce in 2000 and Vancouver money coach Annie Kvick believes she can do it again. "Phoebe has accomplished a lot these past few years," says Kvick. "She educated herself and her kids, and built herself a wonderful career. All she needs now is financial peace of mind."
Ayana Forward, a certified financial planner with Ryan Lamontagne Inc. in Ottawa, agrees, adding that, "Phoebe worries because she doesn't know where she stands financially. But with a good long-term plan, she'll see that she has a bright future." Here's what Phoebe should do.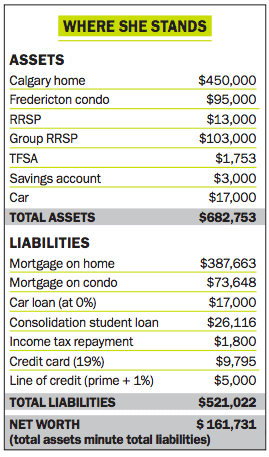 Keep the Calgary townhouse. While both experts agree that in hindsight buying a modest condo or renting may have been the better option, now that she's got it, Phoebe should hold on to her Calgary townhouse. "Her shelter costs are just 36% of gross income—or 25% if she keeps her tenant and applies the rent money to her mortgage—so she's not paying too much for shelter," says Forward. "It's the other debt that makes it hard—for a while."
Kvick ran the numbers to illustrate why Phoebe should keep the house. "Every year, $10,000 from her mortgage payments is going towards the principal. It's a forced savings plan that will help her build up equity in her home. The $9,600 a year in basement rental payments can also be used to bring down the mortgage quicker." All of this means that Phoebe could have close to $100,000 in equity in her home when she sells in 2017 and moves on to her next company training assignment, possibly in Nova Scotia. "She can add that money to retirement savings at that time," says Kvick.
Rent after 2017. If Phoebe relocates to the east coast in 2017 for another company job assignment at the same salary, she should not buy another property. "In most cases, you need to hold real estate for at least 10 years for the numbers to work out in your favour," says Kvick. For that reason, she suggests that Phoebe not buy another property until she fully retires and decides on a place where she wants to live for the entire length of her retirement.
Pay off all her other loans. Phoebe needs to eliminate her non-mortgage debt quickly, and not go into debt again. If she follows the payment schedule she's already on for each individual debt, she'll have it all paid off by June 2017. "I'd eliminate the smallest two debts first and then continue with payments on the others," advises Kvick.
Even with all that debt repayment, Phoebe should still have enough left over each month to put $600 towards her TFSA until she reaches the maximum limit of $31,000. "This can be her emergency fund," says Forward. "The key is not to accumulate any more debt after today. That means fewer gifts to the kids and more thoughtful spending going forward."
Run the numbers. Phoebe seems to think that she won't have enough income from her company pension, CPP, OAS and other savings to live a comfortable retirement lifestyle. That's because she hasn't taken the time to draw up a long-term plan. "She needs to pay for a few hours of a fee-only planner's time to do this," says Kvick. "That will educate her on how well she'll be able to live. Annual check-ins will also keep her on track in her debt repayment."
Build up more savings. After 2017, Phoebe's personal debt will be paid off and she'll be mortgage-free from no longer owning her Calgary townhouse. At that time, both Kvick and Forward believe that she should be able to save $30,000 a year. Some of that money should go into a TFSA but the rest can go into an unregistered self-directed investment account. "She's topping up her RRSP through her group plan so she'll have to keep that money outside her registered accounts," says Kvick. "But that's fine. Using low-cost indexed mutual funds split 40% in fixed-income savings and 60% in equities will give her solid average annual returns of 4% annually."
Using this strategy—as well as saving $30,000 from age 57 to 62—means she will be able to add $180,000 more to her savings. "Coupled with the $100,000 in equity from the sale of her Calgary house, and the savings in her group RRSP, TFSA and non-registered accounts, Phoebe will have more than $450,000 in savings by age 62," says Kvick adding that she'll also receive at least $41,000 a year at age 65 from her CPP, OAS and employer's pension plan. "Phoebe will be able to spend about $50,000 after tax annually in retirement—enough to lead a very comfortable life until age 95."
Julie Cazzin is an award-winning business journalist and personal finance writer based in Toronto. For previous Family Profiles and other stories by Julie, please visit our website at MoneySense.ca