I've always enjoyed interviewing the managers of the Templeton Growth Fund (TGF), one of the most famous global mutual funds in the world and the basis for the famous "Mountain Chart."
TGF also happens to be one of a handful of mutual funds our family still owns, along with numerous ETFs and individual stocks, so when Franklin Templeton brings in its fund managers for its annual media lunch in June or July, I'm always happy to take advantage of the access.
On Wednesday, I taped an interview with the new portfolio manager of Templeton Growth, British-born James Harper normally based in Nassau and a veteran of 22 years in the business, the last eight with Franklin Templeton. He took over the fund on April 21 of this year. Like his predecessors, Lisa Myers and George Morgan, he has a refreshing take on the valuations of stocks around the world.
Fund underweight U.S. stocks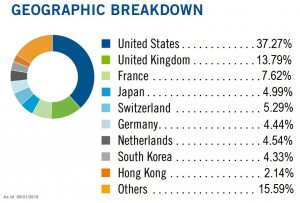 He started by saying the fund is 18% overweight in European stocks, 15% underweight in the U.S., and later in the interview revealed the fund no longer has any exposure to Canada, even though as a global equity fund, you might expect it to own perhaps a 3% index weighting.
"As of today, the fund (TGF) has no holdings in Canada, zero," he told me, "That's not an anti-Canada statement. It's simply the fact this is a market that's relatively overweight financial companies and we see more value in European financials, especially recently because they fell so much in the first quarter."
Like the managers before him, Harper says he's "geographically agnostic." By that, he means that the fund does not start with a top-down geographic perspective but from a bottom-up stock-by-stock process based on valuations. The geographic mix that results is purely a byproduct of that discipline, which is why it's always interesting to hear their views on relative valuations around the world.
So while you might expect a global index fund to be half in the U.S., TGF was only 37% in the U.S. as of May 31. "The U.S. is becoming a bit of a fully valued market. Earnings are at all time highs, which is testimony to the fact QE actually worked and companies have been very aggressive on their margins. They're well above the 2007 peak in earnings and valuations are starting to reflect that."