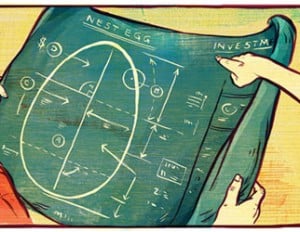 For decades, investment professionals have preached the importance of diversification. It's an easy enough concept to understand: spread your investments into different countries, sectors or asset types.
A diversified portfolio, with a mix of uncorrelated assets, tends to smooth out performance. At least that's the theory. In normal markets it's worked well, but these are not normal times.
Consider the following research on the Canadian and U.S. equity markets. In 2011, JPMorgan found that the 250 biggest stocks on the S&P 500 had a correlation of about 0.81, whereas historically it was 0.3. (A correlation of 1 means two investments move lock step with each other, a correlation of minus 1 means the investments move opposite directions.)
CIBC noted a similar trend in Canada earlier this year. The bank says 15 years ago Canadian stocks had a correlation of about 0.6 to global stocks, today it's closer to 0.9.
"We certainly are seeing more correlated markets," says John Nardi, a financial adviser with Edward Jones. "We'll probably turn the corner at some point, where (equity) markets become less correlated again, but I don't know when that will happen."
While the broad markets have been moving in sync, some sectors continue to move in opposite directions. The S&P/TSX Capped Energy Index, for instance, is down 4% year-to-date, while the S&P 500 Information Technology index is up 16.7%. "Diversification will still smooth out the ride," Nardi says. "You'll always be participating in one or two sectors that are doing well at any given time."
Equity diversification is especially important for Canadian investors since the market is small and concentrated in a few industries. Financial, energy and materials stocks make up about three-quarters of the S&P/TSX Composite. By comparison, the top three sectors on the S&P 500 (financials, telecom and consumer discretionary) account for only 60% of that index.
For stock pickers looking to diversify their holdings, Nardi suggests buying at least two companies in all of the 10 main industries in Canada. "If you want to get more aggressive add a bank from the States."