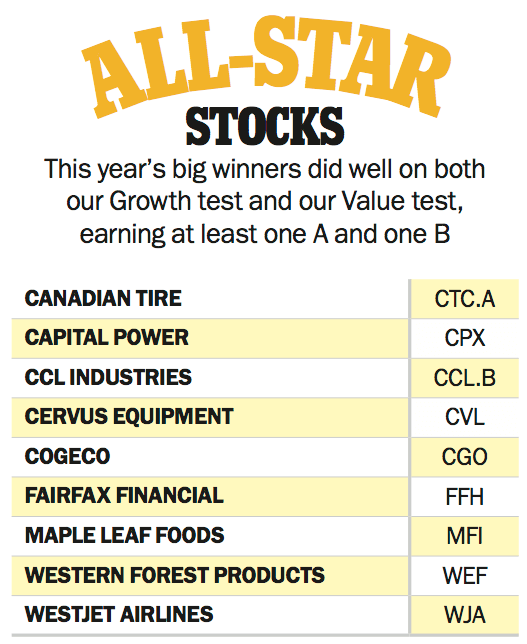 Nine stocks made it into the All-Star list this year by earning at least one A and one B on our value and growth tests.
Two of this year's top stocks, Cervus Equipment (CVL) and WestJet Airlines (WJA), were also in the All-Star team last year. Cervus runs the largest group of John Deere dealerships in Canada and has a presence in the commercial, industrial and equip- ment sectors. WestJet is well-known as one of the larger airlines in Canada.
Fairfax Financial (FFH) is the only stock to get both an A for value and an A for growth. It's a sprawling insurance-focused conglomerate run by noted value investor Prem Watsa from its headquarters in To- ronto. Much like Warren Buffett's Berkshire Hathaway (BRK.A), the firm has added non- insurance companies to its family of companies in recent times. (I own both stocks.)
The other All-Stars with the best value grades are Capital Power (CPX) and Maple Leaf Foods (MFI). Those on the growth roster are Canadian Tire (CTC.A), CCL Indus- tries (CCL.B), Cogeco (CGO), and Western Forest Products (WEF).
Before rushing out to buy any stock, do your own due diligence. Make sure its situation hasn't changed in some important way. Read the latest press releases and regulatory filings. Scan newspaper stories to make sure you're up to speed and be careful when buying or selling stocks that trade infrequently. If you take these important steps, you'll be a more comfortable—and successful—investor for years to come.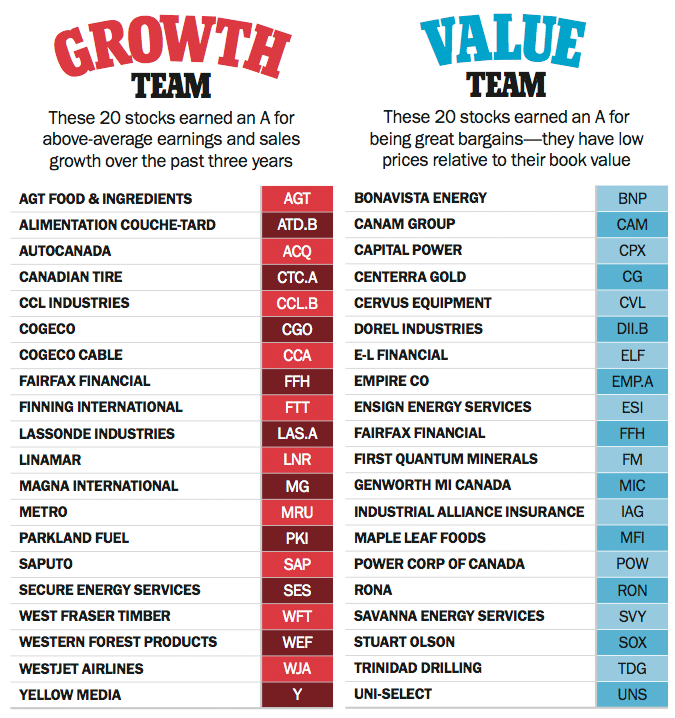 SUBSCRIBERS ONLY: Download The Top 200 Premium Package »
Norm Rothery, CFA, PhD, is the founder of StingyInvestor.com and tweets as @NormanRothery. He may hold some of the securities mentioned in this article.