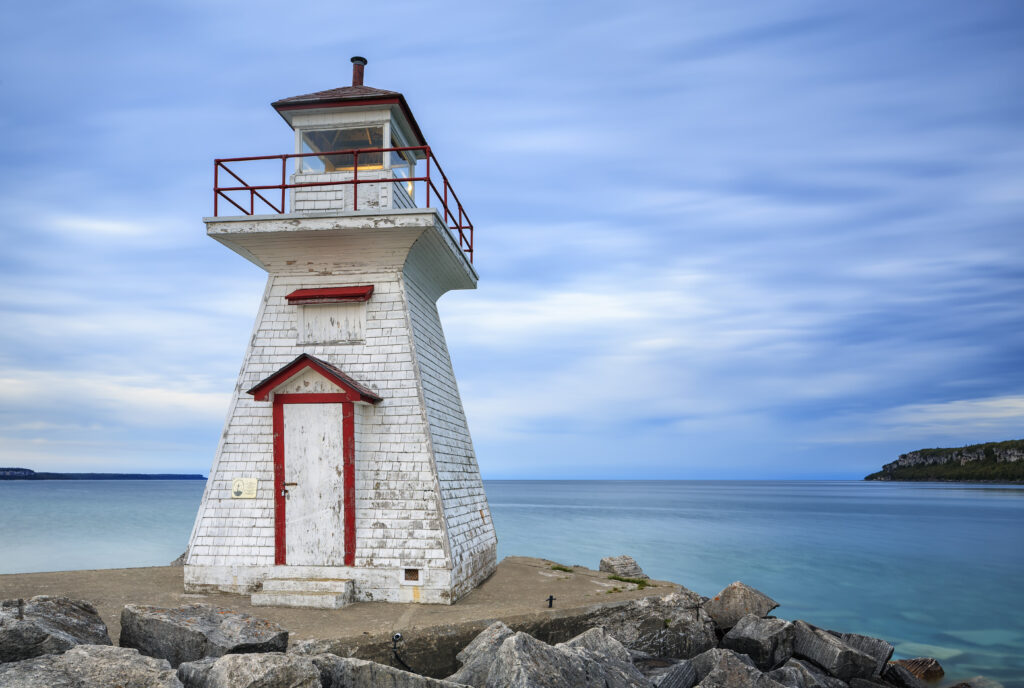 I love to spend a few weeks each summer lounging by a lake. This year I rented a little cottage outside Lion's Head, Ont. located just a few steps from the waters of Georgian Bay.
It's hard to visit cottage country without dreaming about buying a little slice of heaven.
While owning a cottage has some obvious benefits, it tends to be a costly affair. Crunch the numbers and you'll likely discover the relative advantages of renting.
For instance, it's possible to buy a waterfront cottage between Wiarton and Tobermory—roughly 4 hours from Toronto—for, perhaps, $300,000. But that represents the low-end.  Those looking for luxury could spend a million dollars or more.
Three hundred thousand dollars might seem like a bargain to house hunters in Toronto. But it is pricey for something that will be used for only a few months of the year.
The initial property cost is joined by a slew of on-going expenses in the form of maintenance, taxes, insurance and utilities. Taxes alone can exceed the cost of renting a similar cottage for a good stretch of the summer.
Transportation to, and from, the waterfront also has to be considered. It can be quite expensive for regular weekend warriors. While renters have to travel, they usually make only a few trips per season.
In addition, time is a big factor for working families.  After all, most people can't spend the entire summer at the cottage because many jobs provide just a few weeks of vacation per year.
Even worse, cottage ownership can act like an anchor. It tends to eat up vacation budgets and leave nothing for other possibilities.
If you're undeterred, I suggest tallying up all the expected costs (add a bit more to account for the unexpected) and express the result on a per night basis. You'll probably discover that cottage life is more expensive than staying at a very nice hotel.
Mind you, the foregoing didn't stop me from looking at the real estate listings this year. After all, window shopping can be fun. But I won't be calling a real estate agent any time soon.
Safer Canadian Dogs
Investors following the Dogs of the Dow strategy want to buy the 10 highest yielding stocks in the Dow Jones Industrial Average (DJIA), hold them for a year, and then move into the new list of top yielders.
The Dogs of the TSX works the same way but swaps the DJIA for the S&P/TSX 60, which contains 60 of the largest stocks in Canada.
My safer variant of the Dogs of the TSX tracks the 10 stocks in the index with the highest dividend yields provided they also pass a series of safety tests, such as earning more than they pay in dividends. The idea is to weed out companies that might cut their dividends in the near term. Just be warned, it's a task that's easier said than done.
Here's the updated Safer Dogs of the TSX, representing the top yielders as of Aug. 1. This list is for people who want to jump in right now, snap up the stocks of the day, and then hold them for a year.
| Name | Price | P/B | P/E | Earnings Yield | Dividend Yield |
| --- | --- | --- | --- | --- | --- |
| CANADIAN OIL SANDS (COS) | $23.34 | 2.37 | 14.41 | 6.94% | 6.00% |
| BCE (BCE) | $49.12 | 3.35 | 18.82 | 5.31% | 5.03% |
| ROGERS (RCI.B) | $42.35 | 4.26 | 14.55 | 6.87% | 4.32% |
| SHAW (SJR.B) | $26.76 | 2.66 | 15.93 | 6.28% | 4.11% |
| POTASH (POT) | $38.23 | 3.32 | 21.71 | 4.61% | 4.01% |
| TELUS (T) | $37.97 | 2.88 | 18.25 | 5.48% | 4.00% |
| CIBC (CM) | $100.22 | 2.38 | 12.82 | 7.80% | 3.99% |
| NATIONAL BANK (NA) | $48.31 | 1.98 | 11.13 | 8.98% | 3.97% |
| BANK OF MONTREAL (BMO) | $80.00 | 1.74 | 12.31 | 8.13% | 3.90% |
| FORTIS (FTS) | $33.09 | 1.46 | 20.81 | 4.81% | 3.87% |
Source: Bloomberg Aug. 1, 2014
Notes
Price: Closing price per share
P/B: Price to Book Value Ratio
P/E: Price to Earnings Ratio
Earnings Yield: Earnings divided by Price, expressed as a percentage
Dividend Yield: Expected-Annual-Dividend divided by Price, expressed as a percentage
As always, do your due diligence before buying any stock, including those featured here. Make sure its situation hasn't changed in some important way, read the latest press releases and regulatory filings and take special care with stocks that trade infrequently. Be careful out there. (Norm may own shares of some, or all, of the stocks mentioned here.)
New & Noteworthy
Fact, Fiction and Momentum Investing
Money manager Clifford S. Asness thinks momentum investors are being given short shrift by the financial industry. His paper refutes 10 common momentum myths in an attempt to help rectify the situation. While the paper is mainly geared to a professional audience, more knowledgeable individual investors will benefit from reading it.
Just For Frugal Fun
A Penny Saved is a Partner Earned: The Romantic Appeal of Savers
The miserly Ebenezer Scrooge gave up on love to grub for gold. But this recent study says savers are sexy. Who knew?
Norm Rothery, CFA, PhD, is the founder of StingyInvestor.com