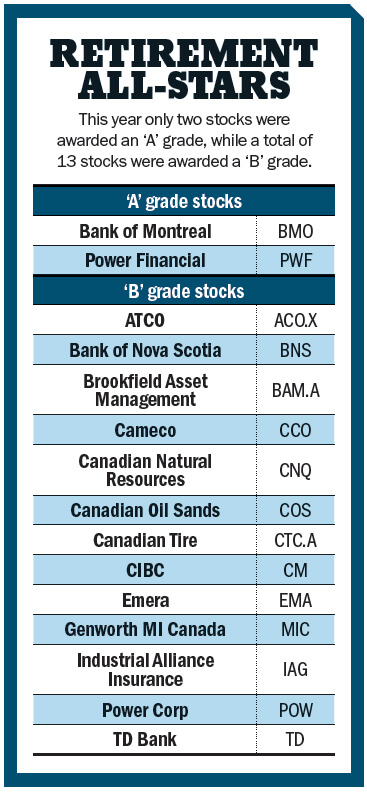 We were pleased to see Power Financial (PWF) and the Bank of Montreal (BMO) get top grades again this year, as they did in 2013. Both offer dividend yields approaching 4% and trade at price-to-earnings ratios of just under 13, which is quite low compared to most Canadian stocks.
Three big banks earned solid 'B's this year—they are the Bank of Nova Scotia (BNS), CIBC (CM), and TD Bank (TD). Of the bunch, TD offers the lowest yield (at 3.3%) but it has also grown its dividend the most over the last five years.
Insurance firms were popular B-listers too, with Industrial Alliance Insurance (IAG), and Genworth MI Canada (MIC) getting the nod. Genworth is the cheapest of the two on a price-to-book-value basis (at 1.1 times), which reflects the market's unease with its mortgage insurance business.
Other B-graders include ATCO (ACO.X) and Emera (EMA), which are classified as utilities. But ATCO should really be thought of as an energy-heavy conglomerate.
Speaking of conglomerates, Brookfield Asset Management (BAM.A) and Power Corp (POW) also got 'B's. The former is known for its love of real estate and the later prefers insurance and asset management.
On the resource side of the ledger, Cameco (CCO), Canadian Natural Resources (CNQ), and Canadian Oil Sands (COS) were also near the top of the class. Cameco's fortunes are tied to the price of uranium and the others are influenced by oil prices.
Last, but not least, Canadian Tire (CTC.A) is the only retailer to get a 'B' this year. The firm has done quite well for itself, but it has been under assault by U.S. competitors who have recently invaded its turf.
Norm Rothery, CFA, PhD, is the founder of StingyInvestor.com and tweets as @NormanRothery. He may hold some of the securities mentioned in this article.