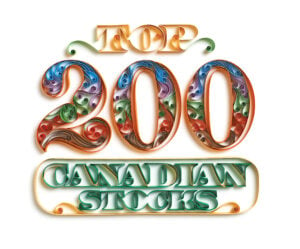 Finding the right Christmas gift can be difficult and some people are particularly hard to shop for. The combination can, on occasion, make the holiday season feel like an exercise in passing the proverbial brown sweater back and forth.
Investors suffer from a similar problem when looking for good stocks. But, in some ways, they have it even worse because they have to wait for months, if not years, before finding out whether their picks turn out to be duds or stars.
To help you navigate through the market to find the very best prospects, we're pleased to present you with the 10th annual MoneySense Top 200 guide to Canadian stocks. It's packed full of information on the best companies in Canada.
We're thrilled to report our efforts have paid off handsomely since last time. Our All-Star stocks, which combine the best growth and value characteristics, gained an average of 55.0% since last year. By way of comparison the Canadian market, as represented by the S&P/TSX Composite ETF (XIC), gained 7.2% over the same period. (Neither figure includes dividends.)
Such superb short-term results are one thing, but the All-Stars have shined over the long term too. If you had bought equal amounts of the All-Stars and rolled your gains into the new stocks each year, you'd have enjoyed 19.1% average annual returns over the last nine years. On the other hand, the S&P/TSX Composite (XIC) advanced 4.8% annually over the same period, which means the All-Stars beat the market by an average of 14.3 percentage points a year.
Investors who put money into our All-Stars when we started nine years ago have enjoyed stellar returns, easily outpacing the S&P/TSX Composite Index. If you had split $100,000 equally among our original All-Stars, then sold each year's picks to invest in the new picks, your portfolio would have almost quintupled in value to $481, 000 in nine years—and that's not including dividends.

As you might imagine, we're very pleased with our performance record. Just take a look at the charts above, which translate the percentages into more easily understandable dollar terms. If you had split $100,000 equally among the original All-Stars nine years ago, then sold them and moved your gains into the new stocks each year, your portfolio would now be worth approximately $481,000—almost five times your original investment. Again, that doesn't include dividends, but they could have been used to buy more than a few presents over the years.
We'll be toasting our success this holiday season, but remember stock-picking comes with more than a dash of risk and uncertainty. Our picks underperformed the market twice in the last nine years and we fully expect to encounter difficult periods in the future.