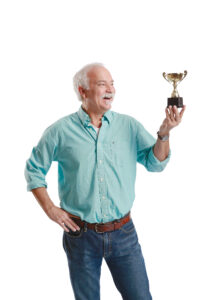 David Boult, 57, Stittsville, Ont.
TFSA: $46,350
Portfolio: 20% REITS | 60% Energy stocks | 20% Mutual funds
David Boult was among the unlucky investors who got burned by the Bre-X Minerals debacle back in the late 1990s. After Calgary-based Bre-X collapsed in the wake of a gold-mining fraud, the total losses for its thousands of shareholders ran into the billions. David says his financial adviser at the time had told him to buy the company's stock. "That bad experience taught me I can lose money all by myself; I don't need someone to do it for me," recalls the senior consultant, who lives in Stittsville, Ont. "I rely on myself now, and I've had good success."
For his TFSA, David looks for high-income-producing stocks that increase in value over time. "I buy a different stock every year and am focused on building up a stream of tax-free income," he says. "I don't worry about big drops in the market because I have steady income coming in."
Right now, David owns Winnipeg-based Artis REIT (AX.UN); energy stocks Crescent Point Energy (CPG), Inter Pipeline (IPC) and Parkland Fuel (PKI); and Toronto-based mutual fund company Dividend 15 Split Corp. (DFN). "I'm generally looking for a 4% to 6% dividend," he says. "My favourite buy is probably Dividend 15 Split Corp. It pays out $3,200 in dividends a year, and as long as it keeps kicking out cash, I'm happy." Toronto-based Parkland Fuel is another winner: The national wholesale, commercial and retail fuel distributor pays a healthy 5.75% dividend.
David's strategy? It's simple. He researches his stock picks and buys when prices fall. For his January 2014 TFSA contribution, he already has three stocks on his watch list: Alaris Royalty (AD), a financing firm based in Calgary; Toronto-based financial industry technology provider Davis + Henderson (DH); and Calgary oil and gas company Whitecap Resources (WCP).
But this do-it-yourself investor is in no hurry. "For stocks, I always put in a lowball bid and wait three weeks to see if I can scoop it up at a lower price," David explains. "If I don't get it, I don't cry over it. I stick to stuff I understand and move on if the price isn't right."