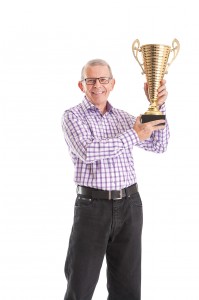 Dale McSween, 64, Cornwall, Ont.
TFSA: $61,700
Portfolio: 20% Corporate bonds | 60% Dividend paying stocks | 20% Growth stocks
Five years ago when global stock markets collapsed, retiree Dale McSween liquidated his non-registered investment portfolio, which was with a certified financial planner, and began managing his money himself. "The timing just happened to coincide with the introduction of the TFSA," he says. "I've been investing on my own ever since."
Dale's first buy wasn't a stock; it was a Télébec corporate bond. Télébec, based in Bécancour, Que., is a subsidiary of telecom Bell Aliant of Halifax. In 2010, Dale started buying small-cap stocks and REITs "so the money would go further." He also picked up 5,000 shares of Intertape Polymer Group (ITP), the Saint-Laurent, Que.-based packaging company he worked for at the time, for slightly more than $1 each. Two years later, Dale sold most of his Intertape stock at $4.75. "That was a $16,000 gain," he says.
For the past two years, Dale has focused on dividend-paying stocks. He bought Royal Bank of Canada (RY) for $42 a share in November 2011 and sold this past February for $63. This past spring he purchased Canadian Imperial Bank of Commerce (CM) after the stock price had slipped by a few dollars; his holding is "up $5,000 from where I bought it," he says.
As an investor, Dale doesn't over-think things. "I just buy when I see stocks generally dipping," he says. "I don't pretend to know a lot about it, but I don't get emotional and don't scare easily. I try to stay the course." Besides CIBC, Dale now holds RBC, which he repurchased at about $59 a share in June. He also still owns a few shares of Intertape Polymer, some stock in Veresen (VSN), a Calgary-based pipeline company he describes as "beaten down," and his original Télébec corporate bond. "You can count on the dividend income, and the basic fundamentals of these companies don't change," says Dale.