You probably realize it's a tough time to be a snowbird. Memories of last year's brutal Canadian winter are fresh, but the U.S. dollar is soaring and property prices are rebounding. You may well wonder whether it might be better to stay home and invest in a new electric blanket this winter.
Fortunately, a few months in the U.S. Sunbelt is still within reach for most middle-class retirees, although you may now have to economize compared to a few years ago. "If you look around, there's still some good affordable places out there," says Bob Slack, president of the 96,000-member Canadian Snowbird Association (CSA), who winters in a sunny lakeside community in Winter Haven, Fla., with his wife Lois. "Very few people have told me they aren't going," says Slack. "People will adjust to get what they want."
If your finances are tight, the key is to find affordable accommodation and carefully manage your spending. In what follows, we'll take you through three snowbird budgets for couples renting in the U.S. Sunbelt for three months while enjoying lifestyles ranging from basic at $6,000 to deluxe at $25,000.
A key thing to realize is that living a snowbird lifestyle is different from going on a short vacation when you were working. Those vacations typically mean booking airline flights at peak times, renting hotels at daily or weekly rates, and eating out at restaurants, all of which is expensive. Snowbirds typically economize by driving their cars down and back, renting accommodation at long-term rates (or possibly buying a property), cooking their own meals, and generally enjoying a lifestyle similar to how they would spend their time in Canada during the summer months. "As my wife says, we live there," says Jim Sherb, CSA first vice-president from Kamloops, B.C. , who with his wife Alayne winters in Indio, Calif. As a result, the cost of living a typical snowbird lifestyle is less than you might think.
5 things snowbirds should do to stay in the U.S. »
Find your notch in the Sunbelt
Your accommodation is usually the largest cost, and can vary dramatically by location, size and amenities that go with it, so finding an attractive, affordable place should be a priority. Among popular U.S. sunspot destinations, California is generally expensive, Texas is usually relatively cheap, and both Arizona and Florida have a wide range of prices depending on locale within each state. Finding the right unit can be a daunting task, since a lot of rental units are offered by small-time individual owners who don't do much marketing. Check out americansnowbird.com for long-term rentals offered by owners, while Extended Stay America is a hotel chain that offers discounts for long-term stays in hotel suites with kitchens.
If you're looking for something middle-of-the-road, rental accommodation for three months will run you about US$1,500 to US$2,500 ($1,980 to $3,300) a month during the peak season. That should get you a modern, well-furnished two-bedroom condo or a small single-family home in a popular sunspot destination. However, it probably won't be located on the water, nor would it come with many amenities such as a swimming pool or lush, spacious grounds. Alternatively, some of the best deals are often for unconventional accommodation like "manufactured homes" and "park model" stationary recreational vehicles. While that might conjure up unappealing images of low-income "trailer parks," communities of this type cater to snowbirds, come with plenty of attractive amenities and foster vibrant social interactions.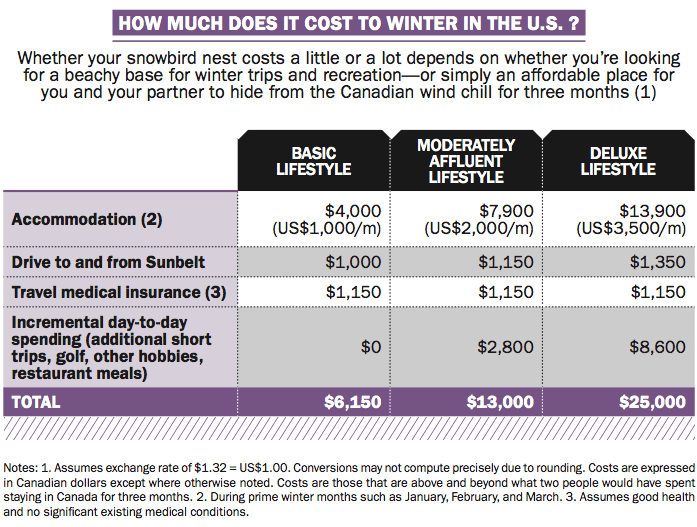 For example, you can find a two-bedroom, two-bathroom "manufactured home" in the community where the Slacks go in central Florida that will run you about US$2,000 a month. The Slacks, who own their unit, love the well-maintained property, which comes with a private golf course, club house and swimming pool.