[brightcove video_id="6023880155001″ account_id="6015698167001″ player_id="lYro6suIR"]
You probably realize it's a tough time to be a snowbird. Memories of last year's brutal Canadian winter are fresh, but the U.S. dollar is soaring and property prices are rebounding. You may well wonder whether it might be better to stay home and invest in a new electric blanket this winter.
Fortunately, a few months in the U.S. Sunbelt is still within reach for most middle-class retirees, although you may now have to economize compared to a few years ago. "If you look around, there's still some good affordable places out there," says Bob Slack, president of the 96,000-member Canadian Snowbird Association (CSA), who winters in a sunny lakeside community in Winter Haven, Fla., with his wife Lois. "Very few people have told me they aren't going," says Slack. "People will adjust to get what they want."
If your finances are tight, the key is to find affordable accommodation and carefully manage your spending. In what follows, we'll take you through three snowbird budgets for couples renting in the U.S. Sunbelt for three months while enjoying lifestyles ranging from basic at $6,000 to deluxe at $25,000.
A key thing to realize is that living a snowbird lifestyle is different from going on a short vacation when you were working. Those vacations typically mean booking airline flights at peak times, renting hotels at daily or weekly rates, and eating out at restaurants, all of which is expensive. Snowbirds typically economize by driving their cars down and back, renting accommodation at long-term rates (or possibly buying a property), cooking their own meals, and generally enjoying a lifestyle similar to how they would spend their time in Canada during the summer months. "As my wife says, we live there," says Jim Sherb, CSA first vice-president from Kamloops, B.C. , who with his wife Alayne winters in Indio, Calif. As a result, the cost of living a typical snowbird lifestyle is less than you might think.
5 things snowbirds should do to stay in the U.S. »
Find your notch in the Sunbelt
Your accommodation is usually the largest cost, and can vary dramatically by location, size and amenities that go with it, so finding an attractive, affordable place should be a priority. Among popular U.S. sunspot destinations, California is generally expensive, Texas is usually relatively cheap, and both Arizona and Florida have a wide range of prices depending on locale within each state. Finding the right unit can be a daunting task, since a lot of rental units are offered by small-time individual owners who don't do much marketing. Check out americansnowbird.com for long-term rentals offered by owners, while Extended Stay America is a hotel chain that offers discounts for long-term stays in hotel suites with kitchens.
If you're looking for something middle-of-the-road, rental accommodation for three months will run you about US$1,500 to US$2,500 ($1,980 to $3,300) a month during the peak season. That should get you a modern, well-furnished two-bedroom condo or a small single-family home in a popular sunspot destination. However, it probably won't be located on the water, nor would it come with many amenities such as a swimming pool or lush, spacious grounds. Alternatively, some of the best deals are often for unconventional accommodation like "manufactured homes" and "park model" stationary recreational vehicles. While that might conjure up unappealing images of low-income "trailer parks," communities of this type cater to snowbirds, come with plenty of attractive amenities and foster vibrant social interactions.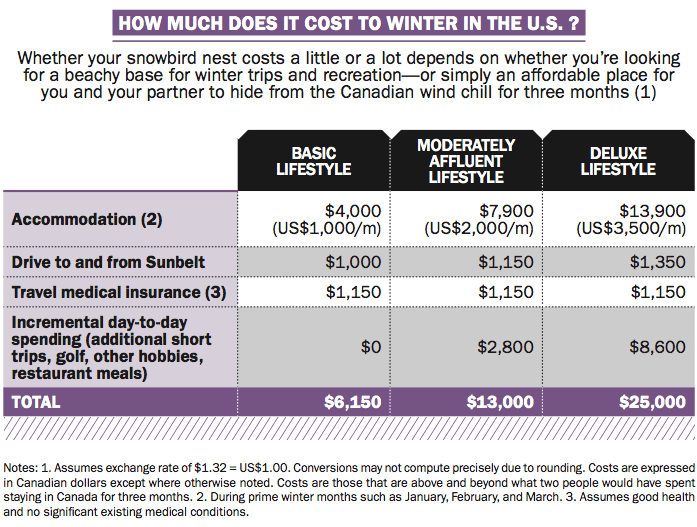 For example, you can find a two-bedroom, two-bathroom "manufactured home" in the community where the Slacks go in central Florida that will run you about US$2,000 a month. The Slacks, who own their unit, love the well-maintained property, which comes with a private golf course, club house and swimming pool.
If you're looking for more deluxe accommodation, you can spend US$2,500 to US$4,000 ($3,300 to $5,280) a month and get more luxury trappings, such as a two- bedroom condo on the beach or a single-family home similar in size to your nest in Canada. Sherb knows one snowbird couple who spent US$3,500 a month renting a three-bedroom, three-bathroom home with a swimming pool on a golf course in the northwest part of Metro Phoenix. While a home of that size is far beyond the needs of a typical snowbird couple, in this case it provided an attractive spot for family get-togethers involving kids and grandchildren.
At the other end of the spectrum, if you're trying to enjoy a snowbird lifestyle on a modest budget, you can still find comfortable accommodation on long-term rental for US$1,000 ($1,320) a month or less. In that case, you may need to go for a one-bedroom unit in a less sought-after locale. That's what Nancy and Gord Hopcraft from Timmins, Ont., spend to rent a one-bedroom condo in Panama City in Northern Florida. (Their unit is on the beach, although at that budget you might have to settle for an inland locale). The Hopcrafts enjoy spectacular sunsets, long strolls on the beach and use Panama City as a base for short trips to places like New Orleans and Savannah, Georgia. Northern Florida is not as warm in winter, but Nancy says she prefers that climate to the high humidity of South Florida.
Take the long road south
For transportation, snowbirds commonly drive a car south which they can then use for getting around. That typically requires 20-hour-plus drives to and from their winter destination and two or more hotel stops each way. Fortunately, gas is cheaper in the U.S. and you can find good hotels on snowbird routes for as little as US$70 or so a night with breakfast included. Look for hotel discounts: "When you enter a new state, go to the welcome centre and pick up the coupon books for the hotels," advises Slack. The trip south and back should run you about $1,000 to $1,350 , varying mostly by how much you spend on meals and accommodation.
Get a dose of insurance
One expense for which there should be no cutting corners is travel medical insurance. If you're a 68-year-old non-smoking couple in good health with no significant medical conditions, that will cost you about $1,150 combined for three months in the U.S. with a $99 deductible, according to an online quote from Medipac, one of several firms that specialize in this kind of insurance. Health issues can add significantly to cost. For example, that same 68-year-old couple would pay $1,890 to cover a moderately serious health issue like diabetes or glucose intolerance (but not at a level that requires insulin and assuming they have no other major health issues). Medical costs are notoriously expensive in the U.S. and Canadian provincial health care typically covers only a fraction of the costs of a U.S. hospital visit. Carefully disclose any and all prior medical conditions in your travel insurance application, to avoid the risk of a claim being denied.
Discount your daily expenses
One advantage of spending winters in the U.S. Sunbelt is that day-to-day expenses for things like groceries, gasoline and activities like golf are usually fairly cheap. Some snowbirds say the savings on those day-to-day expenses roughly offsets the current strength of the U.S. dollar. So if you're pretty much living the same lifestyle as you would in Canada, there's no reason to budget more than you would spend in Canada for daily expenses. Therefore, for our basic budget we haven't allocated any extra costs to day-to-day expenses. However, if you're inclined to splurge on potentially expensive pastimes like yachting or use your snowbird base to take trips, it can add significantly to costs. For a three-month Sunbelt sojourn, we've allocated $2,800 for a moderately affluent budget and $8,600 for a deluxe lifestyle.
You will need to find a way to manage the financial basics in a cost-effective way, which might include getting a local U.S. bank account, U.S. dollar credit card, and an economical way to convert money between currencies. Converting loonies to U.S. dollars at your Canadian bank is generally pricey. There is a lower-cost option: The CSA has a foreign exchange program which allows you to withdraw money from your Canadian bank account once a month, convert it to U.S. dollars at a favourable bulk exchange rate and deposit the money in your U.S. bank account. Terry Ritchie, co-author of The Canadian Snowbird in America and a cross-border financial expert with Cardinal Point Wealth Management Inc., also recommends specialized currency exchange services provided by firms like Knightsbridge Foreign Exchange, Canadian Forex, Western Union Business Solutions and AFEX.
Go ahead. Make it permanent
While the loonie has been depreciating, U.S. Sunbelt property prices have been rebounding. However, that hasn't deterred many snowbird property buyers, says Brent Leathwood, a Florida realtor and co-owner of Cross Border Realty LLC, which caters to Canadian buyers. "That's not really going to discourage them. It's mainly a lifestyle choice," he says. These days you can find lots of good options for attractive condos or single family homes in popular Sunbelt locations for US$150,000 to US$400,000 (about $200,000 to $530,000).
Leathwood says his Canadian clients spend an average of US$255,000 ($337,000) on a Florida property purchase, and cites the example of a Canadian client who recently bought a new two-bedroom condo in Sarasota (south of Tampa) near the beach for US$205,000 ($271,000). At the higher end of the market, another client recently bought a new four-bedroom/three-bathroom home in a nearby gated community for US$390,000 ($515,000).
In Arizona, Canadians can still find a one-bedroom condo (without covered parking) in the prestigious northeastern part of metro Phoenix for about US$150,000 ($198,000), says Marc Brodeur, a realtor with Trillium Properties, who caters to Canadians. He says that single-family home prices in Arizona vary a lot by location. The northeast part of Metro Phoenix, which includes Scottsdale, is particularly expensive, but you can find a nice three-bedroom, two-bathroom home in the less prestigious but still attractive northwest part of Metro Phoenix (which includes communities such as Glendale, Peoria, Sun City and Surprise) for much less. "You can get a nice home for US$200,000 that would cost you US$500,000 in the northeast," says Brodeur.
While snowbirds are facing financial headwinds these days, most middle-class retirees can still afford some time in the sun if they manage their loonies wisely. After all, coping with a few financial headwinds can be well worth it when the alternative is facing the frigid winds of another Canadian winter.