It was a little over a year ago that Bob and Helene Murray sat in the family room of their suburban Toronto home, discussing when and how they could finally start realizing their retirement dream of moving back to their native Montreal. Job opportunities had spurred the 50-something couple to leave decades ago, but in their advancing years they now felt the tug of wanting to be closer to family and the city where they both grew up. While health issues had recently forced Bob to pack in his career, Helene wasn't sure if she could join him quite just yet—financially, they didn't know if their nest egg was big enough. (We've changed names to protect their privacy.)
That's when the Murrays wondered whether downsizing and tapping some of the equity in their paid-for home might help make up the difference and allow them to kick-start their plans sooner. "Basically the question was, could we swing it? Would we have enough money if we budgeted properly," asks Bob. "Because if we couldn't swing it, Helene would stay at work. But she really wanted to retire—that added fuel to the fire."
Leaving the family home is one of the most complicated issues couples will face in retirement. The best downsizing plans must satisfy a range of needs: finances, lifestyle, being close (or not so close) to family and friends, not to mention the practical realities of aging. Some people feel no tie to the family home and want to downsize and relocate as soon as they retire, while others are determined to stay put until they're carried out feet first. In the end, the right decision for you will be highly individual based on your particular needs and circumstances—but there are a number of common factors you should consider. Read on to see how you can make downsizing work to your advantage.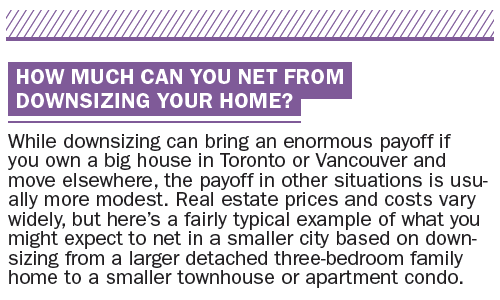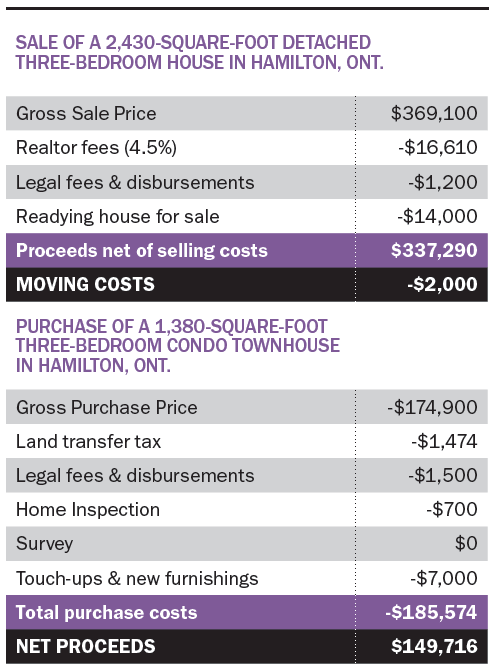 Notes: Prepared with the assistance of Melanie Reuter, Elizabeth Campbell and Don Campbell of the Real Estate Investment Network. Gross sale price, gross purchase price and land transfer tax are taken from actual recent real estate transactions in Hamilton, Ont. (In this case, the seller of the house and buyer of the townhouse are not the same.) The other figures are estimates. Realtor fees can vary from 2.5% to 6%. Money spent on readying house for sale as well as touch-ups and new furnishings will vary widely. Buyer is often required to commission a survey by the mortgage lender if the seller can't produce one done fairly recently. In this case we've assumed no new survey is required. Land transfer taxes vary widely across Canada but most provinces have them. Purchase of a newly constructed home would be subject to additional costs, particularly GST. In this case, both properties are resales and not subject to GST.
Should I stay or should I go?
There are two natural times to consider downsizing—near the start of retirement or much later on. But shortly into your post-working years, you'll probably find you don't require as large a home anymore. "You no longer need to be near work and schools," points out Steven Sass, associate director of the Boston College Center for Retirement Research. And the key advantages to downsizing immediately are many: it may help you reinvent your lifestyle, live in a locale where you please, and maybe make use of some—but ideally not all—of the equity in your home to help afford a better retirement lifestyle. If you are looking to bolster your finances by downsizing to a less expensive property, be mindful that it's generally smart to retain some home equity in case it's needed later on.
Of course, if you don't own an expensive home in Toronto or Vancouver, you probably won't net an enormous payoff, especially after considering transaction costs. But often a smaller payoff can still be well worth it. In many communities, you should be able to sell a typical three-bedroom family home, buy a smaller townhouse or condo apartment in the same general area, and net at least $100,000 to $200,000. Above—in "How much can you net from downsizing your home?"—I provide an example of a strategy that yielded $150,000. As a rule of thumb, adding that amount to your nest egg would allow you to withdraw a further $6,000 a year plus inflation adjustments starting at age 65 (based on a 4% initial withdrawal rate). While that's far short of being enough to retire on by itself, it can make a big difference topping up finances to afford a few more retirement comforts.