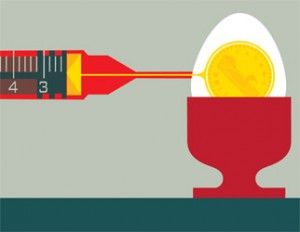 With today's low interest rates and an uncertain economy, Jim Phillips wondered whether he had enough money for a secure retirement. "I thought I was okay, but I had that little bit of doubt," says the 64-year-old (whose name we've changed). He was thinking last year about retiring from his job as a clerk with a transportation company in Toronto. He wasn't sure that his investment portfolio could sustain the annual withdrawals he was planning to make once his paycheque was gone, so he sought the help of a financial planner.
This difficult investing environment is prompting retirement experts to ask the same question. Some doubt whether traditional guidelines about how much you'll need to retire can still be relied on.
One popular rule-of-thumb says if you retire at 65 you can withdraw about 4% of your initial nest egg each year—adjusted annually for inflation—and expect your portfolio will last at least 30 years. That may not seem like much: after all, it's just $2,000 a month (before taxes) on a portfolio of $600,000. Yet some retirement researchers suggest even 4% may be too high if you want to be certain your portfolio will live longer than you do. One influential paper even suggests 2% might be a more prudent maximum. With that small a withdrawal rate you'd need a massive nest egg to produce a trickle of cash flow, and most people will simply never save enough to make that feasible. So what's a retiree to do?
The 4% solution.
The origins of the 4% withdrawal rate go back to William Bengen, who was working as a California financial planner in the early 1990s. When clients kept asking him how much they could safely withdraw from their portfolios, Bengen found he had no credible response. So he undertook a study using U.S. data on stock and bond returns since 1926 to find the maximum steady cash flow that could have been withdrawn each year from a balanced portfolio of half large-cap stocks and half government bonds. He assumed the money needed to last 30 years, so people retiring at 65 could be confident their nest eggs would make it to at least age 95.
His research in 1994 found the maximum safe withdrawal rate was about 4% of the initial portfolio, plus annual inflation adjustments. For example, say you have $500,000 in stocks and bonds when you retire. In the first year, you would withdraw 4% of that amount, or $20,000. In the second year, if inflation is 2%, you would raise that amount to $20,400 to maintain your spending power, and so on every year. (Note the withdrawal amount does not change as the portfolio rises or falls in value—all the calculations are based on the value of your nest egg in the first year.)
Bengen determined that if you followed this strategy during any 30-year period between 1926 and 1993, you would have never run out of money. That includes even the worst periods spanning the Great Depression and the double-digit inflation of the 1970s. In later research and a book he wrote for other financial planners, Bengen pushed the safe withdrawal rate to 4.5%. A host of other studies have used updated data, tinkered with the assumptions, or used other statistical techniques to come up with a number a little higher or lower than 4%. That's the number many financial planners still use.
But does it still work? Wade Pfau, an associate professor of economics at the National Graduate Institute for Policy Studies in Tokyo, came up with a much drearier number in a study last year. Pfau analyzed how interest rates, dividend yields and stock market valuations helped explain maximum withdrawal rates in the past. Then he combined those historical results with recent investment indicators to forecast a maximum withdrawal rate that might apply to people retiring now. His estimate was just under 2%.
That result is shocking and controversial, and even Pfau acknowledges it is far from conclusive. But as he wrote in a recent blog: "I think the real lesson from this exercise is that using a 4% withdrawal rate from a portfolio of risky assets is not as safe as the historical outcomes would lead us to believe."