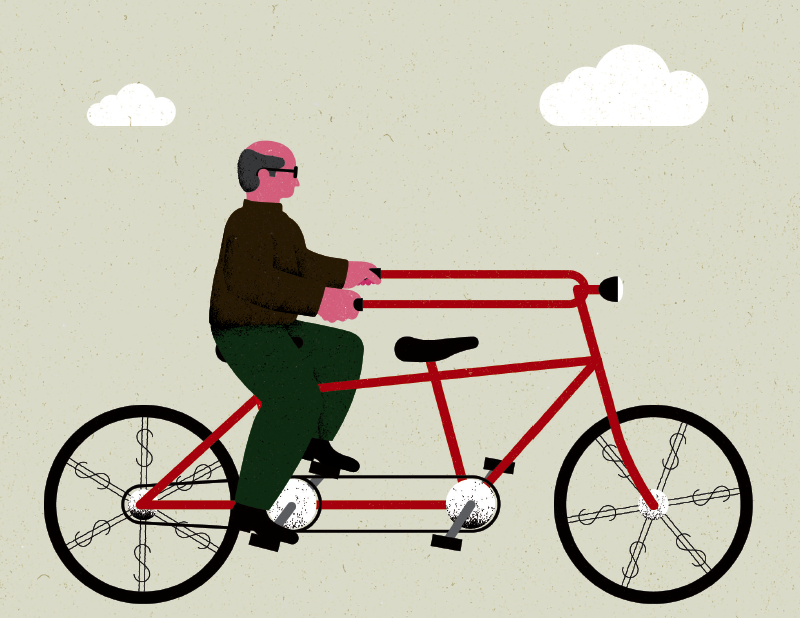 If you're single, you know that retirement planning is tougher for you than it is for couples. You have no one to rely on but yourself, and you can't share expenses or split income. As a result, you can't just take the cost of retirement for couples and divide it by two. Situations vary, but a single person will need to spend roughly 70% as much as a couple to enjoy an equivalent lifestyle in retirement.
The cost of singlehood
To help make things easier, in this issue I'll review what it costs for singles to fund their retirement and discuss the special challenges they face. I'll describe the experiences of three retired singles—one with a modest middle-class budget and two with more affluent means. While their budgets vary, all three have achieved a comfortable lifestyle that meets their aspirations.
First, let's look at the cost of a middle-class retirement lifestyle. In my view, a single retiree should count on spending about $30,000 to $50,000 a year including taxes, assuming you own your home and have no debt. The lifestyle you can expect will vary by locale: your money will go farther in small towns than in big cities, with their high property taxes and high cost of living, points out Annie Kvick, a certified financial planner with Money Coaches Canada in North Vancouver.
This compares with my spending estimate of $42,000 to $72,000 for retired couples living a comparable middle-class lifestyle (described in "The Cost of Happiness" in the December 2014 issue). The figure for couples isn't twice the figure for singles—it's only about 40% higher because spouses are able to share costs for things like housing and cars. The higher per-person income singles need also results in higher taxes. Based on B.C. rates, for example, a single senior with $50,000 in taxable income can expect to pay more tax than a senior couple with $70,000 in income that is equally split.
All this makes it harder for a single to save for a comfortable retirement compared with two-career couples. (The gap is narrower when compared to families with one breadwinner and one stay-at-home spouse.) But singles do have one financial factor in their favour: if they don't have kids they're spared the hefty child-rearing costs that couples with families have chosen to bear. That should allow them a head start on saving for retirement while friends with kids are knee-deep in diapers and daycare. "For singles, it's extra important to start to attend to your finances early," advises Kvick.
As with retired couples, it makes sense to carefully manage how much you spend on the basics so you have plenty left for the non-essential but fulfilling extras. That's particularly important if your budget is tight. Kvick advises that you'll need to allow at least $20,000 to $25,000 a year for the basics (including shelter, groceries, transportation and clothing) and at least $5,000 for the extras like entertainment and travel. Then you'll have to estimate what you'll pay in income taxes. If you have $30,000 in taxable income, expect to pay about $2,000 to $3,200 a year in income taxes if you're 65 or older (depending on your province), and about $3,800 to $5,100 if you're younger.
Small-town modesty
Let's look at how Ellen Spencer uses this approach to get the most out of her $38,000 budget. Spencer is in her early 60s and stopped working at her physically demanding public sector job over a year ago due to a repetitive stress injury. (Names and some identifying details for our retirees have been changed to protect their privacy.) She is hoping to return to work in some role, but even if she's unable to work again she feels she can live comfortably and sustainably on what she has now in savings, as well as government and employer pensions. She spends $33,000 on herself and pays about $5,000 in income taxes. "I have found I can live very well on that," she says.
Ellen spends almost $23,000 a year on the basics, which leaves just over $10,000 for the extras. She recently moved to a small B.C. town from Vancouver. Although she moved mainly for the small-town lifestyle, the lower cost of living helps as well. "I can live a little bit easier here, with more money for the things I want to do," she says. "People here are amazing. Everybody talks to you. They're so friendly, so nice." She is currently renting, but has money set aside to purchase a modest home. (We've estimated her budget based on what she expects to spend after her home purchase.)