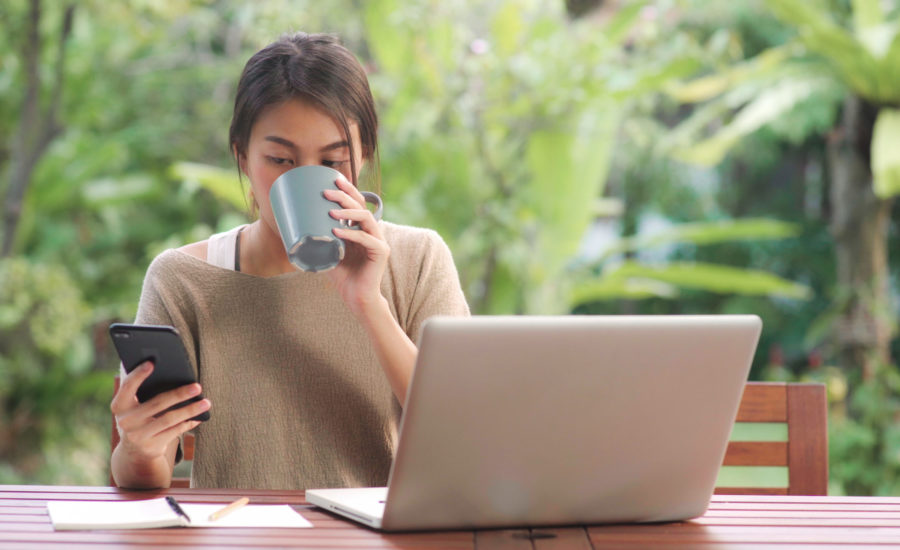 Using credit cards to manage and pay off debt sounds like the total opposite of the advice we've been hearing for years. Truth is, credit cards sometimes get a bad rap, and shunning them isn't usually the answer to improving your financial situation. So before you reach for the scissors, know that there are ways to responsibly manage your finances with a credit card. It's all about the right fit.
Here are the credit card options that can help you pay down your existing debt more quickly, along with tips for how to use a credit card in ways that can work for you.
Low interest-rate credit cards to manage debt
Choosing a credit card with a low interest rate can help you manage debt, especially if you're at all concerned about being able to pay off the balance owing every month, since the interest charged won't add up as quickly. Jennifer Davidson, vice-president, cards product management and benefits strategy at CIBC, says credit card users have to be honest with themselves when it comes to debt. "If they're going to carry a balance, then interest rates do matter," she says. A low-interest credit card still offers you the flexibility of being able to use a card in many situations such as online shopping, making reservations at hotels, or car rentals, plus the benefit of contactless payment (just tap!) wherever Visa is accepted. You can also easily track your spending.
One low-rate option is the CIBC Select Visa with 13.99% interest for purchases and cash advances, available for those with a $15,000 minimum household income. (The typical interest rate for credit cards is 19.99% or 20.99%.) For an annual fee of $29 (rebated first year for new cardholders and three authorized users), it gives you the convenience of a credit card, and the protection of common carrier accident insurance if you purchase your plane, ferry or travel fare with your card.
Cash back cards to earn money—if you regularly pay your balance in full
If you feel confident about being able to pay off your credit card's balance every month, a cash back credit card can really work in your favour to manage debt and for monthly expenses you'd pay for anyways. The more you spend using the card, the more cash you get back (usually at the end of the year). Look for a card that closely aligns with your spending habits. Some offer higher amounts back on items purchased in specific categories from select retail partners, like gas or grocery purchases, while others come with bonuses like travel medical coverage or extra warranty protection.
Cash back credit cards typically charge an interest rate of 19.99%, plus an annual fee. And to ensure this type of card makes sense for you, Davidson recommends using a spending calculator to do the math on whether the amount you'll get back based on what you typically spend, and the rewards the card offers, justifies the cost of that fee. "In a lot of cases, those benefits more than offset the annual fee," she notes.
Balance transfer offers to consolidate and manage debt
If you find yourself unable to pay off your credit card balance, it's worth considering a credit card with a balance transfer offer. These often feature a really low interest rate (or even a 0% interest rate) for a specific period of time (say 6 or 10 months) on transferred balances. After that, the interest rate goes up. And those rates can vary. Some are on the lower end, but others charge in the area of 19 to 20%, and there are often fees associated with transferring your balance. So, while this will give you a grace period to focus on paying that debt down without incurring much additional cost, it's important to be disciplined about doing so within that time frame. You will also have to be careful not to get yourself further into debt by using the card for expenses you can't afford to immediately pay off. "These cards are best for people who really are serious about paying off the debt in the balance transfer's set time period," notes Davidson.
The other major benefit to a balance transfer is that it allows you to consolidate several cards' balances onto one card. "A balance transfer can be a really smart way for someone to get their debt in one place and get it under control," Davidson says. And one monthly payment can seem less stressful, and more manageable, than multiple monthly statements.
Use your card's features to stay on track
Many credit card issuers offer tools on their mobile apps or online banking sites to help consumers easily manage their credit cards. These features can be really handy, explains Davidson. "CIBC has alerts that tell you when your payment is due. We also tell you when a purchase is made, and there are ways that you can set thresholds for spending," she says. "And there's a history of all of your transactions, so you can be sure that all of the purchases are ones you've made."
The bottom line: be honest with yourself about debt
When it comes to using credit cards to manage debt, good fiscal management is always the underlying factor. So, take a close look at your cash flow and spending habits, and then choose the right card for your situation. Using credit responsibly requires this kind of two-pronged approach. If you're honest with yourself, and use it carefully, you can help take control of your credit. "Credit cards are not a ticket to spend beyond your means," says Davidson. "But they are obviously a very important tool for Canadians and, used properly, they can be an effective tool in managing and reducing debt."
For full information on the CIBC Select Visa Card, including all legal details, click here.
This article is presented by CIBC Pace It, as part of the MoneySense guide to debt management.