Almost a quarter of Canadians think there's a significant problem in their neighbourhood. According to a new Statistics Canada survey, 23% of Canadians 15 years and older considered noisy neighbours, loud parties, loitering, vandalism, damage to property, strewn garbage, graffiti, racially motivated attacks, drug dealers, or drunken or rowdy behaviour, to be a problem in their community. Yet, fewer than 10% reported these crimes or disturbances.
The biggest problems residents were reported were people using or dealing drugs and garbage strewn along streets and sidewalks, followed by vandalism, graffiti, noisy neighbours or loud parties, loitering and drunk and rowdy people in public places.
According to the 2014 responses, perceptions of neighbourhood disorder vary across the provinces. Residents in Alberta and Quebec (26% and 25%, respectively) perceived problems in their neighbourhoods, while residents in Ontario and New Brunswick (22% and 19%, respectively) reported problems with their communities.
On the whole, perceptions haven't changed all that much in more than a decade, according to Statistics Canada data. Newfoundland and Labrador was the lone province where residents were more likely to view an increase in problems, up to 25% in 2014 from 17% in 2004. Where residents in British Columbia and New Brunswick were less likely to see problems in their neighbourhoods, compared with a decade ago.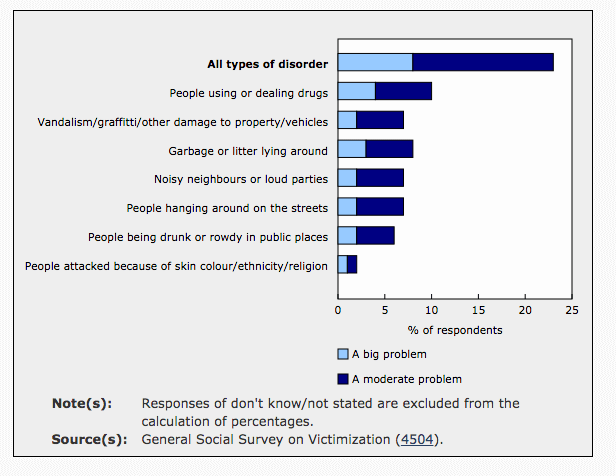 The results were part of the latest Statistics Canada's General Social Survey on Victimization (GSS).
Read more from Romana King at Home Owner on Facebook »