It can be argued that no segment of the real estate market has been more affected by foreign buyer money than Canada's luxury real estate market. Now a new survey released by Royal LePage sheds some light on the impact foreign buyers have had on this segment of the market.
According to theRoyal LePage Carriage Trade Luxury Properties 2016 Report, Canada's luxury residential real estate market has seen a notable increase in foreign buyer activity over the last 10 years, with some realtors suggesting that more than 25% of luxury properties now purchased by foreign buyers.
This report analyzed the luxury real estate market in four cities: Greater Toronto Area, Greater Vancouver, Greater Montreal Area and Calgary markets, and defined luxury as any property that cost no less than four times the average home price in these cities. The data shows a significant price appreciation in Canada's luxury neighbourhoods across all four regions in the last 10 years. The Greater Vancouver luxury property market leads the country with a 10-year price increase of 125%, followed by the Greater Toronto Area with a 69% increase, Calgary with a 61% increase and the Greater Montreal Area with a 58% increase in luxury home prices between 2005 and 2015.
It's interesting to note that despite price appreciations over the last decade, the size of of the luxury properties did not differ significantly in size.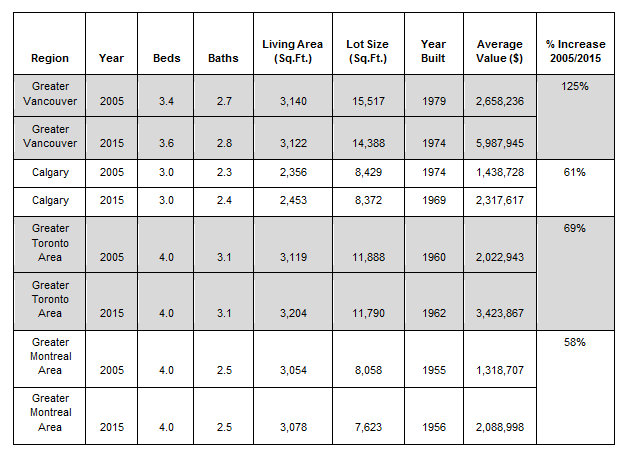 President and chief executive officer of Royal LePage, Phil Soper, said that the attraction to Canada's real estate market is due to the nation's "stable political and financial systems, along with a tradition of cultural tolerance and openness to immigration and diversity." He adds that the recent dip in value of the Loonie has also made real estate investment in Canada a more attractive proposition for foreign buyers. "While the impact of foreign buying on Canada's overall residential real estate market is small, we see it growing in importance in the luxury market," said Soper.
According to survey respondents, the single biggest reason for the purchase of a luxury home was to establish a family, with almost 97% of real estate agents characterizing buyers as couples, and 66% of survey respondents maintaining that luxury buyers have children living at that home. As a result, the single most important factor for these buyers was finding a detached home, followed by "popular neighbourhood" and then size of the home.
On the flip side, sellers of luxury properties were often between the ages of 55 and 64 and, quite often, the impetus for selling was to downsize.
Still, not every luxury home was purchase with foreign money, with the majority of purchases still made by Canadians between the ages of 45 and 54. "In our country's largest housing markets, conditions have made the jump to luxury easier," said Soper. "Average house prices in the standard category have appreciated at a faster rate than those in the luxury category, narrowing the gap and making higher-priced homes more accessible."
Vancouver, British Columbia
The Royal LePage Carriage Trade Luxury Properties Report also outlined regional trends. In Vancouver, B.C., 79% of agents that were polled believed that foreign buying activity had increased since January 2015, with buyers from China dominating these purchases.
"The typical luxury property buyers in Vancouver are affluent, business-oriented and well-educated couples, and the region will always be one of the most sought-after in the world," said Jason Soprovich, real estate agent, Royal LePage Sussex. "We believe international interest is a significant factor driving price increases in the area, as foreign buyers view Vancouver as a 'dream-city', as it is so beautiful. When visiting the region, they instantly fall in love."
Calgary, Alberta
Luxury real estate prices in Calgary, Alta. have dropped since January 2015 and two-thirds of all realtors surveyed to believe that falling prices will continue throughout 2016.
Toronto, Ontario
The luxury residential real estate market in Ontario is strong, bouyed, in part, by an extreme lack of inventory. Real estate agents have seen a long-term trend in sales activity, with 76% of agents saying that they have seen increased activity since January 2015, and 88% reporting increased activity since 2005. More than two-thirds (69%) or agents surveyed said that there has been an increase in foreign buyer activity over the same 10-year period. The top three factors motivating foreign buyers to buy in Ontario were: (1) a stable real estate market; (2) a stable financial system; and (3) a stable political system.
"Ten years ago, a $2 million house in the Toronto market sounded expensive," said Cailey Heaps Estrin, sales representative at Royal LePage Real Estate Services Ltd., "but now, that price is much more common." Estrin described Toronto's typical luxury property purchaser as "a successful local buyer looking to upsize and secure a new family home or an international buyer who wants to enter the Toronto market." She believes that in most cases, "these residences are bought for the lifestyle they represent with the financial investment aspect being a secondary concern."
Montreal, Quebec
In Montreal and in the rest of Quebec, the luxury market in Quebec remains relatively healthy, with 39% of real estate agents surveyed reporting increased sales activity since January 2015. When asked about foreign buyer activity in their area, 58% of real estate agents believed that less than 10% of luxury real estate purchases in the province were made by foreign buyers.
"In comparison to the rest of the province, the luxury real estate segment in the Montreal region has been particularly healthy over the past 10 years, with performance in 2015 especially strong," said Marie-Yvonne Paint, real estate professional Royal LePage Heritage.  "Prestigious homes remain most popular with local buyers, with a small proportion of these purchases being attributable to foreign buyers." However, Paint concedes that in the luxury apartment segment (also known as the luxury condo segment0, the proportion of purchases made by foreign buyers is slightly higher.
Neighbourhoods with big price increases
To appreciate the price increases within each of the four cities analyzed within the last 10 years, the Royal LePage report analyzed sample neighbourhood in each of the cities, based on price and attribute comparisons.
As seen in the chart below, the Greater Vancouver neighbourhoods of Point Grey and West Vancouver lead with a 10-year price increase of 135%, followed by the Greater Toronto Area neighbourhoods of Lawrence West and Rosedale (76% and 65% increases, respectively). The neighbourhoods of Outremont and Westmount in the Greater Montreal Area showed healthy price appreciation with a 10-year price increase of 64% and 51%, respectively, as did Calgary's Elbow Park and Mount Royal, which saw increases of 54% and 27%, respectively.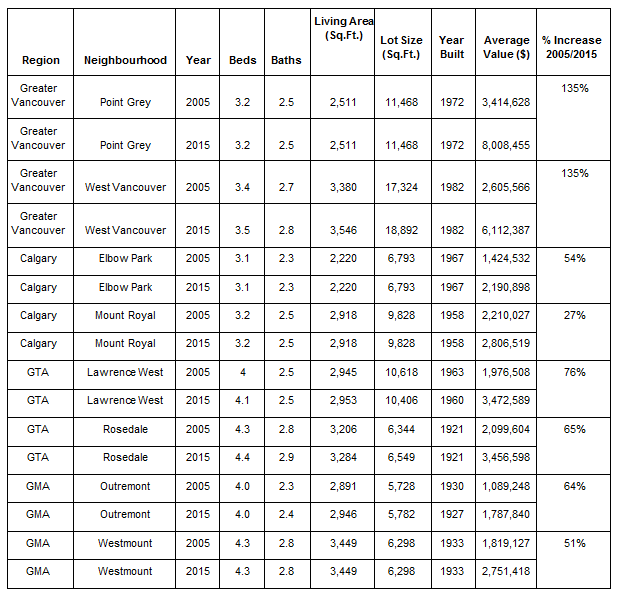 Read more from Romana King at Home Owner on Facebook »