Two years ago, Jennifer and Glen Leblonc decided they were done with city living. From a practical standpoint, their family had outgrown their 1,200-square-foot condo in downtown Montreal. And the space, already overrun with their two-year-old son's toys and gear, was only going to get more crowded with a second child on the way. Plus, a move would help them escape the nuisance neighbour who would pound on the wall whenever their son made noise. It was time to move to the suburbs.
The Lebloncs built a spreadsheet to consider their options. Among the must-haves: a bigger home that fit their budget, close enough to transit to avoid the burden of a second car. After months of searching, they settled on a split-level, three-bedroom home about an hour's train ride from where they work in downtown Montreal.
Despite all their careful planning and research, the Lebloncs now want a do-over.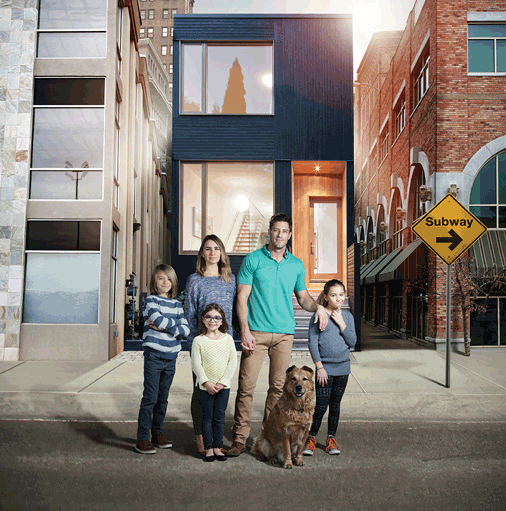 "When we lived in the condo, we were both home by 4:15," says Jennifer. Every other day they walked two blocks to the grocery store to pick up a few things and they'd often spend evenings or weekends strolling the canal, playing in one of many nearby parks or wandering through the outdoor markets. These days, Glen is lucky to spend an hour with his kids after work before they're off to bed (Jennifer is still on maternity leave). And on weekends, it's a crunch to get groceries and clean the house so they can spend time together as a family.
"We moved to give our kids a better lifestyle," says Jennifer. "We discovered we had more family time when we lived downtown."
Each year, home buyers across North America struggle with a familiar choice: They can pay more to live in a smaller urban property, within walking distance to schools, shops and work; or pay less for a larger suburban home with a big backyard and ample parking, but have to hop in a car for just about everything they need. At first blush, it appears urban and suburban residents may simply have fundamentally different values and interests, but that may not be the case. For many Canadians, the decision between city and suburb boils down to how strongly you weight three important factors—your money, your time and your overall lifestyle. No two families prioritize these in exactly the same way. Moreover, even the urban-suburban truths we hold to be self-evident—as in, it's always cheaper to live in the suburbs—don't tell the entire tale.
To help readers appreciate this important decision, MoneySense teamed up with real estate analysts Brookfield RPS to explore what it means to own and live in a single-family detached home within or near each of Canada's four largest cities: Vancouver, Calgary, Toronto and Montreal. Detailed data on commute times, current average sale prices, living space and lot sizes—including a tricky calculation to tell us how much of a home's value is currently locked into the land itself—were divided into layers spreading out from each downtown centre (we used City Hall to keep things consistent). Each ring represents 10 minutes of non-rush-hour driving. Armed with this data, we can tell you just how much home and property you can expect to find the further you drive from downtown. Moreover, we can tell you how much it actually costs to live in each respective layer, factoring in average annual transit costs and property taxes. In other words, we did what MoneySense does best: We calculated firm figures to guide an important financial decision—in this case, one of the most important and emotional ones a person or family can make.