Have you dreamed of a walk-in closet but not sure how your 1,200 square foot home could accommodate an entire room dedicated to clothes? Welcome to the space race and the conundrum of most urban dwellers. But there is hope with furniture that has both form and function. While there are plenty of options when it comes to space saving furniture here are some of the more mid- to upscale selections currently available in the market.
---
For the bedroom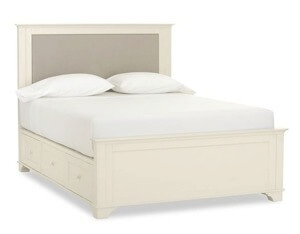 For instance, Pottery Barn's Cynthia bed, available in antique white or mahogony stained wood, turns your queen size bed into a dust bunny-free stow away space. The frame actually houses six spacious drawers letting you keep anything from blankets to sweaters to keepsakes in nice, tidy homes. The queen bed, without mattress, is regularly priced at US$2,099, but sales are frequent. (There's a whole selection of storage beds available either at Pottery Barn or at other retailers, such as Sears, Pier 1, Ikea or The Bay, to name a few.)
---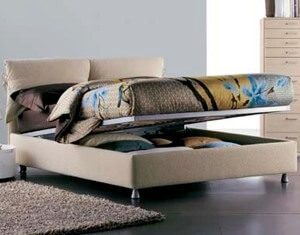 If you don't like the look of drawers underneath your bed, consider a lift-up bed frame. The top of the line Marettimo bed from Flou easily lifts up—mattress and all—so you can stash linens, off-season clothes or whatever else you want to tuck away. But this utility and ease doesn't come cheap at a price tag of just over US$6,600.
---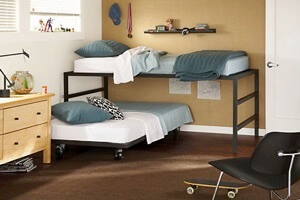 For a kid's room, consider a bunk-bed or loft-bed. U.S.-based Room and Board's Bower loft bed has a neat twist that allows you to arrange the beds into different configurations allowing you to create space for dresser drawers or a desk. The top bunk (the sides double as ladders) are stationary, while the bottom bed is independent and on casters. But this versatility comes at a cost, which starts at US$1,199. If that's out of your price range, consider more traditional bunk or loft bed configurations. For instance, a wood bunk bed frame at Ikea starts at $159.
---
For the living room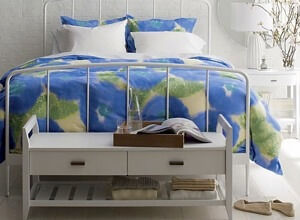 If you're short on space in your living room or den consider stylish seating that also doubles as storage. Cheaper-priced storage ottomans can be picked up for as little as $59 at big box stores ($159 for bench with storage), while more upscale options start at $499, such as Crate & Barrel's white Boardwalk storage bench or Pottery Barn's wooden Wade bench, with a rustic feel that starts at US$749.
---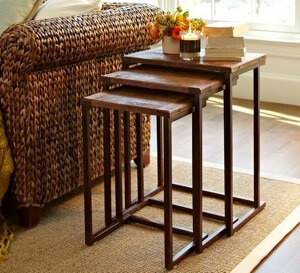 For dual purpose occasional tables that are sturdy enough to double as stools, consider Pottery Barn's Granger reclaimed wood set of three nesting tables. At US$399 the three tables are made from mango wood and rustic iron making them sturdy enough to sit on when seating is needed but space is at a premium.
---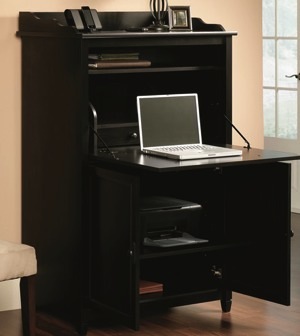 If your office doubles as another room—such as your living room or bedroom—then the key is to find a scaled down desk that can both contain and hide the clutter. That's exactly the solution the computer armoire from Sauder offers. Starting at US$189, this desk keeps your computer, printer and office items in one neat and tidy spot that can be tucked away using handy cabinet draws.
---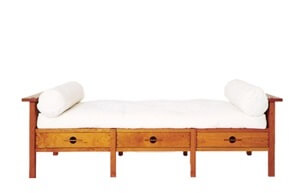 In your living room consider a daybed if you want a sofa by day and a bed by night. While cheaper daybeds can be found at big retailers for as little as $120 (with mattress) there are more upscale versions in the market. For instance, the John Kelly's J1 series daybed (retail US$4,135) goes a step further by adding three built-in drawers. Handmade from solid cherry wood and featuring exposed joinery, it comes with a six-inch futon mattress and bolster pillows.
---
For the dining room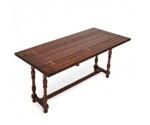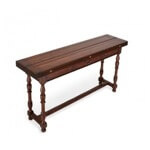 If you love to cook and entertain but don't like a big table taking up so much space then consider these space saving alternatives. For tucked away eating consider the 63-inch-long acacia wood dining table is the perfect dining room sideboard. But flip open the two leaves that form its top and it'll seat six for a meal. Or open just one leaf for a desk. From US$2,295 from ABC Home.
---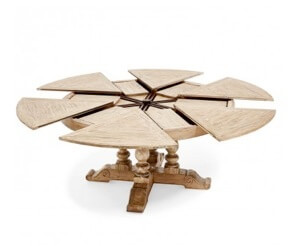 Or try the Provence mango wood expandable dining table from ABC Home that goes from 51 inches wide to 87 inches wide, allowing you to seat up to eight people quite comfortably for just US$1,295 (or on sale for US$999).
If you want a round dining table that expands to 78 inches to accommodate up t0 10 diners, consider ABC Home's expandable mahogany dining table, priced at US$6,295 (or currently on sale for US$4,599).
---
For the kitchen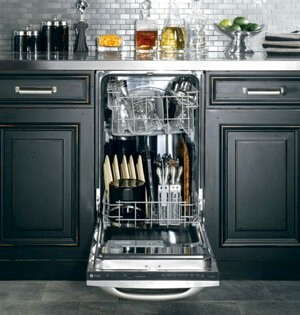 If you have a small kitchen but hate hand washing dishes consider GE's Profile dishwasher. At 18-inches wide, it uses 12% less energy and is available in black, white or stainless steel (ranging in price from US$680 to US$900). Or you could consider the dish drawer, which can scour dinner service for six using less water, less energy and less detergent than a conventional dishwasher. The Fisher Paykel dish drawer is 23 inches wide and 16 inches high and can even fit underneath your sink.
---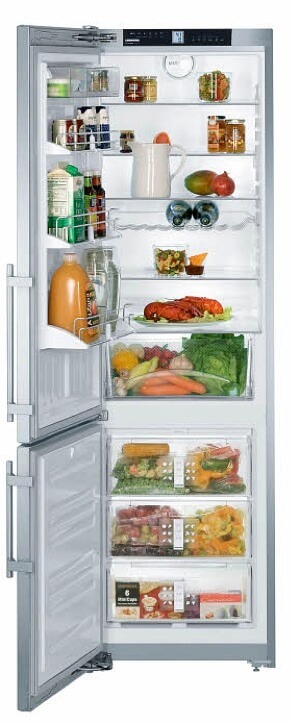 But what about your fridge? Are you stuck with the 4.4 cubic foot mini fridge, which starts at $220 at big box hardware stores, or the 19 inch Magic Chef freezer on top apartment fridge? Not if you don't mind paying more. For US$2,440 Liebherr Appliances offers a 24 inch wide stainless steel fridge with bottom freezer. All the style and updates of the larger refridgerators but using a fraction of the space.
---
Want a chef's oven and range but can't fit those massive six burner models in your kitchen? Consider Viking Range's 30-inch line (prices start at $3,899). Available in electric, dual fuel or gas, these ovens/ranges offer the same features as bigger commercial-style models but it will actually fit into smaller kitchens.
---
For the bathroom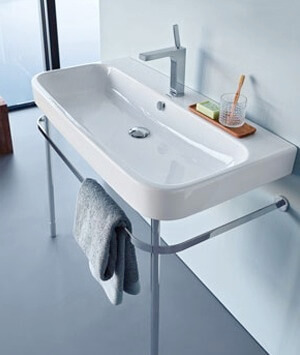 Wall-mount bathroom vanities make small bathrooms look big by opening up floor space. Problem is they lack the storage capacity of freestanding vanities. Not the Happy D.2 sink and metal console from Duravit, which offers a place to hang towels underneath the sink (prices start at US$1,980).
---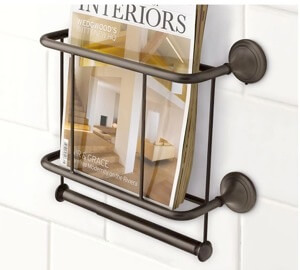 To conquer paper clutter in the bathroom consider Pottery Barn's Mercer bath tissue holder which mounts to the wall and has a built-in rack for corralling reading materials. It comes in antique bronze, chrome, polished nickel and satin nickel finishes and starts at US$89.
---
For the laundry room
No place in your tiny digs to park a full-size washer and dryer? Not a problem for if you opt for LG's combo models. The All-In-One retails for $2,899 and offers a full size 5.0 cubic foot washer/dryer combo that is 27 inches wide. If that's still too big, consider their 24 inch wide model (at $2,749).  Unlike conventional dryers this machine doesn't require an external venting source, a big plus for apartment dwellers. Available in white and titanium.
Furniture arrangements for small living rooms:
Read more from Romana King at Home Owner on Facebook »