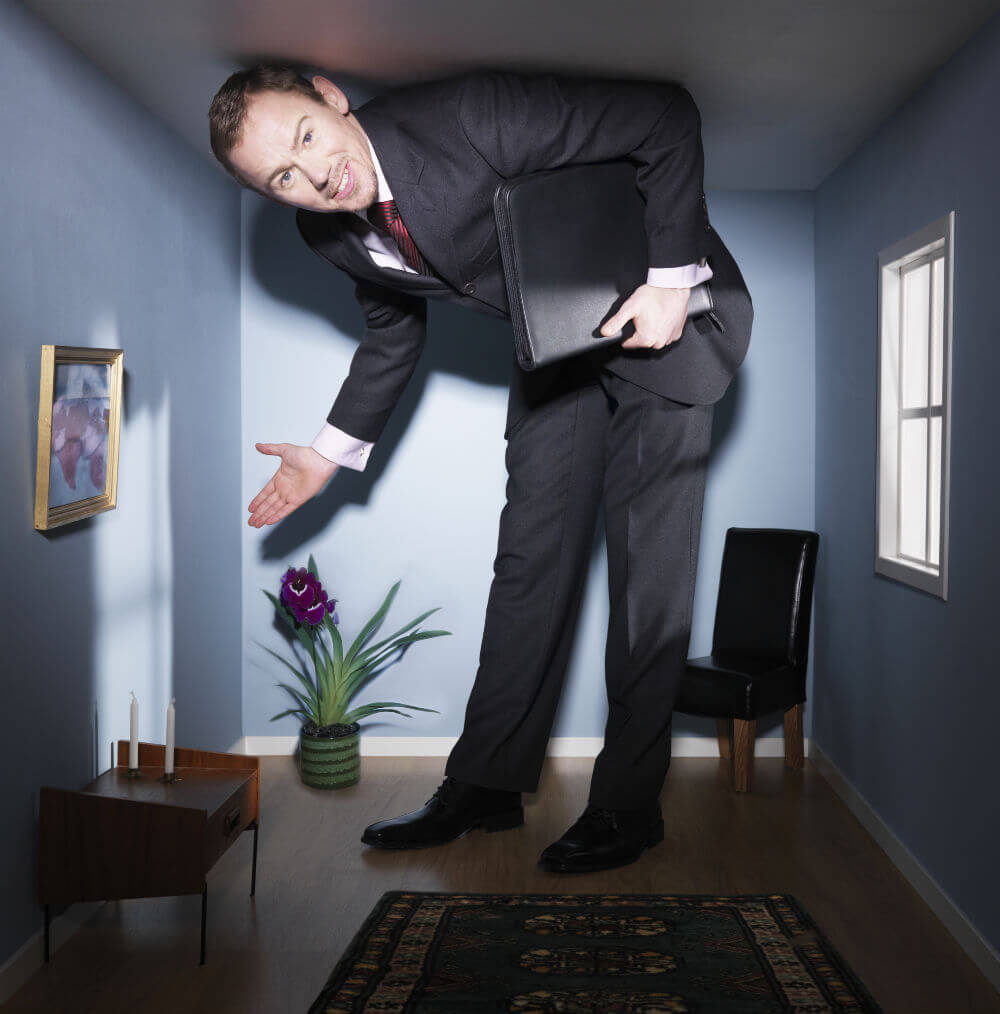 Imagine buying your first home at the height of the Canadian housing market. That's the position Judy Winters found herself in a few years ago after a tumultuous break-up. With a strong desire for a fresh start, this web editor became determined to buy a dog-friendly condo in a sought-after building in Toronto's west-end High Park area. Unfortunately, units in the building rarely went on the market and were snapped up in a matter of days when they did, usually for well over asking. Yet Winters (we've changed her name to protect her privacy) not only got one—despite multiple competing offers—but her winning bid was $11,000 less than the next offer. Her secret weapon? A realtor who understood the power of persuasion.
As Winters discovered, hiring a realtor who knows how to use the psychology of sales can really pay off. But how do you find an agent who understands how to use the art of negotiation, who can salvage a potentially sour deal, apply pressure and use other successful strategies to increase your sale price? Because let's face it: that commission is big, and you want to make sure it gets you the best advice when buying or selling your most valuable asset.
By talking to realtors, experienced home buyers, and veteran sellers we've compiled a list of the psychological tips and tricks realtors use to get deals done. While these methods can save (or make) you money, some are dodgy, and a few are downright illegal. The key is to find a realtor who can effectively use psychology without crossing ethical lines. Read on to learn how to identify a winning agent who will have your back.
When you're a buyer
Don't ask, don't tell. Shortly after Navia Gordon was hired permanently at Alberta's Ministry of Justice, the Calgary criminal lawyer took the plunge and bought her first condo (we changed her name to protect her privacy). Within days she found the perfect place. The list price was $384,000, and the unit seemed to have it all: a spacious bedroom, separate den, a modern kitchen with a workable island. It was close to transit in a neighbourhood popular with the urban crowd. But right beneath the unit's living room window was a scar of train tracks. Concerned, she asked her realtor if the passing train traffic was loud. Without missing a beat the realtor replied: "Just don't open the windows."
While caveat emptor—buyer beware—applies to every real estate sale, it shouldn't be used to justify unethical or even illegal behaviour. Unfortunately, in a survey conducted by Inman, a U.S.-based trade magazine for realtors, 60% of respondents felt that withholding critical information is a common occurrence.
Eileen Laswell prides herself on providing her clients full disclosure, even if that means actively convincing buyers to walk away from a deal. Just last year, the north Toronto realtor talked a client out of buying a family home listed at just under $1 million. From the third-storey bedroom she could see the neighbouring home's roof. "I was struck by how many vents there were," says Laswell, "and not professionally installed vents, but hacked-out holes with pipes stuffed through." Concerned, she called the listing realtor. "I was told the neighbours were renovating, but I've never seen a renovation that required tinfoil on the windows."
Laswell immediately told her client to walk away. "He was heartbroken because he loved the home, but the impact of living beside an active grow-op would be negative on both his family and the home's future appreciation."
Legally speaking, realtors cannot be held responsible for undisclosed or unknown issues that may impact a home's value, explains Laswell. As a result, an attitude of "don't ask, don't know, don't tell" has developed within the profession.
Glossing over big costs. Another ploy is to casually minimize the impact of a higher-priced home. If a house is $30,000 over your budget, an agent might say, "It's only an extra $100 per month."
Others imply it's a breeze to earn income from your home: "It would be so easy to put in a kitchen and rent it out." Of course, it wouldn't be easy at all: there's the renovation costs, permits, and a host of potential pitfalls for homeowners who become landlords. If there's already a rental unit in the home, the realtor may exaggerate what you can charge in rent: "You'll easily get $1,500 a month," she might say, even if it's a barely finished basement apartment with seven-foot ceilings.
To protect yourself, do your own due diligence. Call the city to verify taxes, for example, and talk to the local police station to get an overview of the neighbourhood crime rates. If you expect to add a rental unit, check Kijiji.ca for rates in the neighbourhood.
The upsell. When newlyweds Doug and Tanya Anderson went looking for a place to call home, their budget was $450,000. "But we found the houses needed quite a lot of work," recalls Doug (we've changed their names), who voiced his concern to their realtor. That's when the homes started getting a lot nicer—and the list price jumped by $50,000 or more. "Our realtor was upfront about this," recalls Doug, "but when we expressed concern over the price, she'd say, 'Well, we're here now, we might as well take a look.'"
Almost every realtor uses the upsell—but it's not just about a bigger commission. "Buyers are often unrealistic about what their budget can buy," explained one realtor, "so you have to show them what an extra $50,000 gets." But what's the consequence? For the realtor, that extra $50,000 is an additional $930 to $1,250 in commission. For you, it means an extra $180 or more per month towards your mortgage.
The only remedy? Refuse to step foot inside any house that's listed above your maximum budget.
The pressure cooker. Realtors know emotions help get sales—and good realtors will use this to gain the advantage. It's how Laswell was able to secure her client a sought-after townhome in Burlington, Ont., last year. Immediately after the property was publicly listed, Laswell's client made an offer with a tight deadline. "I advised her to give the sellers a short, four-hour window to either accept or reject the offer," says Laswell. "I wanted to crank up the urgency so the seller would feel compelled to make a decision." It worked. Laswell's client bought the townhome that day and—despite a number of scheduled viewings by other potential buyers—at a price just a bit below market value.
Be warned: this tactic can also be used against you. Buyers often preview 15 to 20 houses before they buy, and if this number starts to creep up some realtors will respond by turning up the pressure. Have you ever arrived at a house only to bump into another potential buyer? While this can occur by accident, unethical agents will collaborate with colleagues to intentionally double-book viewings to create a false sense of urgency. Some will even surreptitiously ask a friend or colleague to pretend to be interested in the property you happen to be viewing.
Worse yet is when realtors collaborate to create a false bidding war by notifying the listing brokerage of an impending offer, even though there is no buyer. The Ontario government took aim at this deceptive practice with a new law last year: it prevents unsavoury agents from trying to drive up a home's selling price or motivating a buyer to pull the trigger on a purchase. Agents in any province should receive a written warning, a fine, or have their license revoked if they're caught faking bids, but proof is hard to establish.
When you're the seller
The bitter pill. There's an iconic scene in the movie The Matrix where the lead character, Neo, must choose between the blue pill and the red pill. The blue represents the blissful ignorance of illusion, while the red represents the painful truth of reality. The price you think your home should sell for is the blue pill, but your realtor can use several strategies to make you swallow the red one.
For instance, an agent may agree to list your home at a higher price, but only if you agree to drop that price within a specified period (usually in 15-day increments). A realtor who uses this technique may actually be looking out for your best interest, explains Damian Lister, a realtor in Etobicoke, Ont. The alternative is to simply not work with a client who refuses to consider a price drop. "There's no point wasting their time or mine." Agreeing on a plan to reduce the price gradually helps build rapport and trust with clients who may be stuck on a number, Lister says.
But some agents will tread into unethical territory by using a staggered bids strategy. This is how it works: after the first few viewings your realtor calls to say a potential buyer has made an offer, but it's $100,000 lower than your list price. You reject it without hesitation. A few days later, the realtor calls again: another buyer wants to put in an offer for $75,000 less than your asking price. It's still a low-ball offer, but this time you take a little longer to reject it. Wait a few more days and your realtor will phone one last time. This time he's holding a formal bid. Even though it's $50,000 below your list price, it doesn't sting because you were already psychologically massaged into lowering your expectations. There's nothing inherently wrong with this practice—if the first two bids were real. But realtors have been known to fabricate staggered bids to convince you that a bad offer is actually a good deal.
Always ask to see an offer in writing. Just be aware that some buyers won't spend an hour or two filling out formal paperwork if there's a good chance their offer will be rejected. If nothing is in writing, ask your agent for more details: What type of closing is the buyer looking for? Are there any conditions? Any information that can verify whether or not a buyer actually exists will help you assess whether the offer is legitimate. Keep in mind that if legitimate buyers keep suggesting your home is worth less, you may have to swallow that red pill.
The pick-up. Unethical agents may have other motives for listing your home, even if they know it's overpriced. They may just be looking to pick up unrepresented buyers—people who come to your home without a realtor. To do this, the agent will set up one or more open houses and charge you a "marketing fee." Typically ranging from $50 to $500, this fee will cover any out-of-pocket expenses associated with listing your home. While these costs are legitimate, the vast majority of realtors don't pass them on to their clients because they're considered the cost of doing business. However, if your realtor isn't convinced your overpriced home will sell, she may ask you to pay the expenses up front while she uses your home to pick up new business from active buyers.
Twice as nice. Michael Drukarsh knew Sarah was the one shortly after meeting her—and Sarah knew they needed to move from Michael's two-bedroom condo in Toronto's Flemingdon Park. The couple were thrilled when their realtor, Debra Edwards, soon called to say there was an offer, which they accepted.
But before the paperwork was finalized, another viewing request came in. Michael and Sarah didn't know what to do, so they called Edwards for advice. She advised them to agree to the new viewing request. A few hours later, the couple was curled up on the couch, excitedly talking about the future, when the phone rang. "The deal's fallen through," explained Edwards. It was 11 p.m. and the buyers had just pulled out because they couldn't get financing. "We went numb," says Michael. But Edwards didn't. She got on the phone to the buyer who had arranged the last-minute viewing and convinced him to put in an offer. "Within 24 hours, she'd turned it around," recalls Michael, who signed the final sale documents the very next day.
Many realtors on both the buying and selling side will reject viewing requests once they have a registered offer in hand. But that's a rookie mistake, says Lister. An offer is a signal that a buyer is seriously interested, but until all conditions have been met or waived the sale isn't complete. That means your realtor should continue to actively promote your listing until the deal is finalized. Just make sure that any would-be latecomers know there's a conditional offer already in play.
The double-dip. When Michael first listed his North Toronto condo, he couldn't understand why the realtor appeared to do everything in her power not to sell the condo. "She refused to do open houses because she said they were useless," he recalls. There were multiple spelling mistakes in the listing she wrote, and she refused to re-take the photos to exclude the cat. "That one picture alone shut down 80% of the market who are either allergic or don't like the smell of cats." After six painful months, Michael terminated the relationship and hired another realtor who easily sold his condo in less than a week.
So why would a realtor work at not selling a home? Because it's one of the simplest ways to double-dip in the commission pool. A double-dipper's goal is to postpone any interest from the general population—the 92% of house hunters who use the Internet to look for listings—so he can find his own buyer. That way the agent represents both the seller and the buyer, and effectively doubles his commission. This tactic is primarily used by agents who dominate a particular neighbourhood or condo-building, and who think there's a good chance of attracting a buyer on his own without MLS. On the sale of a $350,000 condo, double-dipping could be the difference between a commission of $8,750 and $17,500.
Another way unethical agents try to double-dip is by ignoring viewing requests. If your realtor can't seem to book a viewing for a particular house, or the appointment is always cancelled at the last minute, you may have come across a double-dipper. The listing realtor may be thwarting your agent in the hope you'll get frustrated and contact them directly, without your agent. They'll then try and represent you in the deal and collect both commissions.
This is definitely bad behaviour and realtors caught poaching clients could end up before their ethics board, where punishment can include a written warning, a fine, or in extreme cases even a revoked license. Still, that doesn't necessarily mean you should automatically be suspicious of "dual-agency"—the term used to describe when a realtor or brokerage represents both the seller and the buyer. You just want to be sure that what prompted the situation wasn't a realtor actively dissuading interested buyers in order to double-dip.
When you list your home, ask your realtor to specifically describe their marketing plan, and press them on details. Who will take the photos that will be used on MLS.ca, and how will viewing requests be handled? Remember, you're in charge, so you should have the ultimate say in how your home will be promoted and when buyers can view the property.
Stacking the deck. Chester Karass, one of the most famous business negotiation experts in North America, once stated: "In business, you don't get what you deserve, you get what you negotiate."
Some listing agents will add phrases like "make an offer," or "no showings without a buyer's offer" to their listings. They understand that even a low-ball bid starts a dialogue that can get everyone closer to a done deal. Nothing wrong with that. The problem is when unethical realtors use this strategy to "stack the deck," or create an easy sell for the highest bid so it benefits them or someone they know.
Laswell was faced with this situation when she and her client chose to bid on a home in Toronto's west-end Humewood area. Laswell knew the seller anticipated a bidding war: the home was underpriced and the phrase "motivated seller" dominated the listing's comment section. Still, Laswell did her due diligence. She analyzed the neighbourhood and priced out similar homes. From this information she and her client agreed to go in with an offer that was $250,000 over the asking price. So Laswell was more than a bit surprised to learn that out of seven offers, they didn't win—that is until she found out that the winning bid was from the listing agent's sister. Laswell believes the listing agent acted unethically by trying to keep offers artificially low with the "motivated seller" phrase. The agent may have even acted illegally by disclosing confidential bid information to her sister. "How coincidental that her winning offer was only $3,000 more than ours?"
Sadly, realtors across the country are frequently convicted of licensing infractions. Remember that survey of realtors by the U.S. trade magazine? Well, 70% of those realtors say that home buyers and sellers are "kept in the dark" when it comes to ethical infractions, licensing violations and ongoing investigations. In Canada, real estate boards have tried to make this process more transparent with timely updates of charges and convictions on their websites. Still, it's doubtful that all but the most serious offences are being thwarted.
Fortunately, many great real estate deals have nothing to do with unethical or illegal conduct. Remember Judy Winters? She won a bidding war with a lower-priced offer because her realtor understood the power of psychology. As soon as the condo went on the market, Winters' agent called her to explain his plan. "He wanted me to be physically present for the offer presentation," she recalls. Turns out the sellers had just had a baby and empathized with Winters' post-breakup plight. Because of the personal touch—all orchestrated by the realtor—Winters won the deal and got the fresh start she needed.