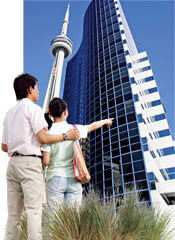 Over Thanksgiving weekend, I had a conversation with a good friend who was stunned at how many condominium projects are still being approved and built in Toronto, despite impending interest rate hikes (and subsequent fears of a housing market crash). At one point she couldn't help but ask: "Why would developers risk building under such uncertain conditions?"
Fact is, my friend could've asked the same question for just about any major Canadian city.
However, despite a variety of risks, condo developers aren't really gambling when it comes building new condos. That's because condo developers aren't speculating on real estate prices 36 months from now—they only care about the real estate forecast in the next three to 12 months.
To understand how this works, you'll first need to understand the basics of construction financing. Construction mortgages are structured so that only a portion of the funds are released as building milestones are achieved. For instance, a builder may receive 25% of the funds as soon as the concrete for an underground parking garage is poured; another 25% is released as soon as the framing for the external structure is completed, and so on and so on. But in order to get construction financing a developer must provide their own equity into the project—and more often then not, a developer's equity actually comes from condo pre-sales.
A pre-sale is exactly as it sounds: it's the sale of a condo unit before the building is constructed. For potential investors it means buying sight unseen from building plans and artist renditions. It can also mean significant savings with some real estate investors experiencing up to 25% price appreciation on the price they paid for a pre-built.
As you can expect, developers offer this discounted pre-sale price to entice buyers to pre-purchase, thereby providing builders with cash-flow and equity, which is then used used to secure financing; in turn, this financing will pay for the construction of the building, which will lead to the sale of more units and, eventually, profit for the developer. In fact, the vast majority of condo construction mortgages won't be forwarded to the developer until 60% to 80% of a planned development is sold through pre-sales.
That means by the time my friend is watching the big construction machines dig up a planned condo site, the developer has already sold up to three-quarters of all the available units—and in a few short months, all the remaining units will be sold.
Experienced condo developers, then, aren't waiting three or four years to make a profit on their buildings—even if buyers are waiting three of four years from a pre-sale contract to a move-in date. Instead, developers are investing in a project with an expectation of profit in as little as six months. It's also why condo buildings are still being constructed, despite the threat of rising interest rates and the fear of a Canadian real estate bubble—because  six to 12 months is still plenty of time for a developer to make some money before rates start to rise, and the real estate market starts to shift.