Rob Hamilton, 37, and Lisa Aldworth, 33, rent a two-bedroom apartment in Toronto with their one-year-old daughter, Piper. They would like to own a home, but they are $61,600 in debt. "We think saving for a down payment and buying our house in five years is a more realistic strategy," says Lisa. They would love to stay in the city, but are also considering Guelph, Ont., since it is more affordable and closer to Lisa's parents.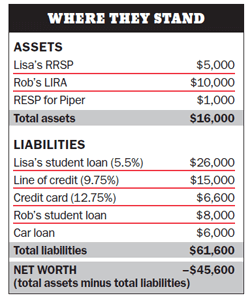 Each year this couple spends $9,600 on debt repayment, $5,000 for transportation, $18,000 for Piper's daycare, and $11,820 for rent—a steal in Toronto. With incidentals their expenses hit $53,920. Rob makes $35,000 working for an arts organization while Lisa earns $74,000 as a social worker, giving them a combined after tax income of just $82,328. That leaves them with $28,408 annually to pay down debt and save for their house. "Should we contribute to RRSPs or stick to Tax-Free Savings Accounts?" asks Lisa. "My parents want to give us a $20,000 gift when we're ready to buy. That will help. Are we on track?"
The verdict
If Rob and Lisa start aggressively paying down their debt, they can buy a house in five years. "The focus has to be on both paying down the debt and saving," says Barb Garbens, a fee-only financial planner in Toronto. "They have to do both to make the plan work." With $28,400 a year in disposable income this couple can afford to nearly double their current debt repayment rate to $1,500 a month—or $18,000 a year. That would wipe out their debt in four years. "They should start by paying off the highest-rate debt first and work their way down to the student loan debt," says Garbens.
With the remaining $10,000 in disposable income they should contribute $5,000 a year each to Tax-Free Savings Accounts to save for their down payment. "I wouldn't do an RRSP," says Garbens. "TFSAs give them more flexibility if they have an emergency. Plus, they can use that RRSP room more profitably later in their careers when they're earning more." Once their debt is paid off, they can put the $18,000 they were spending on debt towards their down payment, giving them a total of $73,000, with a 2% annual return compounded monthly. "Coupled with the $20,000 gift from Lisa's parents, they'll have about $93,000 to put towards their home in either Guelph or Toronto, whichever suits them best."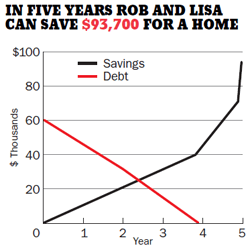 Do you want MoneySense to see if you're on track to meet your own financial goal? If so, drop us a line at letters@moneysense.ca