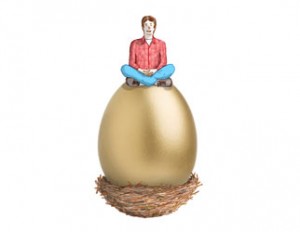 Looking for a lively, comprehensive retirement book you can trust? We've got good news: MoneySense magazine has just released its first ever book: the MoneySense Guide to Retiring Wealthy.
MoneySense's complete retirement guide is packed with 132 pages of just what you're looking for: proven retirement advice delivered in a straightforward manner—all of it backed up by the editors of Canada's most-read personal finance magazine.
We'll tell you how to put together a realistic financial plan, and how to stick to it. We have sections on how to retire early, how to stress-test your retirement plan, and why you don't need to save a million dollars after all. At the end, we even include a self-test so you can find out how you're doing so far.
Our retirement guide includes advice from top financial experts as well as personal stories from real Canadians who have already achieved their retirement goals, so you know the advice works. When you're done reading, we honestly believe that you'll not only know everything you need to know to ensure your retirement is a happy and comfortable one, you'll have learned most of what you need to know to achieve financial success in every aspect of your life.
You can order a copy of the book online here, or pick it up at top retailers such as Chapters, Indigo, Shopper's Drug Mart, Walmart and Loblaws.
Duncan Hood
Editor, MoneySense