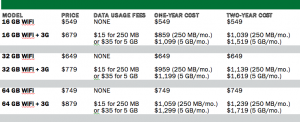 For those of us still waiting to get our hands on the glossy iPad tablet, the big question remains: which version of the touchscreen computer is perfect fit for our iNeeds?
Six iPad models are offered with prices running from $549 up to $879. Three offer WiFi connectivity with 16, 32 or 64 gigabytes (GB) of memory. The other three offer the same memory choices, but add 3G wireless connectivity so you can get Internet access anywhere cell phone service is available. Which one should you choose? It depends on what you plan to do with your iPad.
Do you need 3G?
WiFi is common in the home and office, so you if don't expect to use your iPad outside of these places, then you may not need to cough up the extra cash for 3G service, says Michael Snider, editor of Globetechnology.com. "The 3G models are best for those who live outside WiFi zones and plan to use their iPad while commuting or on public transit."
WiFi hotspots are widespread in coffee shops, airports and many hotels, making them convenient spots to check email or download digital content such as music, videos and e-books. Some larger urban centres also offer widespread WiFi coverage for a modest monthly fee. In Toronto, Cogeco Data Services announced it will expand its downtown WiFi zone and charge just $5 a month.
Which 3G plan?
If you want to be able to access the Internet wherever you can use a cell phone, be prepared to pay for it. Rogers and Bell both recently announced data plans for iPads. For $15 a month you get 250 megabytes (MB) of data usage, for $35 you get 5 GB.
Snider doubts many people will find 250 MB enough, but says 5 GB will be "more than enough for most people." In fact, some tech bloggers found they hit the 250 MB ceiling after only three days of surfing, downloading a few applications and visiting popular social media sites.
If you can keep within the limits of the cheaper plan, it still adds $180 a year to the cost of your new tech toy. Those with heavier data needs will  pay an additional $420 a year.
How much memory?
The next step is to determine how much memory you'll need. Patrick Gant, 42, an Ottawa-based writer, opted for a 16 GB model because he expects to keep most of his files on his desktop and transfer them to his iPad as needed. But for those who prefer to keep their entire music library at their fingertips, along with their favourite TV shows, movies, books and games, the 32 GB or 64 GB models are a better fit.