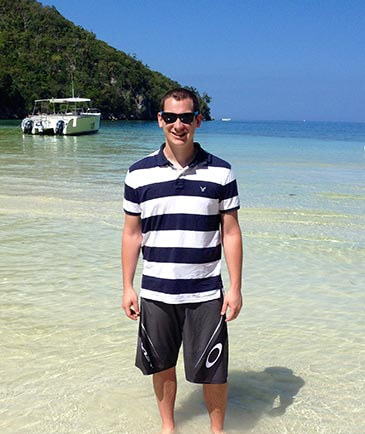 Morgan Reynolds
AGE: 23
PLACE: Kingston, Ont.
TFSA TOTAL: $34,431
STRATEGY: Aggressive growth with equities
Morgan Reynolds, 23, studied business marketing at Fanshawe College in London, Ont., and sports and entertainment sales and marketing at Loyalist College in Belleville, Ont. That allowed him to get an internship position with the Ottawa Senators of the NHL, and once that ended, Morgan moved back to Kingston, Ont. and got a job in the hospitality industry. "Since I was living at home, I was able to pay off my $15,000 student debt in six months, while it was still on its grace period," says Morgan.
"That's when I looked into DIY investing because I truly believe no one will care for my money as much as I will," says Morgan. After some extensive research, Morgan started actively investing a year ago through his TD Direct Investing account and, despite being in the second largest bull market in history that was already due for a market correction, he says he "still liked the idea of stocks rather than mutual funds, GICs, bonds, etc. because I have time on my side and I want to see my TFSA grow aggressively."
So in December of 2016, Morgan contributed $6,000 to his TFSA, exceeding the maximum contribution room for that year but he had plenty of accumulated room over the years from not contributing. Year-to-date, Morgan has contributed $31,718 total to his TFSA, with a gain of $2,704 (8.53%). "Stocks are one of the greatest wealth building instruments I now and at just 23, I can be aggressive. I originally had stocks picked out that have done tremendously well, such as Canopy Growth and Dollarama, but you live and learn."
Morgan's TFSA holdings
That's because part of Morgan's investment strategy involves using stop-loss orders to reduce risk. But it's a strategy that has also caused him to lose out on some big gains. A stop-loss limit order is an order you put in to buy or sell a stock automatically once it reaches a certain price. It's designed to limit an investor's losses on particular stocks. So for instance, setting a stop loss order at 10% below the price you bought the stock at limits your losses to 10% if the stock starts plummeting.
Morgan first tried this strategy with Canopy Growth, the marijuana company. He bought his original shares in January of 2017 at a little over $10 each and then put in a stop-loss order at $10. As soon as it hit his stop-loss price of $10, Morgan sold the shares, but they then proceeded to skyrocket to $20 a share within a few short weeks. The damage? Morgan lost out on $8,000 in potential gains on his Canopy shares but even though that hurt, he doesn't like to think like that. "I still have my principal and that's part of the stop-loss strategy," says Morgan. "I'm living and learning, and making a few mistakes is okay if it helps me become a better investor."
Morgan owns several shares of Alimentation Couche-Tard (TSX:ATD.A), a chain of convenience stores but his largest stock positions are shares in Storage Vault (TSX.V: SVI), which owns, rents and operates self-storage and portable storage space, and Enbridge (TSX:ENB), a gas distribution company. Those two company stocks make up two-thirds of Morgans portfolio and he's sticking with them. "I don't plan to trade those," says Morgan. "Enbridge just increased its dividend 10%. As for StorageVault, he bought some shares earlier this year after watching a documentary. It's a pure play on the TSX-Venture index and he plans to hold it long-term because he thinks it will eventually be listed on the Toronto Stock Exchange."
As for his other two stocks—Shopify and Pioneer Technology—Morgan says he added those to his TFSA for different reasons. "My Shopify shares are purely a momentum trade," says Morgan. "Whereas Pioneer Technology is a pure value play since the company makes  energy-smart products."
The truth is that Morgan enjoys learning about different strategies and feels he is young enough to experiment a bit at this stage of his life. "I like reading about strategies and doing them all," says Morgan. "I'm in a little bit of everything right now. Down the road, when I decide what type of investor I am, I'll be more strategic, but right now, I'm just trying to figure it all out still."