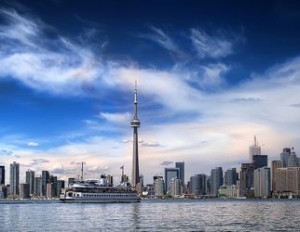 As most of us know, there's something about Toronto that people love to hate. When I grew up in Winnipeg no one wanted to visit the T-Dot and when they called in the army to clear snow in 2000, it was the greatest news anyone from the Peg had heard in years. I've always been a fan of the city, and only fell in love with it more when I moved here almost eight years ago — but I still get a kick out of the complex relationship people outside (and inside too) of the city have with the "centre of the universe."
Yesterday, a reporter asked the city's mayor, David Miller, what he thinks of Ottawa topping our Best Places to Live list. His response, reported in the Toronto Star, was perfect. "That may be that magazine's opinion, but I think it's not shared by Torontonians and it's certainly not shared by the tens of thousands of people who move here every year." While the mayor has to stay stuff like that, his defensive response just highlights the animosity between Toronto and the places outside of the GTA.
A list like this will just give the haters more ammo, but there are some very good reasons as to why Toronto didn't top the list — in fact, it wound up 85th. According to Phil Froats, MoneySense's data manager, Toronto has high house prices and a growing unemployment rate. The city ranked 148th out of 179th in our unemployment category; Ottawa ranked 38th. The city also got penalized for it's house prices to household income ratio — because prices are so expensive it takes longer to buy a house, even though household incomes are higher in the Big Smoke.
Another reason the city dropped from 79th to 85th was that, for the first time, we separated Toronto's surrounding areas. Without places like Oakville and Newmarket propping up the city's stats (these places have higher household incomes and discretionary incomes than its more populous neighbour) Toronto's ranking drops.
The city also has had poor population growth, despite what Miller says. According to Statistics Canada, from 2001 to 2006 the population only grew by 21,787 people, or 0.9%. That surprised me, but the numbers don't lie. (Unfortunately, that's the most recent information Statscan has.) By comparison, Ottawa saw its population grow by 5.9%.
There are many great things about Toronto, the culture for one — the city ranked 3rd out of 179 — but living here I can say it has a strong sense of community, it's not difficult to get around and traffic isn't that bad, despite what most outsiders think.
Toronto will never top the list, so Miller shouldn't get too wrapped up in not beating Ottawa. It's too big with too many pros and cons and while a smaller city might be less stressful to live in, I'd rather keep Toronto, and the ridicule that comes with living here, just as it is.
More Best Places to Live 2010
• Who made the top 25? Use our interactive map to find out.
• Find out where your city ranks. Search our interactive chart.
• Canada's 10 worst places to live
• Best cities slideshow
• Worst cities slideshow
• Ottawa's mayor tells us why his city is the best.
• Best Places to Live article: Who made the list and why?
• Follow MoneySense on Twitter
• Follow me on Twitter