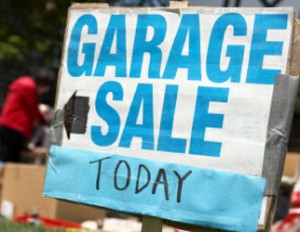 The sun is out and so are the garage sales signs. This is the season you don't leave home without your little baggie of loonies, toonies and quarters lest you come upon a great garage sale with no jingle in your pocket.
When was the last time you threw your own garage sale and got rid of all that crap you've got piled up in the back bedroom, the basement and the garage? This is the year you clear out your clutter and jump-start your emergency fund, boost your TFSA or jack up your vacation fund.
When I spent my Saturday mornings "garage sailing," I'd start with street sales. More bang for your gas buck, right? If you have a good relationship with your neighbours, or if you don't mind knocking on doors, get the whole street involved and you'll attract more traffic.
Tell people you're having a sale. You can do it in the newspaper, you can tweet it, you can do it on Facebook or you can use Craigslist and Kijiji to broadcast your sale. Make sure you don't skip the road signs. And local grocery stores are a good place to tack up a poster.
Set a rain date if you're advertising. Let folks know that if the event is rained out you'll be doing it on Sunday or the following weekend so you don't see your efforts washed away in a downpour.
Price items ahead of time. Or you can use coloured dots to represent prices: Green dots mean $1, red dots mean $2, yellow dots mean $5. Then you can just handwrite the prices for the more expensive things. If you have boxes of stuff like CDs, DVDs, books, bakeware or placements, have a price in mind per set or item but also mark the box "everything for $10," or whatever price you want to set. You want to get rid of the stuff, right? Don't be so attached to your stuff that you won't let it go if you don't get "the right price." The right price is what someone else is willing to pay.
Get your kids involved. They can sell cookies, coffee, juice and muffins.
Play some tunes to keep the energy high. Nothing too fractious, please. Choose happy music that will draw attention, particularly if you're one of a bunch of houses in a street sale.
You might be surprised at how much you can make by divesting of the things that have been piling up all around you. And you might be surprised at the lesson you learn by having your own garage sale. As one woman recently said to me, "When I sold a bunch of stuff for pennies on the dollar to clear out the bedroom I needed when my daughter came to visit, I realized how much money I was wasting. Now when I think I want to buy something, I imagine putting it in a garage sale for a fraction of the price I'm about to pay. That makes me walk away nine times out of 10." Ha!