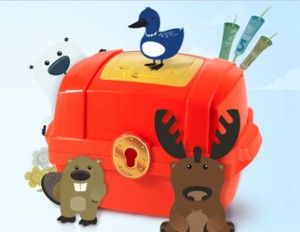 ING Direct Canada has launched a new "smart" digital piggy bank and website designed to help teach kids as young as 6-years-old the basics of saving, growing, spending and sharing money.
Lil' Savers Moneyland (lilsavers.ca) is a virtual piggy bank where parents and kids aged 6-12 can track savings, budget, donate to charity, set financial goals and play money-related learning games. The website also syncs with ING's new Moneybank, a battery-powered piggy bank equipped with a coin reader and USB connection.
Too many parents wait until their kids are teenagers to teach them about money, says Robin Taub, CA, mother of two and author of "A Parent's Guide to Raising Money-Smart Kids."
"The goal should be to raise financially independent and responsible kids," she said at ING's Lil' Savers launch event in Toronto on Wednesday.
Adam Fair is a program manager of the Canadian Centre for Financial Literacy.
"We are finding a real lack of knowledge and skills in the area of financial literacy among youth," he said.
He's not surprised either since quite often kids don't learn money basics in school and instead pick up information from their parents here and there.
"Most of them are learning by trial and error which is not necessarily the best thing."
Good money management is crucial to overall well-being, Fair said. Not knowing how credit and bill payments work can get youth into trouble especially with easy access to credit cards starting in college and mobile phone bills beginning to pile up even earlier on.
"We are seeing youth potentially get into some overwhelming debt at a really young age and not really knowing the consequences of that."
Solid financial education can make all the difference, Fair said, pointing to a 2011 study by the British Columbia Securities Commission. The BCSC polled more than 3,000 high school grads and found that students who reported a positive experience in a comprehensive financial course had more realistic goals and demonstrated better financial behaviour.
Taub says money needn't be a taboo topic and that education needs to start in the home. It would seem most parents agree with her, at least in theory.
ING recently polled 1,001 parents and found 92% believe it's their responsibility to teach their kids about money. Still, 61% said they could be doing more to educate their kids on the basics of personal finance and a full one-quarter gave themselves a "C" grade when it comes to being good financial role models.
The survey also found that parents would rather talk to their kids about bullying, smoking and drugs before money.
Job no. 1 should be to get your own financial house in order, Taub advises parents.
Then seize "teachable moments," like at the ATM machine or grocery store. Kids need to know that the ATM isn't the magic money machine, she said. "You need to put money in to be able to take money out."
An allowance tied to chores is another good way to teach kids the value of money and hard work. She suggests parents provide $1 per week, per year as a rule of thumb. So a 7-year-old would earn $7 per week if they completed chores "above and beyond" what's normally expected of them.
In her book, Taub details what concepts to introduce to children and at what age. By age 12, kids should be able to foot the bill for cellphone overage charges, entertainment, trendy new clothes and most transit expenses using allowance money.
Ages 5-8
-What is money? Where does it come from?
-Relative value (Example: An apple costs 25 cents)
-Saving for a rainy day
-Make birthdays charitable (ECHOage.com can help)
Ages 9-12
-Earning money via odd jobs (paper route, washing the car, shoveling snow etc.)
-Graduate from piggy bank to youth account
-Match savings as an incentive
-Access to a debit card
Ages 12+
-Paycheque deductions
-Lending and interest
-Pay yourself 1st and automatic savings
-Budgets
-Financial goals
-How credit cards work, how banks make money
Watch ING's Moneybank demo here. You can buy it online for $44.