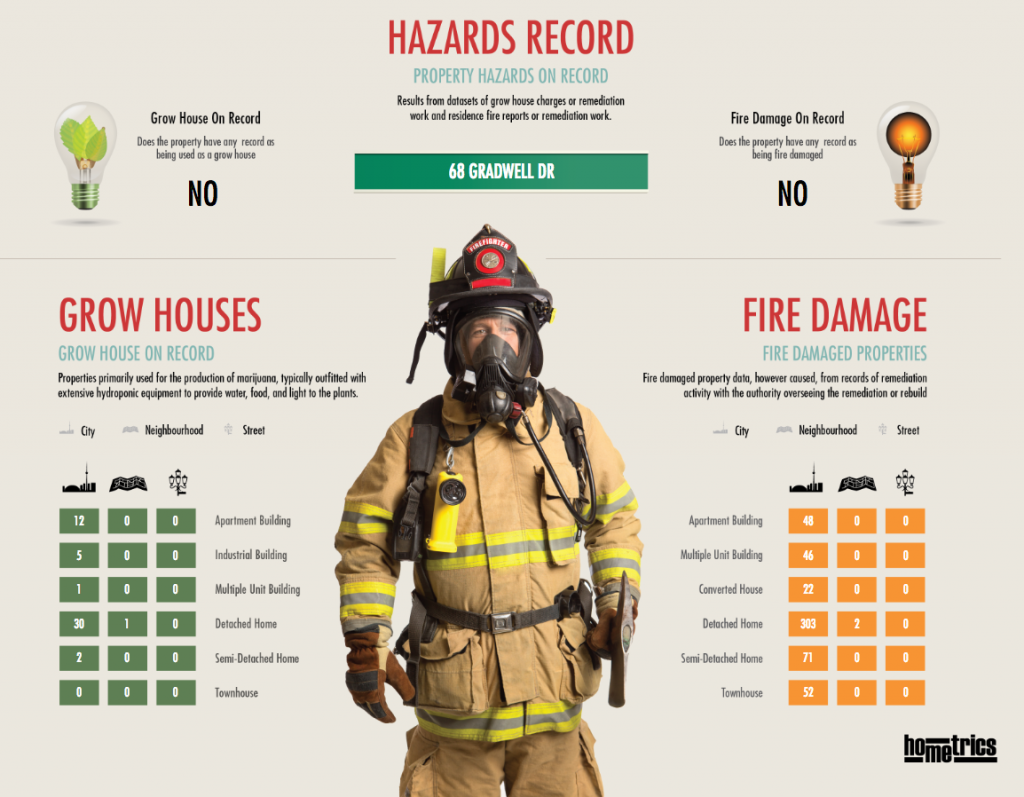 You get a real estate agent; you drive down streets; you check out local schools and talk to neighbours—all in an effort to truly understand whether or not the single, largest purchase you're about to make is actually right for you.
Here's some good news: You now have access to more information. Much more information. David Silverberg and partner Terry Moshenberg have mined over 800 data sets to create the Hometrics Report—an address-specific research report that includes information grouped into seven categories and includes details on nuisance neighbours, reported crimes in the community, local school performance, and proximity to potential illegal activity, such as grow-ops, among others.
Silverberg, a real estate agent, spent years watching how buyers, and their agents, would scramble to find as much information about a house, before putting in an offer. "Sure, it was easy to get information, such as the sale price of a comparable house down the street, but it wasn't so easy to be well informed about the house, the neighbourhood and the community." While there may be a variety of information—such as neighbourhood crime statistics or the number of rental dwellings—that is accessible to the public, the information is hard to find and cumbersome to contextualize. That's where Hometrics.ca fits. "We've taken all this raw data and created an easy to digest format," explains Moshenberg.
To use their research platform just input a specific address. The initial report is free and shows about a dozen pieces of information, including the proximity of your address to any grow-ops and if there's been any nuisance neighbour complaints. For $99, you can purchase a full report that includes details ranging from neighbourhood fence disputes, to local school performance, to the number of renters in the area, to the high/low and average property sales along with the neighbourhood's sales history. The great thing is this 50+ page report is sent to you in a link, so you can access is from wherever you are either on your computer, tablet or phone.
Right now the reports can be bought as one-offs, or as part of a subscription, with the service being marketing to both individual home buyers and to realtors. Almost 100 Hometrics Toronto neighbourhood profiles have already been sponsored by realtors, who obtain reports on these areas to give to their client. However, individual buyers don't need to rely on a realtor to get this report, if they want to pony up the almost $100 fee.
"As a deep data dive, the Hometrics reports won't replace realtors," says Silverberg. "But these reports provide more information and, better still, more context to that information."
What you get in the report
For instance, if a neighbourhood shows that a lot of permits have been issues, this could be a sign that the older stock of homes are being renovated and updated, which could increase the value of the homes in the area, explains Moshenberg. "The reports offer extra insight into the largest purchase a person will make."
The current Hometrics report offers data and insight on seven broad categories:
Neighbourhood and street demographics, education, neighbourhood construction, crime, hazards, property complaints and renovation permit and costs.
More to come
In the future, Silverberg and Moshenberg will add in more metrics and more data. Some additional information that report buyers can expect to see includes: ongoing homeownership costs that includes monthly and annual cost estimates for owning that home, as well as closing cost estimates, an historical depiction of crime in the area, as well as an analysis of "value factors," an approximation of neighbourhood features that add or detract from a home's value. (Think distance to a hydro substation, or an adult entertainment facility, or whether or not the home is adjacent to a park.)
While Hometrics is only available for metro Toronto neighbourhoods, there are plans to expand this deep dive into a property's place in the neighbourhood to other cities in Canada. "First, we want to perfect this model, then we want to expand into other cities," says Moshenberg.
Ask a Real Estate Expert: Ask our experts your property or real estate question »
---
Read more from Romana King at Home Owner on Facebook »