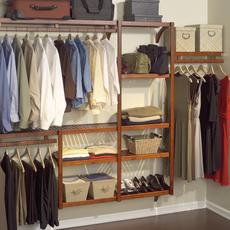 Over the weekend, as I tried to stay cool in the 35-degree-plus summer weather in a home currently without A/C, I caught a property show based out of Toronto that promotes the idea of buying a cheaper, fixer-up house and then renovating to suit the homebuyer's needs.
I can't quibble with the overall idea. Buying a cheaper fixer upper and than allocating the rest of your budget to renovations is a great way of buying into a hot housing market and still getting the house you want. But I found myself once again frustrated with the costs that were offered by the show. (Heck, at least the show offered prices — that's a big step up from these dream reno shows that offer no budgets and distort reno and redesign expectations!)  Now, this is not the first time I've complained about the distortion reality DIY or reno-shows create with their unrealistic prices. And it probably won't be the last time.
For instance, the custom glass enclosure for the shower was listed at $1,200 on this show. Since we'd recently gutted and rebuilt our upstairs bathroom, I know from personal experience that you can't find a glass enclosed shower installation for less than $1,500 in the Greater Toronto Area. The reason: only four companies in the GTA manufacture the tempered glass used for showers. With current demand that means a two-week wait for a glass enclosure — it also means a minimum cost of $1,500. Larger, more elaborate bathrooms will easily cost $2,000 or more.
But wait, here's the kicker: in the same panned shot where the glass enclosed shower was shown at $1,200 these property partners (a realtor and contractor) also listed the custom close at $12,000. You read right: $12,000.
Ridiculous. So ridiculous that I just had to offer more cost effective ways to achieve that custom closet look for under $1,000. Not possible? In my last house, my husband built a walk-in closet (about 6 feet by 5 feet) complete with shelves, hanging bars, drawers, and shoe caddy (and fully carpeted) for just a smidge over $1,000.
WHEN TO CONSIDER A CLOSET MAKEOVER: Are your clothes smooshed together? Do you have wasted space above and below hanging clothes or specific shelves? Do you accidentally duplicate what's already in your closet (but couldn't find)? Do you have to go into three different rooms/closets just to assemble one outfit? If any or all of these apply than it's time for a closet makeover.
WIRE VS. LAMINATE: There really is little difference between wire and laminate closet options other than preference. While wire can seem breezy and airy it can also leave ripples or ridges in your clothes. If you like wire, but want to avoid the ridges consider adding shelf liners. If, however, you want more of a custom look to your closet, consider the laminate closet organizers — particularly sets that come with drawers or drawer options.
METAL VS. PLASTIC: Perhaps the only place you'll really notice a difference in quality is in the hardware — the drawer slides, cabinet hinges and other attachment pieces. Sets with plastic are less durable so consider springing for an organizer with metal hardware.
REACH-IN FOR UNDER $200: To cut costs look for organizers that use just poles and shelving. For instance, a ClosetMaid ShelfTrack organizer costs about $170 and fits closets between six and eight feet wide. It comes with a four-foot wide shoe shelf as well as three shelves and three hanging poles. Rubbermaid also offers a no-cut option, at approximately $150, which allows you to contract or expand the closet configuration (three-feet minimum and six-feet maximum).
REACH-IN FOR UNDER $400: Pay a bit more and you'll get a more customized look. For instance, a John Luis Home standard shelving system (in red mahogany) will cost about $370 and will fit closets up to 10-feet in length. It boasts up to 24-feet of shelf space and up to 18-feet of hanging space.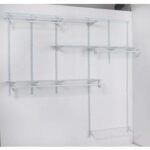 REACH-IN FOR UNDER $1,110: If you want a truly customized look, use the standard John Luis Home shelving system and then add drawers, doors and shelves (add $110 for each drawer and another $100 for doors and $45 for each shelf). For the shelving system and a tower with two doors, two shelves and five drawers expect to pay $1,110.
Other options include mix-and-match wardrobe options from IKEA. Even the more expensive options shouldn't cost you more than $1,500. For instance the largest PAX wardrobe with sliding doors will run you $1,300. There are, however, a number of options around the $500 to $700 range.
TOOLS TO HELP YOU DESIGN YOUR CLOSET: Easytrack.com, a U.S.-based custom closet manufacturer, offers a 3D design tool on their website.
Easyclosets.com is an online-only custom closet manufacture that allows you to design your own space (closet, pantry or garage) or get one of their professionals to create the design. If you opt to design your own you select the style of closet (standard reach-in, walk-in or draw your own space), then play around with the configurations before settling on the best configuration. You may also find it cheaper to buy online and have the product shipped to you, but remember to include shipping. For residents in Ontario and Quebec shipping is free, but you will be charged HST and a 5% brokerage fee.
OTHER IDEAS: To customize your closet further you may want to add lighting. You can opt to pay an electrician to install potlights or other light fixtures, or you could simply install LED puck lights that either stick on or screw in. Check your local hardware store for options, but price typically shouldn't exceed $45 for a set of four.